Welcome to my tour stop for Crave, Eat, Heal by Annie Oliverio! This was definitely an adventure,
but a fun and enjoyable one. Check out my review, a recipe, and enter the giveaway below...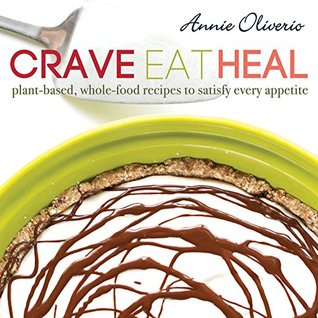 Crave, Eat, Heal
Plant-based, Whole-food Recipes to Satisfy Every Appetite
by Annie Oliverio
Summary
Whether you need something salty, sweet, spicy, comforting, crunchy, or chocolate – indulge all your cravings and give your body the nutrition it needs. With these tantalizing whole food, vegan recipes, like Creamy Thai Carrot Coconut Soup, "Parmesan" Pita Chips, and Chocolate-coated Key Lime Coconut Cream Pie, Crave Eat Heal gives you healthy options while nourishing your body and satisfying your most demanding cravings.
All recipes are free of animal products, refined sugar, are low in oil (many contain no oil), and are gluten-free or have gluten-free options.
(Hardcovers available for Pre-order - to be out on May 4th.)
Endorsements

"You know how sometimes you'd like to just grab a book off the shelf to find the exact right food to satisfy a craving? And you want it to be vegan? Now you can!

Crave Eat Heal: Plant-based, Whole Food Recipes To Satisfy Every Appetite, cleverly laid out by craving type, is packed with recipes that will please long-time vegans and just may push the veg-curious over into the world of plant-based eating. Filled with whole foods recipes that are good for you - but more importantly plain good - there is something for everyone. "
— JL Fields, vegan cook, coach, and consultant and author of Vegan Pressure Cooking: Beans, Grains, and One-Pot Meals in Minutes and co-author of Vegan for Her: The Woman's Guide to Being Healthy and Fit on a Plant-Based Diet.

"Annie Olivero proves that a healthy, plant-based diet can satisfy your every craving, healthfully, deliciously, and completely without guilt. If you think that eating healthy means giving up treats that are sweet, salty, creamy, or otherwise comforting, you've really got a treat in store for you in Crave Eat Heal."
— Nava Atlas, author of Plant Power and Wild About Greens

"Annie gives you delectable healthy choices to satiate all your cravings. Imagine good-for-you treats like: French Toast Panini, Malted Chocolate-Hazelnut Shake, Butternut Squash Queso, Vegan Red Hots, and Iced Maple Latte Shakes. You will hardly believe that healthy can taste this good!"

— Kathy Hester, bestselling author of The Vegan Slow Cooker and OATrageous Oatmeals

"Crave Eat Heal is an innovative cookbook designed to help you satisfy your food cravings while enjoying delicious plant-based recipes. Organized according to craving, from creamy, comfort, and chocolate, to salty, sweet, and spicy, these recipes and accompanying photographs are a feast for all the senses."

— Robin Robertson, bestselling author of Vegan Without Borders, Vegan Planet, One-Dish Vegan, and many more

"No matter what food you are craving, Annie Oliverio has you covered! From salty and sweet to spicy and crunchy and everything in between, Crave Eat Heal is full of delicious recipes that are designed to satisfy your cravings in a much healthier way."

— Julie Hasson, author of Vegan Casseroles, Vegan Pizza, Vegan Diner and more

"In Annie Oliverio's new book, CRAVE, EAT HEAL, her extraordinarily beautiful cover photo says it all. This is an impeccably written volume that's more than a fabulous cookbook, it is a delicious, healthy lifestyle all wrapped up in delectable photography and tasty tips, along with Annie's excellent recipes to satiate everyones culinary cravings. Featuring scrumptious recipes written for anyone who is looking to embrace a plant-based diet, every craving is satisfied, from crunchy to green, salty to sweet, and chocolate to comfort. CRAVE, EAT HEAL is the cookbook "must-have" for 2015!"

— Laura Theodore, Award-winning television personality and vegan chef, radio host, and author of Jazzy Vegetarian Classics: Vegan Twists on American Family Favorites and Jazzy Vegetarian: Lively Vegan Cuisine Made Easy and Delicious.