***Premiering as Sweetest Heart on the Hallmark Channel March 17th 9 PM ET***
(check your local listings for your air time)
(Shores of Indian Lake #2)
Catherine Lanigan
Contemporary Romance
Paperback & ebook, 191 pages
August 1st 2014 by Harlequin Heartwarming
His homecoming is bittersweet…for both of them
Café owner Maddie Strong is finally ready to take her burgeoning cupcake business to the next level. With the help of handsome businessman Alex Perkins, her future's all mapped out. Until her first love comes home.
At seventeen, Maddie adored Nate Barzonni with her whole heart and soul. But when he asked her to elope, she'd said no—she couldn't let him throw away his dream of becoming a doctor. Then he vanished from her life for eleven years. Now the cardiac surgeon has returned to Indian Lake asking for a second chance, and Maddie has to choose between her new life…and the man she never stopped loving.
(Affiliate links included - I receive a small kickback if you make a purchase using my links.)
MADDIE HAD JUST RISEN to help Mrs. Beabots with her chair. She froze like an animal being stalked by a mountain lion. She could feel his eyes on her just as clearly as if he'd walked up to her and touched her. She straightened and stiffened.
Sarah, who was beginning to stand, took one look at startled Maddie and sat back down, pulling Luke with her. "Kids, sit down."
"What's going on?" Annie asked.
Maddie stared at Nate. She didn't know if she'd turned to ice or fire. She felt afraid and bold all at the same time. She told herself again that Sarah had been right. She was seeing a ghost.
Somehow, she managed to gather the courage to put one foot in front of the other, and with half the town staring at her, she walked across the dining room.
Streams of sunlight came through the huge windows that overlooked the lake as Maddie made her way around the chairs and tables, never taking her eyes off Nate. She didn't hesitate as she pushed through the French doors to the Garden Room and came face-to-face with Nate.
He stared at her, his blue eyes matching her lilting green, fire for fire. He started to smile, but his lips stuck to his teeth.
Maddie balled her right hand into a fist and with every ounce of her strength, she delivered a blow to his midsection.
"Ooomph!" Nate grabbed his middle and doubled over.
"So," Maddie growled. "Not a ghost."
Other Books in the Series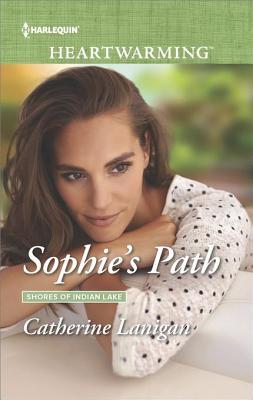 Catherine Lanigan
is the international bestselling and award-winning author of over forty-five published titles in both fiction and non-fiction, including the novelizations of
Romancing the Stone
and
The Jewel of the Nile
. Ms. Lanigan's novels have been translated into over twenty-four languages. Lanigan was tasked by the NotMYkid foundation to pen a collection of compelling and informative true stories of teen addicts. Ms. Lanigan's SHORES OF INDIAN LAKE series for HARLEQUIN HEARTWARMING includes LOVE SHADOWS, HEART'S DESIRE , A FINE YEAR FOR LOVE, KATIA'S PROMISE, FEAR OF FALLING, SOPHIE'S PATH, PROTECTING THE SINGLE MOM, FAMILY OF HIS OWN, HIS BABY DILEMMA, TOO CLOSE TO THE FIRE (2018) and MY RACING HEART (2019).
The Hallmark Channel will air HEART'S DESIRE on March 17, 2018.
Ms. Lanigan is a frequent speaker at literary functions and book conventions as well as inspiring audiences with her real stories of angelic intervention from her Angel Tales series of books. She is an outspoken advocate for domestic violence and abuse and was honored by The National Domestic Violence Hotline in Washington, D.C. She has been a guest on numerous radio programs including "Coast to Coast" and on television interview and talk show programs as well as blogs, podcasts and online radio interview programs. She writes a monthly blog for Heartwarmingauthors.blogspot.com. Visit her at
www.catherinelanigan.com
, on Facebook, LinkedIn,
Twitter@cathlanigan.com
, Pinterest, Goodreads and Google+.
March 5th:
Launch
Reading Is My SuperPower
It's All About the Romance
Busy Bumble Bee Book Reviews
March 6th:
Mello & June, It's a Book Thang!
The Power of Words
Heidi Reads...
March 7th:
Remembrancy
I Am A Reader
March 8th:
Christian Chick's Thoughts
Nicole's Book Musings
March 9th:
Rockin' Book Reviews
Hearts & Scribbles
Thoughts of a Blonde
March 12th:
Book Reviews & More by Kathy
Paulette's Papers
underneath the covers
Katie's Clean Book Collection
March 13th:
Among the Reads
Wishful Endings
March 14th:
Inside The Mind of an Avid Reader
Faithfully Bookish
Locks, Hooks and Books
March 15th:
Brooke Blogs
Janice's Book Reviews
March 16th:
Teatime and Books
Cafinated Reads
Becky on Books
March 17th:
Grand Finale
Sweetest Heart on the Hallmark Chanel 9 PM ET
1 winner will receive a $50 Amazon eGift Card
Open internationally
Ends March
Have you read any books by this author or in this series? Will you be tuning in to watch it on Hallmark?