On Tour with
Prism Book Tours
.
Book Tour Grand Finale for
Silver River Secrets

We hope you enjoyed the excerpts from Lacey's and Rory's story and readers' reviews!
If you missed any of the stops or entering the giveaway, go check them out now...


I often get ideas for stories from a setting, and such was the case with Silver River Secrets. On a trip to Idaho, I visited a small town nestled between two mountain ranges and bordered by a beautiful river. An old, two-story farmhouse there caught my eye. An abandoned house, built in the 'forties and still standing, even though in disrepair.
"SHE'S B-A-ACK," Sam Porter announced.
"That so?" Rory Dalton didn't bother to look up from under the hood of Sam's '66 Ford Mustang. Instead, he focused on installing the car's new water pump.
"Yep. She's just about to head over the bridge. Aren't you gonna come look?"
Just then, she looked up to the hilltop. Rory jumped back, hoping she hadn't spotted him. He didn't want her to think he had the slightest interest in her return to Silver River.
Sam shoved his hands into his pockets and rocked back on his heels. "Wonder how long she'll be here this time."
"She never stays more than a week. Just long enough to check on her grandmother."
LACEY MORGAN HEADED down Main Street with the image of Rory Dalton imprinted on her mind. She hadn't intended to look up at his auto shop when she rounded that last curve in the highway, but she had, and there he had been, gazing down at her as though he'd been waiting for her to drive by. Which was crazy. Why should he care that she'd come to town again? He knew she made the trip from Boise to Silver River periodically to visit her grandmother. When their paths crossed, they said little more than a brief "hello."
"But to be reminded whenever you look out the window..."
"Sophie, not a day goes by that I don't think about what happened in that house."
"I'm sorry, honey, so sorry. But I do wish you could put the past behind you."
Lacey shook her head and bit her lower lip. "Not possible."
Sophie stepped close and put her arm around Lacey's shoulders. "You know Hugh and I were friends with your parents, hon. We used to go out together. And, okay, your dad was a hothead sometimes, but we put up with him. No question we loved your mom. Nobody mourned her death more than we did. I miss her to this day. But don't you think it's time for you to move on?"
"If only I could prove his innocence..."
"Let it go, Lacey."
Lacey squeezed her eyes shut. "I can't. I just can't."
"This book did a good job of capturing and holding my attention. I really enjoyed the story. . . . I would definitely recommend this book to all readers. I give it a literary rating of 5/5."
Lacey sighed. "I just don't feel comfortable in this town."
"I know, honey. Sometimes, when I get to thinking about the past, I don't, either." Gram looked down at her hands.
"But it's different for you. Having your son-in-law accused of murder is not the same as having your father, your flesh and blood, accused."
"Not accused, dear. Convicted," Gram said in a reproving tone.
"If I had just one word for this book it would probably be gentle. Harlequin Heartwarming line is perfect for a gentle, clean romance. This book has a bit of mystery thrown in but it never became heart pounding or intense. It stayed well within the gentle and calm boundaries."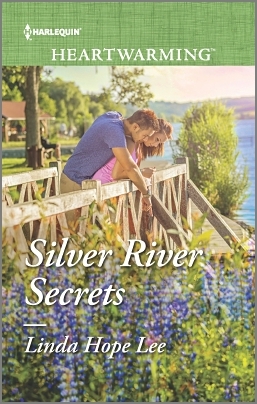 Silver River Secrets
by Linda Hope Lee
Adult Contemporary Romance
Mass Market Paperback & ebook, 384 pages
December 1st 2016 by Harlequin Heartwarming
Tragedy made them strangers. The truth could change that…
Lacey Morgan's grandmother is the only reason she has to ever set foot in Silver River. Her hometown is populated with too many ghosts and memories. Too many painful reminders. Including Rory Dalton.
In all her brief visits over the past ten years, they've barely spoken. Locked on opposite sides of the tragedy that tore their lives apart, they buried their feelings along with their parents. But this trip is different. She will stay a little longer. Dig a little deeper. And try to solve the mystery that has kept them from the truth…and each other.
Linda Hope Lee
writes contemporary romance, romantic suspense, and mysteries. She enjoys traveling especially to small towns in search of story ideas. She's also an artist, specializing in watercolor, pen and ink, and colored pencil. Photography provides inspiration for both her writing and her art. She lives in the Pacific Northwest, where many of her stories are set.
Tour Giveaway
- 1 winner will receive a $50 Amazon eGift Card & copy of SILVER RIVER SECRETS by Linda Hope Lee
(print if US, ebook if international)
- 3 winners will receive a copy of SILVER RIVER SECRETS by Linda Hope Lee
(print if US, ebook if international)
- Open internationally
- Ends December 12th
a Rafflecopter giveaway