Welcome to my stop! I've really enjoyed this series and have been looking forward to this third book for some time. Check out my review below...
Hardcover & ebook, 384 Pages
March 1st 2016 by Thomas Nelson/HarperCollins
Nym and Draewulf prepare to face off in a battle destined to destroy more lives than it saves.
With the loss of Tulla still fresh in mind, Rasha's fate unknown, and Lord Myles taken over by the dark ability, Nym and the few Bron soldiers rush to warn Cashlin's queen. Only to discover it may already be too late for the monarch and her eerie kingdom. As the Luminescents are sifting through Nym's past memories and the queen is reading into her future, Nym is given a choice of how to defeat Draewulf, but the cost may be more than she can bear. And even then there are no guarantees.
With that reality burrowing into her bones—along with the guilt of the lives she will sacrifice—Nym returns to her homeland of Faelen to raise an army of peasants through promises of freedom. But when the few friends she has left, along with the world and citizens she loves, are staring down the face of a monster and his undead army, will Nym summon every element her blood is capable of controlling . . . or surrender to a different strength—one of sacrifice?
Because in the end, death may be more merciful for them all.
(Affiliate links included.)
SIREN'S SONG was full of magic, danger, romance, and action as Nym faces Draewulf in their climatic final battle. The characters continue to face challenges and difficult choices that test them to their limits and show their mettle. It was an intense read from beginning to end.
Nym has come such a long way from the girl we first meet in STORM SIREN. One of my favorite things about reading is seeing how characters develop, how they come into their own, and how they find friendship, love, and their own worth. Nym finds so much within herself, and not only herself, but also what really makes her strong and can defeat the evil of Draewulf isn't exactly what she though. It's something gentler than she imagined.
All the characters have really grown on me over reading the series. I loved Eogan, Rasha, young Kel, and even Myles (although half the time he still annoys me). They support Nym and make her stronger. They also each play such an integral part in this story, but also in the fight. They all have so much potential and find themselves to some degree just as Nym does over the course of this series, although Eogan develops the most. His past isn't perfect. He's made mistakes. He also hasn't completely come into his own, but Nym and their fight against Draewulf helps him see who he really is.
There is a lot going on in this story as a prophecy continues to come into play and kings and queens must make their own choices. The ensuing battle wasn't all cut and dry and pretty. It was messy with casualties and insurmountable odds. The final battle was especially intense leading to a heartbreaking, but sweet, ending. Most of the loose ends were tied up although I wouldn't mind another story focusing on a happily-ever-after for King Sedric.
Overall, SIREN'S SONG was a fantastic ending to this series and perfect for fantasy readers. I'm looking forward to seeing what this author writes next!

Content: Some violence, but I would consider this clean.
Source: I received a complimentary ARC from the publisher through a tour host, which did not affect my review in any way.
Other Books in the Series
(Book covers linked to my reviews.)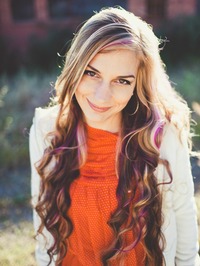 Mary Weber is a ridiculously uncoordinated girl plotting to take over make-believe worlds through books, handstands, and imaginary throwing knives. In her spare time, she feeds unicorns, sings 80's hairband songs to her three muggle children, and ogles her husband who looks strikingly like Wolverine. They live in California, which is perfect for stalking L.A. bands, Joss Whedon, and the ocean. Her debut YA fantasy novel,
STORM SIREN
and
SIREN'S FURY
are available now in bookstores and online, and SIREN'S SONG will be out March 2016 from TN HarperCollins.