Adult Contemporary Romance
Paperback & ebook, 333 pages
April 27th 2017
The first in a three book series called Searching for Sarah. Come meet Sarah and begin her journey....
Sarah Keller is convinced that her Mr. Right is stuck in traffic…in another country…on another planet. 'Thirty-one and still single' isn't how she wants to be introduced by her dad. That's why she's on five dating websites, posing as anything from an avid gardener to a crazed thrill seeker.
Sam Turner is a single dad, workaholic, who owns his own company. Long-term relationships have never worked out for him. That's why he needs a nanny.
When a mutual friend suggests Sarah take the job temporarily, everything changes for them both. Sarah begins falling for the man who meets almost none of her online criteria. And when strange things start happening—things that jeopardize the safety of Sarah, Sam is the last person she would imagine is hiding something.
(Affiliate links included, meaning I receive a small kickback when
you make a purchase using my links.)
Finding Mr. Right... Luckily we all have our own ideas of who that is! For me, when I was younger, it was someone who wouldn't abuse me. Nothing else, just that. I had watched a Charlie's Angels episode when I was six, where the man hit his girlfriend and she was upset all the time. Not to mention, hospitalized from all the wrong love he thought he was giving her. And I thought right then and there, all I wanted was a guy not to hit me. Of course that remained pretty high on my list, but as I grew older, my list grew a bit longer. Not that long, but longer than, 'won't hit'.
I didn't get serious with my list too quickly. I enjoyed the dating and trying each other on for fun. I married in my early twenties, so all my dating came in my high school years. I mainly didn't like to date guys with octopus' arms, no manners, and no idea of where they were going in life. However, I had other friends who had a list longer than the line to see Santa Claus at Christmas time. The guy had to be a certain height, like a certain hobby, drive a particular make of car, and laugh not to loud, but not too quiet, either. Oy!
Sarah Keller, the heroine in "Searching For Sarah" wanted to find Mr. Right as quickly as possible. She's like my cousin…interested in getting out of town, and on with life at a pretty quick rate. There was no time for dating. But you know what they say about looking for something? You'll find it the minute you're not searching! Sort of what happens for Sarah. She bounced from one dead beat guy to another one. Then as fate would have it, she gets introduced to Sam. Disguised as nothing on Sarah's radar as Mr. Right material, it's easy for her to overlook this guy. But only for so long!
I hope everyone enjoys the first installment in Sarah's journey to find Mr. Right. And because I only write happily-ever-after books, I guarantee, by the end of her search, she does find him. Just when she doesn't expect it!
—Julieann
Julieann Dove
lives in Virginia, yet longs to live everywhere else. It doesn't come as a surprise that along with her gypsy soul, comes an active imagination. That's why she loves to write and invent worlds and people, so that she can formulate their happily ever after. Hobbies include cooking new recipes, sewing, and spending time with her cute boyfriend/husband and five fabulous children. Vacations happen in Nantucket or the Carolina beaches—anywhere there is inspiration for her next book. One day she hopes to travel to Italy, drive one of those little cars around the countryside, and speak the language fluently!
Other Books by the Author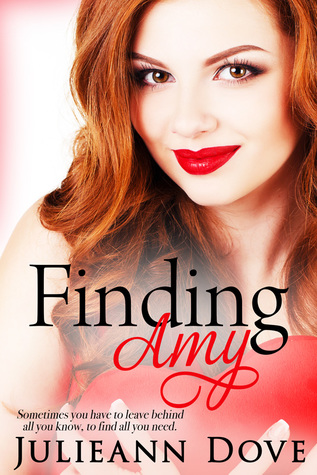 April 29th:
Launch
April 30th:
- 1 winner will receive a signed copy of Waking Amy (US only)
- 1 winner will receive an ebook of Waking Amy (open internationally)
- Ends May 9th