"Waiting On" Wednesday is a weekly event, hosted by Breaking the Spine, that spotlights upcoming releases that we're eagerly anticipating.
I love fantasy and especially fairy tale retellings. Here are two such books that I just can't wait to read: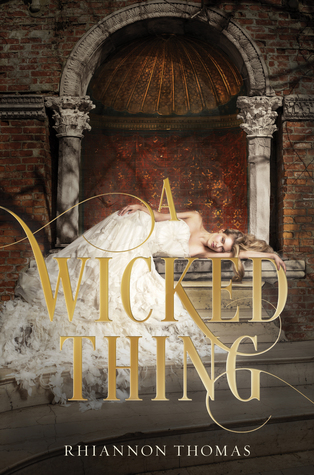 A Wicked Thing
by Rhiannon Thomas
YA Fantasy
Hardcover, 352 pages
February 24th 2015 by HarperTeen
Summary
Rhiannon Thomas's dazzling debut novel is a spellbinding reimagining of
Sleeping Beauty
and what happens after happily ever after.
One hundred years after falling asleep, Princess Aurora wakes up to the kiss of a handsome prince and a broken kingdom that has been dreaming of her return. All the books say that she should be living happily ever after. But as Aurora understands all too well, the truth is nothing like the fairy tale.
Her family is long dead. Her "true love" is a kind stranger. And her whole life has been planned out by political foes while she slept.
As Aurora struggles to make sense of her new world, she begins to fear that the curse has left its mark on her, a fiery and dangerous thing that might be as wicked as the witch who once ensnared her. With her wedding day drawing near, Aurora must make the ultimate decision on how to save her kingdom: marry the prince or run.
Rhiannon Thomas weaves together vivid scenes of action, romance, and gorgeous gowns to reveal a richly imagined world … and
Sleeping Beauty
as she's never been seen before.
Pre-order from:
Monstrous
by MarcyKate Connolly
YA Fantasy
Hardcover, 432 pages
February 10th 2015 by HarperCollins Children's Books
Summary
The city of Bryre suffers under the magic of an evil wizard. Because of his curse, girls sicken and disappear without a trace, and Bryre's inhabitants live in fear. No one is allowed outside after dark.
Yet night is the only time that Kymera can enter this dangerous city, for she must not be seen by humans. Her father says they would not understand her wings, the bolts in her neck, or her spiky tail—they would kill her. They would not understand that she was created for a purpose: to rescue the girls of Bryre.
Despite her caution, a boy named Ren sees Kym and begins to leave a perfect red rose for her every evening. As they become friends, Kym learns that Ren knows about the missing girls, the wizard, and the evil magic that haunts Bryre.
And what he knows will change Kym's life.
Reminiscent of
Frankenstein
and the tales of the Brothers Grimm, this debut novel by MarcyKate Connolly stands out as a compelling, original story that has the feel of a classic.
Pre-order from:
Are either of these on your can't-wait-to-read list?