You can see my reviews of
Starling
and
Descendent
(the first and second books in this series)
here
.
Grab
Starling
, book one in the series, now for only
$1.99
!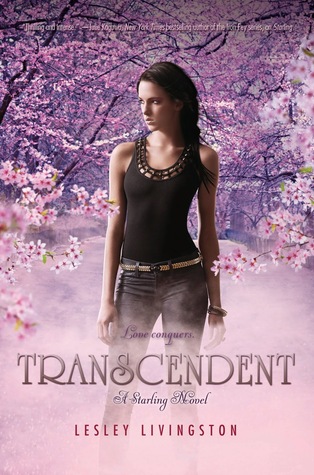 Transcendent
(Starling #3)
by Lesley Livingston
YA Urban Fantasy
Hardcover & ebook

,

352

Pages
December 23rd, 2014 by HarperTeen
Summary
LOVE CONQUERS
On a storm-swept terrace high above the streets of Manhattan, Mason Starling holds the fate of the world in her hands as her beloved Fennrys lies bleeding at her feet, his life hanging in the balance. The ancient Norse prophecy of Ragnarok stands poised on the knife edge of fulfillment. Mason's transformation into a Valkyrie—a chooser of the slain and the one who will ultimately bring about the end of the world—is complete. Still, she remains determined to thwart her father's apocalyptic desires. Whatever is to come, it won't happen because of what the prophecy foretold, or what Gunnar Starling has planned, or what the fates have already decided. What happens next will be up to Mason and the Fennrys Wolf. The world had better hope they haven't reached the limits of what their souls and swords can survive.
Perfect for fans of Cassandra Clare's Mortal Instruments series, and set in the same universe as Lesley Livingston's much-loved WONDROUS STRANGE trilogy, with roots in Greek, Roman, Norse, Egyptian, and Celtic myths and legends, this thrilling conclusion to the acclaimed Starling trilogy is filled to the hilt with sweeping adventure and soaring romance.
Transcendent was a fabulous ending to this urban fantasy series! This series has it all: the brooding and damaged bad boy, the golden hero, a fierce and also damaged leading lady, characters facing the end of the world as they know it, some great villains, and plenty of players, action, and twists to keep things interesting. Then you can't forget the humor, sarcasm, banter, and hopeless romance.
What I loved the most about this series was Mason and Fenn. In the beginning they are two possible enemies/love interests who circle each other. They are both a little wary while they try to figure out if they can trust each other and what exactly is going on. They both need a safe haven, but they don't know if they can be that for each other. Then when they find strength in each other, it is a test to stay together. I really loved how their friendship grew and their relationship was strengthened through each book. They come out changed from what they have faced, but decide that they will stick it out together no matter what. The desire and choice to stick it out together wasn't between just them, but they also had some family and friends that backed them up.
It was sweet and endearing and I loved it!
I also really loved this group of characters. Fennrys was fabulous as was Mason. I also loved Heather. She was definitely my third favorite character, followed by Loki and Rafe. Toby wasn't bad either. Cal I both loved and hated.
I loved the twists and turn on the whole Greek/Norse mythologies and also that this series is set in the same world as Wonderous Strange (which I didn't realize until a third of the way through the second book). There was plenty of action, plotting, mystery, and some sweet romance.
Here's a scene that shows some of the banter and sweet rommance that I loved:
She turned and kissed Fennrys for as long as she thought she could get away with and-before the vision faded and she found herself back in Rory's dorm room-she pulled away from Fennrys and said, "I have an idea."


"I do too," Fennrys said, and drew her back toward him. "My idea is that you should keep doing that."
She grinned and put a finer to his lips. "Saving the world first, kissing after that

."




"The world had better appreciate my self-control,

he said and sighed languidly.
I loved reading this series! If it would have omitted all the swearing then it would pretty much have been five stars for me. I just connected with and loved these characters. I also felt there was a great balance between the bad things that happened and the lighter side with romance and humor. I'd definitely recommend the series to urban fantasy readers who enjoy a good dose of romance.

Content: Quite a bit of mild language as well as the s-word. Some violence and innuendo. Otherwise clean.
Source: From the publisher through the tour host and Edelweiss, which did not affect my review in any way.
The Other Books in the Series
Starling
(Starling #1)
by Lesley Livingston
YA Urban Fantasy
Hardcover & ebook

,

341

Pages
August 28th 2012 by HarperTeen
Summary
Mason Starling is a champion fencer on the Gosforth Academy team, but she's never had to fight for her life. Not until the night a ferocious, otherworldly storm rips through Manhattan, trapping Mason and her teammates inside the school. Mason is besieged by nightmarish creatures more terrifying than the thunder and lightning as the raging tempest also brings a dangerous stranger into her life: a young man who remembers nothing but his name—the Fennrys Wolf. His arrival tears Mason's world apart, even as she feels an undeniable connection to him. Together, they seek to unravel the secrets of Fenn's identity as strange and supernatural forces gather around them. When they discover Mason's family—with its dark allegiance to ancient Norse gods—is at the heart of the mystery, Fennrys and Mason are suddenly faced with a terrifying future.
Set against the gritty, shadowed back-drop of New York City, this first novel in award-winning author Lesley Livingston's epic Starling Saga is an intoxicating blend of sweeping romance and pulse-pounding action.
Descendant
(Starling #2)
by Lesley Livingston
YA Urban Fantasy
Hardcover & ebook

,

336

Pages
August 27th 2013 by HarperTeen
Summary

The last thing Mason Starling remembers is the train crossing a bridge. An explosion . . . a blinding light . . . then darkness. Now she is alone, stranded in Asgard—the realm of Norse legend—and the only way for her to get home is to find the Spear of Odin, a powerful relic left behind by vanished gods.

The Fennrys Wolf knows all about Asgard. He was once trapped there. And he'll do whatever it takes to find the girl who's stolen his heart and bring her back—even if it means a treacherous descent into the Underworld. But time is running out, and Fenn knows something Mason doesn't: If she takes up the Spear, she'll set in motion a terrible prophecy. And she won't just return to her world . . . she'll destroy it.

In this pulse-pounding sequel to Starling, Lesley Livingston delivers another electrifying blend of nonstop action and undeniable romance that will leave readers breathless.

Lesley Livingston
is a writer and actress living in Toronto. She has a master's degree in English from the University of Toronto, where she specialized in Arthurian Literature and Shakespeare. She frequently performs with the Tempest Theatre Group, of which she is a co-founder. She is also the author of WONDROUS STRANGE and DARKLIGHT.
Week One:
12/15/2014-
Wholly Books
- Review
12/16/2014-
Reading YA Rocks
- Interview
12/17/2014-
Reading Lark
- Review
12/18/2014-
Two Chicks on Books
- Guest Post
12/19/2014-
Please Feed The Bookworm
-Review
Week Two:
12/22/2014-
Parajunkee
- Interview
12/23/2014-
Wishful Endings
- Review
12/24/2014-
Mom With A Kindle
- Interview
12/25/2014-
Crossroad Reviews
- Review
12/26/2014-
Bewitched Bookworms
- Guest Post