Welcome to my tour stop for Roman's Holiday by Susan Aylworth! You can check out the book, and excerpt, and enter a giveaway below...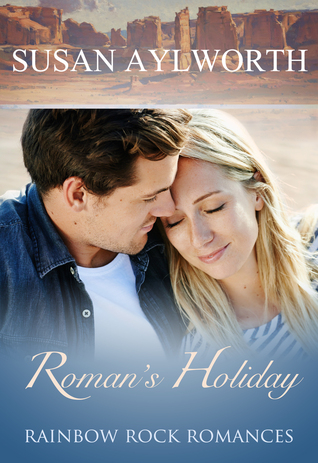 Roman's Holiday
(Rainbow Rock Romances)
by Susan Aylworth
Adult Contemporary Romance
ebook, 230 Pages
November 16th 2015
Summary
Four years after Roman Kincaid was catapulted into stardom as a country-western singer and A-list movie star, he is burned out: exhausted by a grueling schedule, drained by the ceaseless demands of producers and managers, weary of meeting the needs of others at the expense of his own. Leaving a sold-out show in Phoenix, he rents a car and drives north and east, landing in the Painted Desert town of Rainbow Rock.


Nearly three years after leaving her old life behind, Lottie Beale is feeding people and baking pies, managing the Kachina Café and tending secrets of her own. When circumstances conspire to give two attractive people some time alone together amid the world-class vistas of the Four Corners, they discover more than either had bargained for.


Lottie broke in. "So? What now? You know my secret identity and I know yours. Shall we just go our own ways—no harm, no foul?"
He considered that. "I'm not sure. I mean, what did Batman and Catwoman do when they discovered each other's secret identities?"
Lottie wrinkled her nose. "Try to kill each other?"
"Um, you're right. Bad example. So whaddya think we should do?" A few interesting ideas had already occurred to Roman, but, for the moment at least, he chose to keep those to himself. "Are you thinking of mutually assured destruction? You tell my secret, I tell yours?"
"I don't know," Lottie said, "I think we can do better than that."
"Hmmm…" She was giving him a different look now—speculative, perhaps, even conspiratorial. "It depends."
Susan Aylworth
started her first book when she was nine. "It was called Buff, The Proud Stallion. I wrote eight whole pages." For her fifth grade career day, she stated her ambition to become "a rich and famous author." Decades later, she is pleased to have achieved the 'author' part of that goal. A former university professor, she enjoys researching backgrounds and careers for her novels. "It's one way to live many lives at once." She lives in northern California with her husband of 45 years and two spoiled cats.
$25 Amazon Gift Card or $25 in Paypal Cash
Ends 1/21/16
Open only to those who can legally enter, receive and use an Amazon.com Gift Code or Paypal Cash. Winning Entry will be verified prior to prize being awarded. No purchase necessary. You must be 18 or older to enter or have your parent enter for you. The winner will be chosen by rafflecopter and announced here as well as emailed and will have 48 hours to respond or a new winner will be chosen. This giveaway is in no way associated with Facebook, Twitter, Rafflecopter or any other entity unless otherwise specified. The number of eligible entries received determines the odds of winning. Giveaway was organized by Kathy from
I Am A Reader
and sponsored by the author. VOID WHERE PROHIBITED BY LAW.
a Rafflecopter giveaway