Welcome to my tour stop for What's Broken Between Us by Alexis Bass! Check out all the usual info, my review, and enter the giveaway below...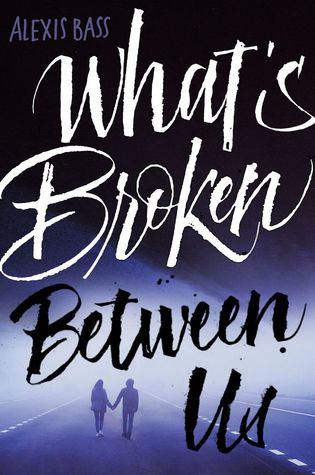 What's Broken Between Us
by Alexis Bass
YA Contemporary Romance, Realistic Fiction
Hardcover & ebook, 241 Pages
December 29th 2015 by HarperCollins
Summary
Alexis Bass's heartbreakingly beautiful second novel is a tale of love, loss, and learning to forgive.
Look to the left, look to the right. We're all going to die. But someone has to do it first. So who's it going to be?
Tragedy struck Amanda Tart's town a year and a half ago when a sophomore girl was killed in a car accident on graduation night.
Amanda's brother, Jonathan, was behind the wheel and too drunk to drive. He's spent the past year in prison and has cut off all ties. But now Jonathan is coming home. Just as Amanda's trying to figure out what that means for her family and herself, she's paired up for a school project with Henry Crane—a former crush, and brother of Jonathan's ex-girlfriend, who survived the crash with horrible injuries.
Everyone is still incredibly damaged by the events of that night. Can Amanda and Henry finally begin to heal what's broken and find some peace?
Also for KOBO.
(Affiliate links included.)
WHAT'S BROKEN BETWEEN US pulled me in with a story about a brother who wrecked his life and the sister who deals with the aftermath and being part of the "at-fault" party. It felt authentic, heartbreaking, shockingly realistic, and also sweet in parts. With flawed characters who make you want to cheer them on, a situation that gets much worse before it gets better, and a main character who isn't as alone as she thinks as she tries to figure out her own story. Contemporary YA readers are sure to find something to like.
What really kept me engaged in this story was that the POV wasn't the brother who caused the accident, nor the family who lost someone, nor the one that was irrevocably injured. The POV is the sister of the brother who caused the crash, Amanda. The one that is expected to show empathy for the others, to give condolences and comfort, but not to receive her own because her brother is still whole and was the one at fault. It was interesting to see her perception and the walls she built, but also to see how Henry challenges those things and helps her find a way back to really living. I loved Henry and his emotions. I really had some issues with Amanda's brother. Even wanting to give him some good shakes and slaps while understanding why he would act and feel so self-destructive. Amanda's parents also caused some grief. I loved Amanda and Henry together, in spite of some of their bad decisions, as they try to deal with the situation and their feelings for each other.
There were two parts that I really loved and luckily both were offered as teasers. Here they are:
There was quite a bit of content, though cleaner than the last book I read by this author. If that bothers you, note my content info below, if that doesn't I'd definitely recommend this one to contemporary YA readers.

Content: Lots of innuendo, drinking, partying, swearing (restricted to mostly two characters and including f-words), non-descriptive sex
Source: I received a complimentary eARC through Edelweiss, which did not affect my review in any way.
Alexis Bass
grew up in Washington, went to college in Arizona, and spent her early twenties in Seattle. She currently lives in Northern California with Dylan McKay, her gorgeous and rambunctious golden retriever. She loves good fashion and good TV as much as a good book, and is a huge advocate of the three C's: coffee, chocolate, and cheese. LOVE AND OTHER THEORIES is her first novel.
Win a $25 Barnes & Noble Gift Card