On Tour with
Prism Book Tours
.

I'm welcoming Catherine Lanigan to my blog today to talk
about her newest release! Check that and the giveaway out below...


(
Shores of Indian Lake
#8)
Catherine Lanigan
Adult Contemporary Romance
Paperback & ebook, 384 pages
July 1st 2017 by Harlequin Heartwarming
He's ready to settle down…with or without her
Scott Abbott has always loved Isabelle Hawks. And he's always been her rock. Patient, dependable, strong. But lately, she's been acting like that rock is weighing her down. With her art career taking off, Isabelle has been spending less and less time in Indian Lake…and with him. Scott isn't even sure what they are to each other anymore. They might be friends with a history, but it sure doesn't feel like a future. Maybe it's time for Scott to set her free and focus on his own dreams. A real home. A family. All the things he had hoped to share with her…
(Affiliate links included - I receive a small kickback if you make a purchase using my links.)
Welcome, Catherine! It's fun to get to interview you myself as I've worked with you a while now. :)
As FAMILY OF HIS OWN is your eighth book in your Shores of Indian Lake series, are you still discovering new things about the setting and/or the characters?
Discovering new characters has been the delight of doing a series like this. This is the first time I've created an entire town and the people in it. Just like moving to a new city and going through all the necessary introductions, finding new doctors, a new church, new schools, everything and everyone is new. I have the joy of discovering each new person and all of their extended family as well. Each time a main character goes out to buy something or interview for a job, there are all those "other" people who have backgrounds and stories. I love asking, "And who are you?" And the list of curious questions I ask when I meet someone new.
In a word, this has been a "blast!"

That does sound really fun!!


Would you tell us a little bit about these two main characters, Scott and Isabelle?
Isabelle is the eldest of six children and her mother raised and provided for the family when Isabelle's father died when Isabelle was 11. My hat goes off to women and men who find themselves the single parent, the provider and who also try to have some kind of life of their own. Being a parent is difficult enough with two people, but to do it alone is challenging to the nth degree.
Isabelle, then, assumed much of the household duties when she was a pre-teen to help her mother who was overwhelmed at that time. Isabelle is a talented artist and uses her art to escape into another world of beauty .
From the very first book in the series, LOVE SHADOWS, we have seen Isabelle as a focused and determined artist. She paints watercolors and acrylics of water sprites and fairies, she claims she has seen along the shores of Indian Lake when she was a little girl, but she dreams of creating more with her work and having those paintings hang in famous gallery show.
Scott has been in love with Isabelle for years, but he's never spoken up. He's been her friend, her rock, always there for her to support her. At the time of the story, Scott has realized that HIS dream of becoming a Pulitzer Prize winning journalist, is not going to happen and that what he wants in his life is a family. He wants that life with Isabelle, but she turns him down because she is just about to show her paintings in a Chicago Gallery. Scott's timing is about a "off" as it can get.

I just need to read this one already, obviously! ;)
What was your favorite part of writing their story?
Now that it's over, I think my favorite part is how emotional I was during the writing. I think I cried with just about every page. I had wanted to write about unrequited love and this time from the man's point of view. But I felt so sorry for Scott, who was the "stand up kind of guy" as he watches Isabelle go for her dream, another man take an interest in her and at the same time, he decides to become a foster father. Though, it is noble to care for these (adorable and very lost) children, it had to be so tough for him.
Those make the best stories, though. The ones that pull on the readers' emotions.

Did you find anything that surprised you when writing FAMILY OF HIS OWN?
I was surprised at how much I fell in love with the children. When I wrote Bella's reactions and her dialogue, she was "present" to me. I was intrigued with her even more than I have been with Annie, Timmy and Danny. Frankly, I would like to write Bella's romance when she grows up.

I think that's a marvelous idea! I always wonder where younger characters are at in their lives later on.


What books are you currently reading or are on your soon-to-read list?

I just finished Kate James's HOME TO STAY. Which was her best yet. YAY! I loved, loved it. I'm reading Loree Lough's new release. I have Cari Webb's book in my suitcase and I'm reading some works on The Dead Sea Scrolls.

I love all the Heartwarming authors, so those all sound fabulous! That last one makes me wonder if that's for research or just for fun...


What is next for you and this series?
I'm working on the line edit for HIS BABY DILEMMA which is my December release and my editor, Claire and I are working on four story ideas /proposals for more SHORES OF INDIAN LAKE stories!

I think there can definitely be more stories, so that sounds great! Looking forward to more!!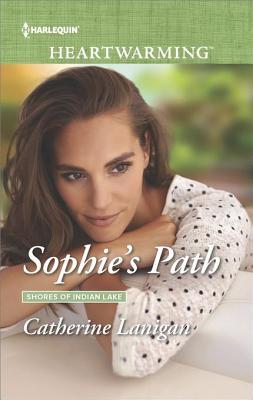 Catherine Lanigan
is the international bestselling and award-winning author of forty published titles in both fiction and non-fiction, including the novelizations of Romancing the Stone and
The Jewel of the Nile
, as well as over half a dozen anthologies, including "
Chicken Soup for the Soul: Living your Dream
", "
Chicken Soup for the Writer's Soul
", and more. Ms. Lanigan's novels have been translated into dozens of languages including German, French, Italian, Spanish, Russian, Portuguese, Chinese, and Japanese. Ms. Lanigan's novels are also available in E-books on Amazon.com and Barnes and Noble.com, Apple Store, Mobi and Kobo. Several of her titles have been chosen for The Literary Guild and Doubleday Book Clubs. Her Vietnam war-based novel,
The Christmas Star
, won the Gold Medal Award Top Pick from
Romantic Times Magazine
and has also won Book of the Year Romance Gold Award from
ForeWord Magazine
as well as Book of the Year Romance from Reader's Preference.
Lanigan is the author of a trilogy of non- fiction books regarding angelic intervention in human life: Angel Watch, Divine Nudges and Angel Tales published by HCI and Cedar Fort. Skyhorse published Lanigan's "how-to" book on writing: Writing the Great American Romance Novel. Lanigan was tasked by the NotMYkid Foundation to write a non-fiction book addressing teen addictions. Ms. Lanigan's first Young Adult adventure novel, The Adventures of Lillie and Zane: The Golden Flute, was published by Cedar Fort.
Currently, she has published eight novels in the Shores of Indian Lake series for Harlequin Heartwarming: Love Shadows, Heart's Desire, A Fine Year for Love, Katia's Promise, Fear of Falling, Sophie's Path and Protecting the Single Mom. Family of His Own pubs July, 2016. She has recently contracted for one more in the series: His Baby Dilemma.
As a cancer survivor, Ms. Lanigan is a frequent speaker at literary functions and book conventions as well as inspiring audiences with her real stories of angelic intervention from her Angel Tales series of books. She is an outspoken advocate for domestic violence and abuse and was honored by The National Domestic Violence Hotline in Washington, D.C. (
THE EVOLVING WOMAN
). She has been a guest on numerous radio programs including "Coast to Coast" and on television interview and talk show programs as well as blogs, podcasts and online radio interview programs.
-
1 winner will receive a $50 Amazon eGift Card
(open internationally)
- 1 winner will receive a tote bag and three Shores of Indian Lake books: Katia's Promise, Fear of Falling and Sophie's Path (US only)
Have you read any of the books in this series? Any thoughts on the interview?