"Waiting On" Wednesday is a weekly event, hosted by Breaking the Spine, that spotlights upcoming releases that we're eagerly anticipating.
So, these are being released in less than a month and I'm really looking forward to them coming up on my reading and reviewing list. Both are Christian contemporary romance from newer-to-me authors. I can't wait for...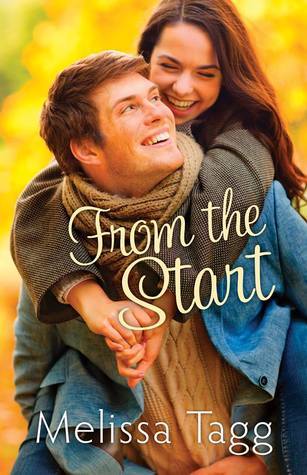 From the Start
(Walker Family #1)
by Melissa Tagg
Christian Contemporary Romance
Paperback, 352 pages
April 7th 2015 by Bethany House Publishers
Summary
"Simply adorable...you might just fall in love with Here to Stay."--USAToday.com
Kate Walker used to believe in true love and happily ever after. While her own love life may have left her brokenhearted, it hasn't kept her from churning out made-for-TV romance movie screenplays...until a major career slump and a longing to do something meaningful send her running back to her hometown of Maple Valley.
Permanently sidelined by an injury, former NFL quarterback Colton Greene is temporarily hiding out in a friend's hometown to avoid the media and the reminders of all he's lost. Maple Valley seems like the perfect place to learn how to adjust to normal life. The only trouble is he's never really done normal before.
While Kate plays things safe and Colton is all about big risks and grand gestures, they both get what it's like to desperately need direction in life. An unexpected project gives them both a chance to jumpstart their new lives, but old wounds and new dreams are hard to ignore. Starting over wasn't part of the plan, but could it be the best thing that's ever happened to them?
Pre-order from:
Together with You
by Victoria Bylin
Christian Contemporary Romance
Paperback, 336 pages
April 7th 2015 by Bethany House Publishers
Summary
A Tender Contemporary Romance about Finding Unexpected Love

When a Lost Child warning blasts over the mall's PA system, toy store manager Carly Mason finds the little girl playing with a stuffed rabbit. Something about five-year-old Penny Tremaine is different. An ex-social worker, Carly recognizes that Penny suffers fetal alcohol effects, and a piece of Carly's own past suddenly confronts her. Never again will Carly become involved with a client. The risks are far too great. But something about Penny--and Penny's handsome father--tugs at Carly's heart. Before she has time to think it through, she agrees to a much-needed job as a nanny.

Dr. Ryan Tremaine knows he messed up his life. But this summer he will redeem himself. With his ex-wife remarried and on a trip far away, his two teenage sons and Penny are living under his roof full time. Ryan is dedicated to his sink-or-swim list, a plan to reconnect with his children. The first step: recruiting Carly Mason to be Penny's nanny.
Are either of these on your can't-wait-to-read list?