Welcome to my tour stop for
Dearest
by
Alethea Kontis
!
You can see my review of
Enchanted
here
and
Hero
here
. My review for
Dearest
is below...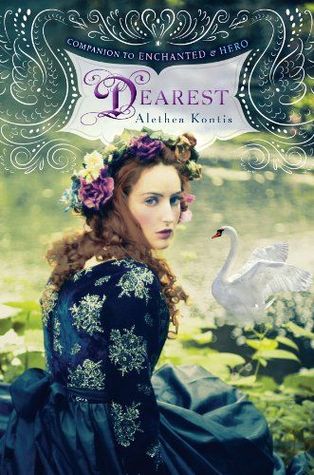 Dearest
(Woodcutter Sisters, #3)
by Alethea Kontis
YA Fantasy
Hardcover & ebook, 320 Pages
February 3rd 2015 by HMH Books for Young Readers

Summary


"A fabulous fairy-tale mashup that deserves hordes of avid readers. Absolutely delectable." —
Kirkus Reviews
, starred review of award-winning series debut
Enchanted
Readers met the Woodcutter sisters (named after the days of the week) in
Enchanted
and
Hero
. In this delightful third book, Alethea Kontis weaves together some fine-feathered fairy tales to focus on Friday Woodcutter, the kind and loving seamstress. When Friday stumbles upon seven sleeping brothers in her sister Sunday's palace, she takes one look at Tristan and knows he's her future. But the brothers are cursed to be swans by day. Can Friday's unique magic somehow break the spell?
The Other Woodcutter Sisters Books
I have completely fallen in love with the Woodcutter family and this series! Each book has focused on a different sister and they are each unique. Friday's story in Dearest is no different. She was her own person with some faults and some talents of her own. There was the trademark mashup of fairy tales (The Goose Girl, the Seven Swans, Peter Pan, and some others...) from this series and Kontis's pen. Friday's story takes place after the first book in this series (Enchanted) and during the second book (Hero).
What I loved about Dearest were its characters. First you have Friday and her family. We see quite a bit of her sister who is now queen and some glimpses of her father and brother. They still had an impact on the story. Then there were these swan brothers and their sister. They each have personalities and character traits that differentiate them from each other. I loved that the author was able to write them in such a way that I felt I got a decent look into each one of them and who they were. Some of them also had very specific roles to play in this story and its outcome. Tristan was, of course, my favorite of the brothers. There was somewhat of an immediate connection between him and Friday that I would have loved explained or delved into a little more, but it definitely was a fairy tale destiny that they meet. I also loved Friday, naturally. You think she is this mild, kind of fade-into-the-background sister compared to her other family members, and maybe she wanted to be, but that isn't really who she is. She's a born leader, or at least someone who others immediately want to love and follow. In the end, when she's had enough and is out to protect and save those she loves, we see how fierce and strong she can really be.
The story moved at a good pace for me. It gave me time to get to know Friday before a slue of other characters were dropped in her lap. I felt like I got to know everyone better and added info to what I already knew from the prior two books. I loved all the nods to various folklore and fairy tales. The author is definitely a master at blending different tales while making them completely original and her own. The story continued to add some characters and build to its climax. I felt like it was a steady build and I was literally dying to find out what would happen by the time the end approached. I had a few of those moments when I wanted to yell at some characters to: "Hurry up!" "Save the day!" "Make it in time!!!" The ending was fairly dark as it was intense and fit perfectly into who Friday was and also who the villains were. It was heartbreaking while also being triumphant.
If you have enjoyed the other books in this series or enjoy reading fairy tale retellings I would highly recommend Dearest as well as this entire series.

Content: Some men being unclothed as they turn from swans to men and one swear-word label for a female character, but otherwise clean.
Source: I would like to thank the author for my complimentary review copy through NetGalley, which did not affect my review in any way.
Alethea Kontis courtesy of Lumos Studio 2012
New York Times bestselling author
Alethea Kontis
is a princess, a fairy godmother, and a geek. She's known for screwing up the alphabet, scolding vampire hunters, and ranting about fairy tales on YouTube.
Her published works include:
The Wonderland Alphabet
(with Janet K. Lee),
Diary of a Mad Scientist Garden Gnome
(with Janet K. Lee), the AlphaOops series (with Bob Kolar), the Woodcutter Sisters fairy tale series, and
The Dark-Hunter Companion
(with Sherrilyn Kenyon). Her short fiction, essays, and poetry have appeared in a myriad of anthologies and magazines.
Her YA fairy tale novel,
Enchanted
, won the Gelett Burgess Children's Book Award in 2012 and the Garden State Teen Book Award i 2015.
Enchanted
was nominated for the Audie Award in 2013, and was selected for World Book Night in 2014. Both
Enchanted
and its sequel,
Hero
, were nominated for the Andre Norton Award.
Born in Burlington, Vermont, Alethea currently lives and writes in Florida, on the Space Coast. She makes the best baklava you've ever tasted and sleeps with a teddy bear named Charlie.
Check out Alethea's Road Tour HERE!

3 Woodcutter Sisters Prize Packs (signed copies of Enchanted, Hero, & Dearest - US Only)
Ends March 8th