A themed tour with
Prism Book Tours
.
We're launching the BOOK TOUR for
Dearest
Dearest is the third book in the Woodcutter Sisters Series and is another magical edition.
Hello, everyone! Princess Alethea Kontis here. I'd like to formally welcome you to a month that's chock full of fantasy and fun --in shining, glittery fairy tale fashion, as only this princess can do! We've got surprises in store for you every day this month: insightful blogger reviews, in-depth interviews (complete with ridiculous Alethea-style answers), original essays, and fairy tale rants...it's enough to make an evil witch's toes curl. And each step of the way there are more chance to win one of three Princess Grand Prize Packs!

Like Sunday Woodcutter says, I cannot promise you a happy ending (or even nice weather, for that matter), but I can promise you a month of magic, merriment, and mayhem. Grab your cloak of invisibility, strap on your seven-league boots, grab your best talking-animal friend and let's start this adventure!
February Tour Schedule
3 - Special post @ Waterworld Mermaids
3 - Coffee Books & Art & The Book Lovers' Lounge
4 - Special post @ USA Today's Happy Ever After
4 - Buried Under Books, Mommabears Book Blog, & Rabid Reads
5 - Interview @ J.T. Ellison
5 - Gidget Girls Reading
6 - Zerina Blossom & Geo Librarian
8 - Welcome to Book City
9 - Kelly P's Blog & Katy's Krazy Books
10 - Mel's Shelves & Jan Edwards
11 - Katie's Clean Book Collection
12 - A Backwards Story & Wishful Endings
13 - Library of a Book Witch & The Quotable
14 - Biggest Literary Crushes post on @ Teen Reads
15 - The Written Adventure
16 - My Life Loves and Passion & Colorimetry
17 - I Am A Reader & The Library of the Seen
18 - Special post on @ Dear Teen Me
18 - Printcess & Living a Goddess Life & Melissa's Eclectic Bookshelf
19 - 100 Pages A Day & mrsjennyreads
20 - Books and Ashes & Addicted Readers
22 - Miss Little Book Addict YA House of Books
23 - SBM Book Obsession
24 - Deal Sharing Aunt
25 - Min Reads and Reviews
26 - Pieces of Whimsy & Wonderous Reviews
27 - The Scribbling Sprite
28 - Grand Finale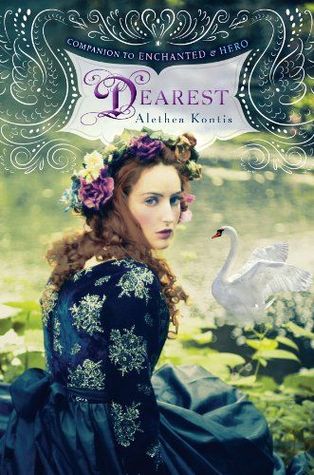 Dearest
(Woodcutter Sisters, #3)
by Alethea Kontis
YA Fantasy
Hardcover & ebook, 320 Pages
February 3rd 2015 by HMH Books for Young Readers
"A fabulous fairy-tale mashup that deserves hordes of avid readers. Absolutely delectable." —
Kirkus Reviews
, starred review of award-winning series debut
Enchanted
Readers met the Woodcutter sisters (named after the days of the week) in
Enchanted
and
Hero
. In this delightful third book, Alethea Kontis weaves together some fine-feathered fairy tales to focus on Friday Woodcutter, the kind and loving seamstress. When Friday stumbles upon seven sleeping brothers in her sister Sunday's palace, she takes one look at Tristan and knows he's her future. But the brothers are cursed to be swans by day. Can Friday's unique magic somehow break the spell?
The Other Woodcutter Sisters Books
Enchanted
(Woodcutter Sisters, #1)
by Alethea Kontis
YA Fantasy
Hardcover & ebook, 308 Pages
May 8th 2012 by Harcourt Children's Books
It isn't easy being the rather overlooked and unhappy youngest sibling to sisters named for the other six days of the week. Sunday's only comfort is writing stories, although what she writes has a terrible tendency to come true.
When Sunday meets an enchanted frog who asks about her stories, the two become friends. Soon that friendship deepens into something magical. One night Sunday kisses her frog goodbye and leaves, not realizing that her love has transformed him back into Rumbold, the crown prince of Arilland—and a man Sunday's family despises.
The prince returns to his castle, intent on making Sunday fall in love with him as the man he is, not the frog he was. But Sunday is not so easy to woo. How can she feel such a strange, strong attraction for this prince she barely knows? And what twisted secrets lie hidden in his past - and hers?
Hero
(Woodcutter Sisters, #2)
by Alethea Kontis
YA Fantasy
Hardcover & ebook, 304 Pages
October 1st 2013 by Harcourt Books

Rough and tumble Saturday Woodcutter thinks she's the only one of her sisters without any magic—until the day she accidentally conjures an ocean in the backyard. With her sword in tow, Saturday sets sail on a pirate ship, only to find herself kidnapped and whisked off to the top of the world.

Is Saturday powerful enough to kill the mountain witch who holds her captive and save the world from sure destruction? And, as she wonders grumpily, "Did romance have to be part of the adventure?"

As in Enchanted, readers will revel in the fragments of fairy tales that embellish this action-packed story of adventure and, yes, romance.


Alethea Kontis courtesy of Lumos Studio 2012
New York Times bestselling author
Alethea Kontis
is a princess, a fairy godmother, and a geek. She's known for screwing up the alphabet, scolding vampire hunters, and ranting about fairy tales on YouTube.
Her published works include:
The Wonderland Alphabet
(with Janet K. Lee),
Diary of a Mad Scientist Garden Gnome
(with Janet K. Lee), the AlphaOops series (with Bob Kolar), the Woodcutter Sisters fairy tale series, and
The Dark-Hunter Companion
(with Sherrilyn Kenyon). Her short fiction, essays, and poetry have appeared in a myriad of anthologies and magazines.
Her YA fairy tale novel,
Enchanted
, won the Gelett Burgess Children's Book Award in 2012 and the Garden State Teen Book Award i 2015.
Enchanted
was nominated for the Audie Award in 2013, and was selected for World Book Night in 2014. Both
Enchanted
and its sequel,
Hero
, were nominated for the Andre Norton Award.
Born in Burlington, Vermont, Alethea currently lives and writes in Florida, on the Space Coast. She makes the best baklava you've ever tasted and sleeps with a teddy bear named Charlie.
Want to meet Alethea in person? Check out her Road Tour!
February 13, 7pm
Barnes & Noble — Signing with
Leanna Renee Hieber
(Florida Fabulosity Tour)
West Melbourne, FL
http://store-locator.barnesandnoble.com/event/86063
February 16, 6pm
Barnes & Noble Carrollwood — Signing with
Leanna Renee Hieber
(Florida Fabulosity Tour)
Tampa, FL
February 17, 7pm
Barnes & Noble — Signing with
Leanna Renee Hieber
(Florida Fabulosity Tour)
Orlando, FL
February 20, 6pm
Books a Million — Signing with
Leanna Renee Hieber
(Florida Fabulosity Tour)
Merritt Island, FL
February 21, 1pm
Barnes & Noble — Signing with
Leanna Renee Hieber
(Florida Fabulosity Tour)
Tallahassee, FL

3 Woodcutter Sisters Prize Packs (signed copies of Enchanted, Hero, & Dearest - US Only)
Ends March 8th