I'm excited to have Amy Nichols visiting today as part of my Blogoversary! Amy was a debut author last year for While You Were Gone. I got to meet her at a YA event at my local library this past month. She's super cute and fun and I was thrilled to have her sign a copy of her book for me and for this giveaway. Woohoo! The second book in this dualogy comes out in August and I'm looking forward to seeing how it changes my perception of the first book. Check out her post below...
Tens Reasons Why Warren Is The Most Awesome Friend Ever
by Eevee Solomon (of Now That You're Here)
Some people have lots of friends, and that totally works for them. I don't have a ton of friends, but I do have one best friend. He's someone who sticks by me even when things get weird. His name is Warren Fletcher, and here are ten reasons why he's awesome.
1. Doesn't do drama
Sometimes it feels like high school is all about drama. Who likes this person. Who said what to that person. Who broke up with who, and who's dating so-and-so. Ugh. It's nice having a best friend who cares as little about that stuff as I do.
2. Does do geocaching
Geocaching is like urban treasure hunting for spies. It's seriously the coolest thing ever, but when I mention it to anyone (except Warren) they look at me like I have two heads. Which makes Warren awesome. Most friends hang out at the mall or the movies on the weekends. We geocache.
3. Makes a great partner for the Science Fair
Last year we came
this close
to winning (thanks to my brilliant idea *cough*). This year, we'll be unstoppable…if we can agree on an idea. (Did I mention Warren is stubborn? He's a great partner, but he can be so stubborn.)
4. Kicks butt in geeky debates
I admit it. He's better than I am, but I can hold my own when it comes to debating who has the best super power, or which is the best Doctor Who episode. (It's "Blink". Just saying. If you haven't seen it, drop everything and watch it
right now
. That sound you'll hear will be your own mind exploding.)
5. Hosts the best meteor shower viewing parties on his roof
Seriously, who does that? Warren. They're by invitation only, and they're a blast.
6. Knows how to build a Faraday Cage
Because you never know when that knowledge will come in hand, like when you need to study the effects of an EMP on the human body but you want to avoid frying your house…or your neighborhood…or the entire city.
7. Sacrifices his vintage comic collection to help you out of sticky situations
Even his copy of
Strange Tales
Number110, with the first appearance of Doctor Strange.
8. Helps you with the homework you missed when you ditch school
It wasn't like I deliberately set out to ditch. Okay, that's not entirely true. But hey, what's done is done, right? It was just cool of Warren to look out for me and make sure I didn't get too far behind.
9. Also wonders what is up with Mac
The white van? The guys in suits? I wish we knew what was going on with Mac, and why he's avoiding us. That's so not like him. Something is definitely up.
10. Still groks you, even though you fall for the guy who bullied him in sixth grade
Okay, technically it's not the
actual
guy who bullied him, but a version of that guy who jumped here from a parallel universe. It's complicated.
About Eevee
Eevee Solomon is a 15 year-old sophomore at Palo Brea High School in Phoenix, AZ. She enjoys geocaching, welding, studying quantum physics, and drawing fractals. She's fascinated with the idea of parallel universes, and though she'll probably deny it, has a thing for a particular boy who jumped here from one.
Amy K. Nichols is the author of NOW THAT YOU'RE HERE, a YA science fiction novel about Danny, a boy who jumps to a parallel universe where his life is vastly different. There he meets Eevee, a girl he recognizes from his world, but who in this world is nothing like he expects. Together they try to work out the puzzle of how he jumped, and how to get him back home; though now that he's with her, he's not sure back home is where he wants to be. NOW THAT YOU'RE HERE, published by Knopf, is the first of two books in the Duplexity series. The second book, WHILE YOU WERE GONE, mirrors the first book, telling the story of the other Danny and other Eevee in the alternate universe hinted at in book one. WHILE YOU WERE GONE hits shelves on August 4.
Books by the Autho
r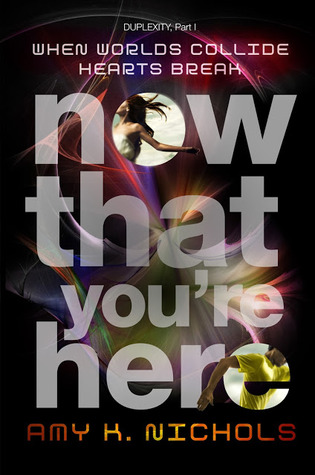 Now That You're Here
(Duplexity #1)
by Amy K. Nichols
December 9th 2014 by Knopf Books for Young Readers
Summary
In a parallel universe, the classic bad boy falls for the class science geek.
One minute Danny was running from the cops, and the next, he jolted awake in an unfamiliar body - his own, but different. Somehow, he's crossed into a parallel universe. Now his friends are his enemies, his parents are long dead, and studious Eevee is not the mysterious femme fatale he once kissed back home. Then again, this Eevee - a girl who'd rather land an internship at NASA than a date to the prom--may be his only hope of getting home.
Eevee tells herself she's only helping him in the name of quantum physics, but there's something undeniably fascinating about this boy from another dimension... a boy who makes her question who she is, and who she might be in another place and time.
August 4th 2015 by Alfred A. Knopf Books for Young Readers
An artist without a cause meets a rebel without a clue.
Eevee is a promising young artist and the governor's daughter in a city where censorship is everywhere and security is everything. When a fire devastates her exhibition—years in the making—her dreams of attending an elite art institute are dashed. She's struggling to find inspiration when she meets Danny, a boy from a different world. Literally.
Raised in a foster home, Danny has led a life full of hurt and hardship until a glitch in the universe changes everything. Suddenly Danny is living in a home he's never seen, with parents who miraculously survived the car crash that should have killed them. It's like he's a new Danny. But this alternate self has secrets—ties to an underground anarchist group that have already landed him in hot water. When he starts to develop feelings for Eevee, he's even more disturbed to learn that he might have started the fire that ruined her work.
As Danny sifts through clues from his past and Eevee attempts to piece together her future, they uncover a secret that's bigger than both of them. . . . And together, they must correct the breach between the worlds before it's too late.
- Choice of Defy or Ignite by Sara B. Larson
Second Rafflecopter Giveaway (US Only)
Must be able to enter and receive winnings by law. Must be eligible for free shipping through Amazon or Book Depository or be able to receive the ebooks. You must be at least 13 years old to enter and have parental approval if under 18. Please ensure that you correctly enter your email (and check your junk mail folder if I'm not on your contact list) so that I have a way to contact you. You can read my giveaway policy on my
policies page
. Void where prohibited by law. Enter via the Rafflecopter below.
a Rafflecopter giveaway
a Rafflecopter giveaway