Review briefs are short reviews for books I need to review, but are either novellas (you can only say so much about a short book), books I didn't like, or when I don't have time for a longer review but need to get one posted.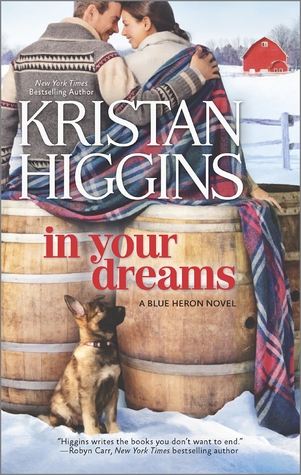 In Your Dreams
(Blue Heron #4)
by Kristan Higgins
Adult Contemporary Romance
Paperback & ebook, 480 Pages
September 30th 2014 by Harlequin HQN
Summary
Emmaline Neal needs a date. Just a date—someone to help her get through her ex-fiancé's wedding without losing her mind. But pickings are slim in Manningsport, New York, population 715. In fact, there's really only one option: local heartthrob Jack Holland. Everyone loves Jack, and he won't get the wrong idea…. After all, Jack Holland would never actually be interested in a woman like Em. Especially not with his beautiful ex-wife creeping around, angling to reunite ever since he rescued a group of teens and became a local hero.
But when the wedding festivities take an unexpectedly passionate turn, Em figures it was just one crazy night. Jack is too gorgeous, too popular, to ever end up with her. So why is she the one he can talk to about his deep, dark feelings? If Em is going to get her dream man, she'll have to start by believing in him…
IN YOUR DREAMS was a fun, charming, and romantic story! The usual sarcasm, wit, chemistry, and humor that readers usually find in a Higgins book were all present. With cameos from characters of prior books in the series and two new characters to learn about and fall in love with, it was another enjoyable romance
from Kristan Higgins and perfect for romance/chick-lit readers.
I generally read clean and sweet romance. I do foray into general romance off and on to see if I'll like a new author and I sometimes crave a fun, humorous, and romantic read. Kristan Higgins is one romance author that I tried years ago and really loved because she mixes the humor, charm, and romance so well. She also has great characters. Her books do contain mature content, swearing, and fade-to-black to descriptive scenes.

Content: Swearing, descriptive sex, innuendo.
Source: I received a complimentary eARC through NetGalley, which did not affect my review in any way.
(The Brides of Bliss Country #4)
by Linda Lael Miller
Adult Contemporary Romance, Christmas
Hardcover & ebook, 267 Pages
September 29th 2015 by HQN Books
Summary
Charlotte Morgan grew up in Mustang Creek, Wyoming, and couldn't wait to escape to the big city. But life in New York isn't as fabulous as she'd like to admit. she's lonely, doing a job she doesn't love and dating too many frogs she meets online.
CHRISTMAS IN MUSTANG CREEK was a romance set during Christmastime. The premise was sweet (a guy following the girl he loves, moving to her hometown, without her knowing) and overall it was a cute story. I liked the characters and how the holiday was woven through the story. For some reason it did fall a little flat for me. Maybe because it felt a little contrived or I didn't understand why Charlotte would be so against Jaxon. There wasn't a whole of of tension or a lot that prevented the relationship. I never got to the point where I fell in love with the characters and felt their struggles. I did like Mrs. Claus, but she's rather mysterious too. I think I just wanted more from the story and the characters. Having said that, for most romance readers this would be an enjoyable read.
Content: Swearing, descriptive sex, innuendo.
Source: I received a complimentary eARC through NetGalley, which did not affect my review in any way.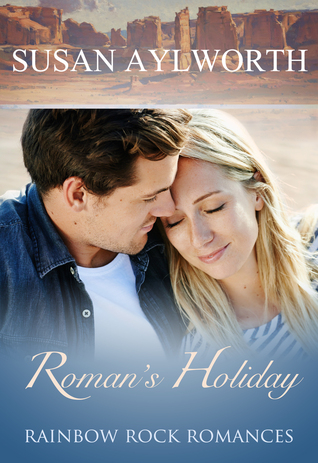 Roman's Holiday
(Rainbow Rock Romances)
by Susan Aylworth
Adult Contemporary Romance
ebook, 230 Pages
November 16th 2015
Summary
Four years after Roman Kincaid was catapulted into stardom as a country-western singer and A-list movie star, he is burned out: exhausted by a grueling schedule, drained by the ceaseless demands of producers and managers, weary of meeting the needs of others at the expense of his own. Leaving a sold-out show in Phoenix, he rents a car and drives north and east, landing in the Painted Desert town of Rainbow Rock.
Nearly three years after leaving her old life behind, Lottie Beale is feeding people and baking pies, managing the Kachina Café and tending secrets of her own. When circumstances conspire to give two attractive people some time alone together amid the world-class vistas of the Four Corners, they discover more than either had bargained for.
ROMAN'S HOLIDAY was about a guy needing a break from the limelight with all its pressures and the woman he finds in a small town that intrigues him and has her own mysterious past that she's escaped from. It was a sweet story with a charming cowboy and a down-to-earth gal. I liked the characters. I liked that the author didn't just let the couple get an instant happily-ever-after and how she worked out their relationship towards the end.
There were three things that I thought could have been handled better. There was a lot of info dumping as the characters toured the area. Some of it was interesting, especially in the beginning, but it was just too much and a little too forced (such as when the character's were actually discussing the politically correct terminology for things). The other things was some of the content. I was expecting a completely clean read and then there were things that pushed that line. And then the ending
was a little too perfect, all wrapped up.
Overall a sweet story for those who enjoy reading romance, but don't want too much heat.

Content: Some references to body parts, innuendo, and invitations that don't pan out.
Source: I received a complimentary copy for the purposes of a book tour through the host, which did not affect my review in any way.
Would you read or have you read any of these?