I'm excited to welcome authors Tarun Shanker and Kelly Zekas to my blog today for their These Vicious Masks tour! Check out the other tour stops here and the awesome interview and giveaway below...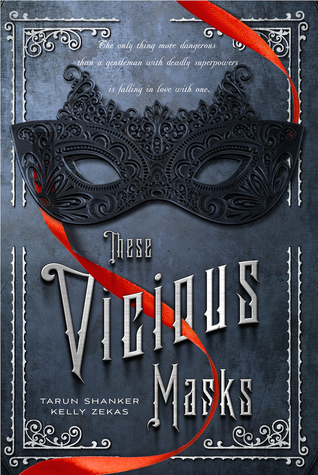 These Vicious Masks
(These Vicious Masks #1)
by Tarun Shanker & Kelly Zekas
YA Fantasy, Paranormal
Paperback & ebook, 352 Pages
February 9th 2016 by Swoon Reads
Summary
Evelyn has no interest in marriage and even the dashing Mr. Kent can't make her want to live up to society's expectations. She'd much rather assist her beloved sister Rose in becoming the world's first female doctor. But everything changes the night she meets Sebastian Braddock – not only is the reclusive lord both vexing and surprisingly attractive, he's also quite possibly mad, and his interest in Rose is galling. So when Evelyn wakes up to discover that Rose has disappeared, she immediately suspects Sebastian.
But then she discovers that Sebastian's strange tales of special powers are actually true, and that Rose's kidnappers have worse in mind for her than simply ruining her reputation. Surrounded by secrets, lies, and unprecedented danger, Evelyn has no choice but to trust Sebastian, yet she can't help but worry that Sebastian's secrets are the most dangerous of all…
Interview with the Authors
1. What made you decide to set These Vicious Masks historically?

We knew from the get go that we wanted to write a story set in Victorian London. It's Kelly's favorite setting and Tarun loved learning about it as we researched and wrote. We also thought it made a unique backdrop for people with superhuman powers.

2. What inspired the fantasy/paranormal elements?

Tarun has read too many X-men comics and has always been interested in bringing superhero elements to a YA story. We spent a lot of time deciding on the origin of the powers and looking at how people in that time period would try to rationalize them. The search for the right explanation will continue throughout the trilogy.

3. Would you tell us a little bit about Evelyn and Sebastian?

The book begins with Evelyn Wyndham struggling over a strong suspicion that there is no real place for her in Victorian England. She is very smart and determined, but also can be rude and pig-headed. That doesn't bode well for a happy Victorian marriage. She isn't quite sure what the alternative is, either, but she would like to travel and find out what else might be out there. Then … THINGS HAPPEN.
Sebastian Braddock is everything Evelyn hates in a gentleman. He's annoyingly attractive, secretive, brooding, and very possibly mad. Having seen her fair share of suitors who pretend to be all dark and mysterious for attention, Evelyn is pretty sure Sebastian is putting on an act. As the story progresses, she finds out quite a bit of his past and revises her opinion slightly.
Kelly would like to put in that Sebastian is her ultimate and forever book boyfriend.
4. What was your favorite part of writing this story?
Kelly: Any time Evelyn was witty.
Tarun: Any time Mr. Kent was witty.
5. When writing These Vicious Masks, did you find anything interesting from your research?
So many things! Since Evelyn's sister is somewhat famous for her nursing skills, we had to do plenty of research on Victorian illnesses and remedies. We ended up cutting a lot of scenes, but we spent so much time working on that. One odd thing that ended up happening was taking out the word "leukemia." Victorians did actually call it leukemia, but it looked SO modern and out of place that we decided to change a character's illness. Medical discoveries were happening so often at the time that we had to be very careful we were discussing the correct methods used in 1882. The medical journals in Google Books were our best friends.
6. Do you have a favorite line or scene from These Vicious Masks you could share?
YES:
Sebastian: "Why don't—" He stopped abruptly and took a breath. "Normally I'm good at being polite, but with you, I have to try very hard."

Evelyn: "Were you trying very hard the two times you've compared me to a prostitute today?"
7. Can you share with us what you're working on next?
The rest of the trilogy! We are still drafting book 2 at the moment. We also have a couple ideas for contemporary books when we are finished with the trilogy, as well as a possible spin-off elsewhere in the TVM world.
8. What are you looking most forward to reading in 2016?
All the debuts! Some other Swoon Reads titles to watch out for: Cindy Anstey's
Love, Lies & Spies
(adorable Regency romp), Kate Evangelista's
No Love Allowed
(fake dating!), Jenn P. Nguyen's
The Way to Game the Walk of Shame
(MORE FAKE DATING!), Danika Stone's
All The Feels
(for shippers and con lovers). And then just a handful of some other gorgeous debuts we are super excited about: Kathryn Purdie's
Burning Glass
is especially beautiful,
The Girl From Everywhere
is time-traveling perfection, and we can't wait to get our hands on more Victorian fantasy with Jessica Cluess'
A Shadow Bright and Burning
and Tara Sims'
Timekeeper
.

— Tarun & Kelly
Tarun and Kelly met in a freshman year writing class at NYU and started writing These Vicious Masks a few years later.
Tarun is a writer living in Los Angeles whose idea of paradise consists of kung-fu movies, David Bowie and chai tea. Since completing his first horrible screenplay in high school, he's written everything from one-act plays and film criticism to humor pieces and strongly-worded emails. He's also magnetized, crushed and burned the hard drive where that first screenplay can be found.
Kelly is a writer and actor living in NYC. YA is her absolute favorite thing on earth other than cupcakes and she has spent many hours crying over fictional deaths. She also started reading Harlequin romances at a possibly too early age (12?), and still loves a good paperback romance.