On Tour with
Prism Book Tours
.
Welcome to my tour stop for The Express Rider's Lady by Stacy Henrie! Stacy is a fabulous writer! You can see my reviews of her Of Love and War series here and here. Learn about the hero and heroine for The Express Rider's Lady and enter the fabulous gift card/book giveaway below...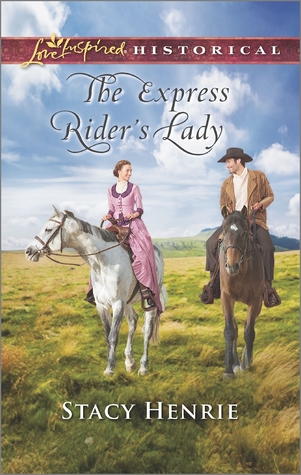 The Express Rider's Lady
by Stacy Henrie
Adult Christian Historical Romance
Paperback & ebook, 288 pages
February 9th 2016 by Love Inspired
Summary
Westward Wedding Journey
Delsie Radford is going to make it to California, no matter the danger or difficulty. Her father may have kept her and her sister apart, but Delsie refuses to miss her sister's wedding—even with only eighteen days to get there. And she's found the perfect escort in Pony Express rider Myles Patton.
Myles can't believe it when a pretty socialite hires him to take her cross-country through rough terrain and dangerous territory. Surely she'll quit before they reach their destination—he's known girls like her before. But the longer they ride together, the more Myles notices Delsie's toughness and kindness beneath her polished exterior. And though they may be worlds apart…they might just be perfect for each other.
In my head, Delsie looks like Lilly Collins and Myles looks like James Marsden.
James Marsden. Photo by JOHN P JOHNSON - © 2015 HBO via Westworld Facebook
here
.
Myles Patton is a rider for the newly created Pony Express, riding the trail from St. Joseph, Missouri to Guittard's home station in Kansas and back. And while he has a way with horses, his people skills are a bit lacking.
Orphaned as a young child, he was taken in by Charles Patton, who'd recently lost his wife and baby. Myles admired his stepfather so much that he took Patton on as his last name. Even after five years, he still struggles with his stepfather's death, especially after Myles was rejected by his high society girlfriend a few months ago.
His two closest friends are Elijah, an American Kestrel or sparrow hawk, that he rescued on the prairie and an old cowman and express worker Hank Amos. With his dark eyes and dark hair, Myles makes a handsome picture, but a woman would have to see past his current prickly demeanor to find his big heart beneath.
He's certain Delsie Radford, society born and bred, won't last a day on the Express trail. But Delsie surprises him by sticking with him his entire run to Guittard's. Then she surprises him again when she devises a way for them to ride to California in time for her sister's wedding. Myles doesn't know what to do with this plucky, kind, faith-filled young woman who doesn't fit his ill opinions of the rich. And he certainly doesn't know what to do with his growing feelings for her.
His dream is to own a horse ranch out West someday—and the longer he rides with Delsie, the more he starts to wonder if she might fit into that dream as well.
Delsie Radford, the second daughter of a wealthy bank owner from Pennsylvania, finds herself caught between her father and sister by a promise she made to her dying mother. She's supposed to be keeping her family together, but that proves impossible after her sister runs off to California and doesn't write. But when Delsie discovers Lillie's hidden letters and an ultimatum to be to her wedding in just a few weeks, Delsie relies on her strong faith and takes action. She's going to be in California in eighteen days or die trying. And surely the fastest horsemen alive are employed by the newly created Pony Express. So Delsie commissions Myles Patton, an Express rider from St. Joseph, Missouri, to accompany her across the country.
Life out West, though, is completely foreign to anything Delsie has known in her nineteen years. She must face runaway horses, an unwanted marriage proposal, marauding Indians, and the ornery but good-hearted Myles. But the more Delsie learns to handle herself in the saddle and on the trail, her confidence begins to grow. She's stronger than she ever thought she was—and her feelings for Myles are growing stronger too.
As she gets a taste for life and adventure outside the strict parlors of Pennsylvania, Delsie begins to wonder if she wants to go back to what she's always known. Perhaps there's a way to help her family and honor her heart at the same time.

About the Author
Stacy Henrie
has always had a love for history, fiction, and chocolate. She earned her B.A. in public relations before turning her attentions to raising a family and writing inspirational historical romances. Wife of an entrepreneur husband and a mother to three, Stacy loves to live out history through her fictional characters. In addition to author, she is also a reader, a road trip enthusiast, and a novice interior decorator.
Website - Goodreads - Facebook - Twitter - Pinterest
Tour-Wide Giveaway
$50 Amazon eGift Card
(open internationally)
Print copy of The Express Rider's Lady
(US only)
ebook of The Express Rider's Lady
(open internationally)
Ends February 19th
a Rafflecopter giveaway