Welcome to Alethea's Fairy Tale Rant for this Monday.
My review for Dearest will be coming on the 12th.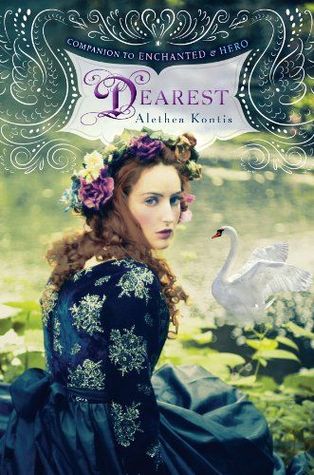 Dearest
(Woodcutter Sisters, #3)
by Alethea Kontis
YA Fantasy
Hardcover & ebook, 320 Pages
February 3rd 2015 by HMH Books for Young Readers

Summary


"A fabulous fairy-tale mashup that deserves hordes of avid readers. Absolutely delectable." —
Kirkus Reviews
, starred review of award-winning series debut
Enchanted
Readers met the Woodcutter sisters (named after the days of the week) in
Enchanted
and
Hero
. In this delightful third book, Alethea Kontis weaves together some fine-feathered fairy tales to focus on Friday Woodcutter, the kind and loving seamstress. When Friday stumbles upon seven sleeping brothers in her sister Sunday's palace, she takes one look at Tristan and knows he's her future. But the brothers are cursed to be swans by day. Can Friday's unique magic somehow break the spell?
The Other Woodcutter Sisters Books
"The Wild Swans", along with "The Little Mermaid" and "The Little Match Girl," has always been one of my favorite stories by Hans Christian Andersen. (It's also, notably, one of the only HCA stories in which the main characters DON'T DIE.)
Unlike "The Six Swans" from the Brother's Grimm, Elisa in "The Wild Swans" has eleven brothers. Ultimately, for Dearest, I decided on seven, since seven is a magic number for me and my series (and is coincidentally also the number of swans in "The 12 Days of Christmas"). The swans who turn unto men at night, their sister Elisa who is cursed to look plain and ugly, the threat of Elisa being burned as a witch, even the dream of flying...I had an amazing time incorporating all these elements into Dearest.
Of course, like movies that have been edited for television, the version of "The Wild Swans" I fell in love with as an eight-year-old was slightly abridged. Reading the longer story again as an adult, I remembered the method of collecting stinging nettles and weaving them into shirts, but I did not recall the ghouls who sat on their headstones in the graveyard, watching Elisa as she harvested nettles from the sacred earth.
It's amazing how many versions Grimm and Andersen have of girl-with-cursed-bird-brothers tales: "The Wild Swans," "The Six Swans", "The Swan Brothers," "The Seven Ravens"...I'd love to hear from those of you who have read one or all of these!
Alethea Kontis courtesy of Lumos Studio 2012
New York Times bestselling author
Alethea Kontis
is a princess, a fairy godmother, and a geek. She's known for screwing up the alphabet, scolding vampire hunters, and ranting about fairy tales on YouTube.
Her published works include:
The Wonderland Alphabet
(with Janet K. Lee),
Diary of a Mad Scientist Garden Gnome
(with Janet K. Lee), the AlphaOops series (with Bob Kolar), the Woodcutter Sisters fairy tale series, and
The Dark-Hunter Companion
(with Sherrilyn Kenyon). Her short fiction, essays, and poetry have appeared in a myriad of anthologies and magazines.
Her YA fairy tale novel,
Enchanted
, won the Gelett Burgess Children's Book Award in 2012 and the Garden State Teen Book Award i 2015.
Enchanted
was nominated for the Audie Award in 2013, and was selected for World Book Night in 2014. Both
Enchanted
and its sequel,
Hero
, were nominated for the Andre Norton Award.
Born in Burlington, Vermont, Alethea currently lives and writes in Florida, on the Space Coast. She makes the best baklava you've ever tasted and sleeps with a teddy bear named Charlie.
Check out Alethea's Road Tour HERE!

3 Woodcutter Sisters Prize Packs (signed copies of Enchanted, Hero, & Dearest - US Only)
Ends March 8th