Welcome to my tour stop for Crave, Eat, Heal by Annie Oliverio! This was definitely an adventure,
but a fun and enjoyable one. Check out my review, a recipe, and enter the giveaway below...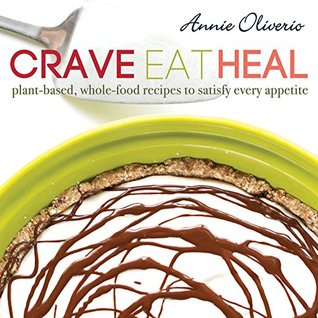 Crave, Eat, Heal
Plant-based, Whole-food Recipes to Satisfy Every Appetite
by Annie Oliverio
Summary
Whether you need something salty, sweet, spicy, comforting, crunchy, or chocolate – indulge all your cravings and give your body the nutrition it needs. With these tantalizing whole food, vegan recipes, like Creamy Thai Carrot Coconut Soup, "Parmesan" Pita Chips, and Chocolate-coated Key Lime Coconut Cream Pie, Crave Eat Heal gives you healthy options while nourishing your body and satisfying your most demanding cravings.
All recipes are free of animal products, refined sugar, are low in oil (many contain no oil), and are gluten-free or have gluten-free options.
(Hardcovers available for Pre-order - to be out on May 4th.)
Endorsements

"You know how sometimes you'd like to just grab a book off the shelf to find the exact right food to satisfy a craving? And you want it to be vegan? Now you can!

Crave Eat Heal: Plant-based, Whole Food Recipes To Satisfy Every Appetite, cleverly laid out by craving type, is packed with recipes that will please long-time vegans and just may push the veg-curious over into the world of plant-based eating. Filled with whole foods recipes that are good for you - but more importantly plain good - there is something for everyone. "
— JL Fields, vegan cook, coach, and consultant and author of Vegan Pressure Cooking: Beans, Grains, and One-Pot Meals in Minutes and co-author of Vegan for Her: The Woman's Guide to Being Healthy and Fit on a Plant-Based Diet.

"Annie Olivero proves that a healthy, plant-based diet can satisfy your every craving, healthfully, deliciously, and completely without guilt. If you think that eating healthy means giving up treats that are sweet, salty, creamy, or otherwise comforting, you've really got a treat in store for you in Crave Eat Heal."
— Nava Atlas, author of Plant Power and Wild About Greens

"Annie gives you delectable healthy choices to satiate all your cravings. Imagine good-for-you treats like: French Toast Panini, Malted Chocolate-Hazelnut Shake, Butternut Squash Queso, Vegan Red Hots, and Iced Maple Latte Shakes. You will hardly believe that healthy can taste this good!"

— Kathy Hester, bestselling author of The Vegan Slow Cooker and OATrageous Oatmeals

"Crave Eat Heal is an innovative cookbook designed to help you satisfy your food cravings while enjoying delicious plant-based recipes. Organized according to craving, from creamy, comfort, and chocolate, to salty, sweet, and spicy, these recipes and accompanying photographs are a feast for all the senses."

— Robin Robertson, bestselling author of Vegan Without Borders, Vegan Planet, One-Dish Vegan, and many more

"No matter what food you are craving, Annie Oliverio has you covered! From salty and sweet to spicy and crunchy and everything in between, Crave Eat Heal is full of delicious recipes that are designed to satisfy your cravings in a much healthier way."

— Julie Hasson, author of Vegan Casseroles, Vegan Pizza, Vegan Diner and more

"In Annie Oliverio's new book, CRAVE, EAT HEAL, her extraordinarily beautiful cover photo says it all. This is an impeccably written volume that's more than a fabulous cookbook, it is a delicious, healthy lifestyle all wrapped up in delectable photography and tasty tips, along with Annie's excellent recipes to satiate everyones culinary cravings. Featuring scrumptious recipes written for anyone who is looking to embrace a plant-based diet, every craving is satisfied, from crunchy to green, salty to sweet, and chocolate to comfort. CRAVE, EAT HEAL is the cookbook "must-have" for 2015!"

— Laura Theodore, Award-winning television personality and vegan chef, radio host, and author of Jazzy Vegetarian Classics: Vegan Twists on American Family Favorites and Jazzy Vegetarian: Lively Vegan Cuisine Made Easy and Delicious.
Crave, Eat, Heal was an adventurous foray into cooking for me. My family aren't Vegans, but we do limit how much meat we consume and tend to have several vegetarian meals each week. We also are trying to limit refined foods and sugars in our diet. This cookbook definitely had a slew of recipes to try to appease cravings for foods that normally could be unhealthy.
The book is sectioned off into various cravings instead of the usual types of meals, so that if you're craving a specific taste, it's easy to find what to make. I liked the explanation of the various ingredients and their healthy properties and why she believes and uses what she does. Lot's of healthy ingredients that are beneficial to our bodies.
We tried quite a few of the recipes (the parenthesis show which craving section each recipe fell under)...
There are a few we tried in addition to these, such as the Date Paste
(Building Block)
,
Gluten-Free All-Purpose Flour Blend
(Building Block)
,
Coco-Nutty Chocolate Chip Cookies - Raw or Baked
(Chocolate), and the
Pumpkin Pie Spice Cashew Butter Cups
(Chocolate)
. There are also some recipes that I have the ingredients for that I will still be making:
Coconut Butter
(Building Block)
,
Whipped Coconut Cream
(Building Block)
,
Laura's Date Nut Truffles
(Sweet)
, and
Alex's Spicy Mushroom Lettuce Wraps
with
Homemade Hoisin Sauce
(Spicy)
.
I enjoyed most all of these recipes. We didn't quite like the Butternut Squash because I think the Miso paste was too much for us (I apologize about the misspelling on the image - it's supposed to be Miso and not Mis) and the Green Smoothie wasn't a love, but everything else was good. I especially loved the Cashew Butter Cups which I could eat multiple times a day and the Sweet Potato Soup was super yummy. The kids all loved the Ice Cream, which is really frozen bananas. They all wanted more. I used maple syrup instead of Stevia for most of the recipes that called for it because Stevia always leaves a weird aftertaste to me.
There were some recipes that I wouldn't try because I believe in really liking what I eat and I can't get my kids to each some things. We also have a child with nut allergies so I had to be careful there. I would have liked to have seen some more main dishes added into the mix and more kid-friendly recipes, but there are still some good ones and plenty of variety to meet whatever craving you're trying to satisfy. Plus, EVERYTHING is pretty much good for you.
I'd recommend Crave, Eat, Heal to those who love healthy and wholesome foods, as well as Vegans (obviously). There are recipes we'll use over and over again in the future and some of the basic recipes (such as the flour and coconut butter) that I'll use in other recipes not from this cookbook to make them healthier and gluten-free.
Source
: I would like to thank the publisher, Cedar Fort/Front Table Books, for my complimentary copy, which did not affect my review in any way.
Before escaping the mean city streets for the windy plains of Oklahoma,
Annie Oliverio
was an administrative assistant and office manager at a subscription fulfillment company in Boulder, a think-tank in Santa Monica, a university in Cambridge, in the Green Zone in Baghdad, and a non-profit in D.C.
Now she spends most of her time roaming the pastures, baking bread, stirring pots, writing, reading, trying to solve crossword puzzles (with a pen and a lot of Wite-Out), and blogging at
An Unrefined Vegan and Virtual Vegan Potluck
. She lives in blissful satellite- and cable-free isolation with her husband, Kel, and their only son, Ike (part dachshund, part Labrador). Annie's first vegan cookbook,
Crave Eat Heal: Plant-based, Whole Food Recipes to Satisfy Every Appetite
was published in April 2015. A companion e-book,
Crave.Eat.Heal.Outtakes
. is also available via blurb.com and iBooks.
Crave. Eat. Heal. Outtakes
The E-book Companion to Crave Eat Heal: Plant-based, Whole Food Recipes To Satisfy Every Appetite
by Annie Oliverio
Cookbook, Vegan
ebook

, 68

Pages
March 28 2015
Summary
The e-book companion to Crave Eat Heal: Plant-based, Whole Food Recipes to Satisfy Every Appetite, this colorful vegan cookbook has 16 clean and cruelty-free recipes that tame our most powerful cravings.
Hardcover copy of Crave, Eat, Heal
(US Only)
ebook of Crave. Eat. Heal. Outtakes (INT)
Ends May 2nd
a Rafflecopter giveaway
a Rafflecopter giveaway