"Waiting On" Wednesday is a weekly event, hosted by Breaking the Spine, that spotlights upcoming releases that we're eagerly anticipating.
I've got two vastly different books from my can't-wait-for list today. One is a YA fantasy and the other a Christian historical romance. Here they are: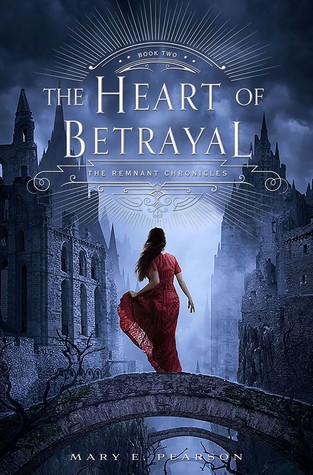 The Heart of Betrayal
(The Remnant Chronicles #2)
by Mary E. Pearson
YA Fantasy
Hardcover, 470 pages
July 7th 2015 by Henry Holt and Co. (BYR)
Summary
Intrigue abounds in this hotly anticipated sequel to
The Kiss of Deception
!
Held captive in the barbarian kingdom of Venda, Lia and Rafe have little chance of escape. Desperate to save her life, Lia's erstwhile assassin, Kaden, has told the Vendan Komizar that she has the gift, and the Komizar's interest in Lia is greater than anyone could have foreseen.
Meanwhile, nothing is straightforward: there's Rafe, who lied to Lia, but has sacrificed his freedom to protect her; Kaden, who meant to assassinate her but has now saved her life; and the Vendans, whom Lia always believed to be barbarians. Now that she lives amongst them, however, she realizes that may be far from the truth. Wrestling with her upbringing, her gift, and her sense of self, Lia must make powerful choices that will affect her country... and her own destiny.
Pre-order from:
Lady Maybe
by Julie Klassen
Christian Historical Romance
Paperback, 400 pages
July 7th 2015 by Berkley

Summary

In the new novel by the three-time Christy Award-winning author of The Maid of Fairbourne Hall, a woman's startling secrets lead her into unexpected danger and romance in Regency England…
One final cry…"God almighty, help us!" and suddenly her world shifted violently, until a blinding collision scattered her mind and shook her bones. Then, the pain. The freezing water. And as all sensation drifted away, a hand reached for hers, before all faded into darkness…
Now she has awakened as though from some strange, suffocating dream in a warm and welcoming room she has never seen before, and tended to by kind, unfamiliar faces. But not all has been swept away. She recalls fragments of the accident. She remembers a baby. And a ring on her finger reminds her of a lie.
But most of all, there is a secret. And in this house of strangers she can trust no one but herself to keep it.
Pre-order from:
Are either of these on your list?