(If Only . . . #1)
by Mandy Hubbard
Summary
Mackenzie and Landon were the perfect couple . . . until he dumped her and broke her heart. Fast-forward a year and they're back where they first met—Serenity Ranch and Spa, where they are once again working together for the summer. Talk about awkward.
Then, Landon takes a nasty fall and gets amnesia. Suddenly, he's stuck in the past—literally. His most recent memory is of last summer, when he and Mack were still together, so now he's calling her pet names and hanging all over her. It's the perfect chance for revenge. The plan is simple: keep Landon at arm's length, manipulate him so he's the one falling love, and then BAM, dump him. There's just one problem: Mack can't fall for Landon all over again.
The If Only romance line is all about wanting what you can't have, and Mandy Hubbard's hilarious break-up/love story is sure to captivate anyone who has ever wished for a second shot at love.
I really got into this story after the first few chapters. There was plenty of banter, sarcasm, and definitely some sparks. Mackenzie was a woman scorned and Landon was trying to get back into her good graces, but she's sworn to never fall for him again. Then things change when Landon loses his memory and Mackenzie and her best friend decide to go for revenge.
What I loved most about the story was that Mackenzie realized that she hadn't truly been herself with Landon when she first dated him. She'd tried to be something she thought he wanted. This time around she lets it all out and is her crazy, thriller-movie, funky-clothes-wearing, prankster self. It turns out that the real version is much more Landon's ideal girl than the faker version ever was. I loved her character and that she and Landon learned who they really were the second time around. Then I also loved all the pranks. Just totally hilarious! I also loved Landon (except for when he was foolish the first time around). They both have some things they're hiding and that was a little tough to swallow, but at the same time I understood why they did what they did.
If you enjoy fun and sweet YA romance with plenty of laughs and sworn-worthy moments then definitely pick up Fool Me Twice!

Content: Clean
Source:
Received an eARC through NetGalley, which did not affect my review in any way.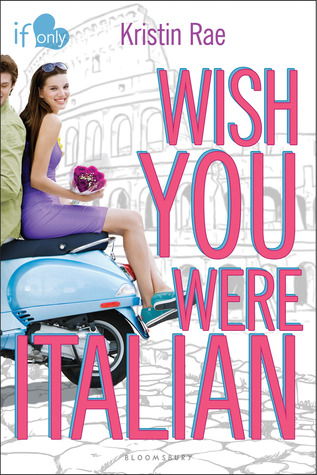 Wish You Were Italian
(If Only . . . #2)
by Kristin Rae
YA Contemporary Romance
352

Pages
May 6th 2014 by Bloomsbury USA Childrens
Summary
Pippa has always wanted to go to Italy … but not by herself. And certainly not to sit in art school the entire summer learning about dead guys' paintings. When she steps off the plane in Rome, she realizes that traveling solo gives her the freedom to do whatever she wants. So it's arrivederci, boring art program and ciao, hot Italian guys!
Charming, daring, and romantic, Bruno is just the Italian Pippa's looking for—except she keeps running into cute American archeology student Darren everywhere she goes. Pippa may be determined to fall in love with an Italian guy … but the electricity she feels with Darren says her heart might have other plans. Can Pippa figure out her feelings before her parents discover she left the program and—even worse—she loses her chance at love?
I absolutely loved Wish You Were Italian! It was fun, sweet, romantic, and things didn't come too easily. There was also some depth and even though this series is on the lighter side, I really connected with and cheered on these characters. It also had the best ending!
I loved that Pippa had this list and how she goes about marking things off. I loved how she's immediately attracted to Darren, but thinks he's off-limits. They're relationship develops slowly and they're friends first, which I loved. Their conversations and interactions were great and I felt like they got to know each other, as did I as I read. I also loved all the sightseeing and the way I felt immersed in the culture as Pippa becomes close friends with a family she stays with for a while. There was plenty of humor and there was also some heartbreak. Pippa faced some challenges with some choices she made and some loss that made this one not just a light, fluffy read, but something more.
Wish You Were Italian was my favorite book from this series. I loved the list and, again, how it ended. Traveling abroad, friendship, romance, humor, and some lessons learned made this one a favorite.

Content: Clean
Source:
Received an eARC through NetGalley, which did not affect my review in any way.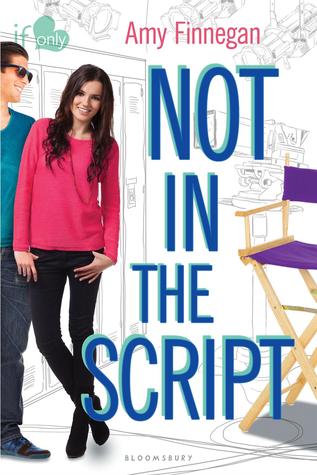 Not in the Script
(If Only . . . #3)
by Amy Finnegan
YA Contemporary Romance
392

Pages
October 7th 2014 by Bloomsbury USA Childrens
Summary
Millions of people witnessed Emma Taylor's first kiss—a kiss that needed twelve takes and four camera angles to get right. After spending nearly all of her teen years performing on cue, Emma wonders if any part of her life is real anymore . . . particularly her relationships.
Jake Elliott's face is on magazine ads around the world, but his lucrative modeling deals were a poor substitute for what he had to leave behind. Now acting is offering Jake everything he wants: close proximity to home; an opportunity to finally start school; and plenty of time with the smart and irresistible Emma Taylor . . . if she would just give him a chance.
When Jake takes Emma behind the scenes of his real life, she begins to see how genuine he is, but on-set relationships always end badly. Don't they? Toss in Hollywood's most notorious heartthrob and a resident diva who may or may not be as evil as she seems, and the production of Coyote Hills heats up in unexpected—and romantic—ways.
This novel in the deliciously fun If Only romance line proves that the best kinds of love stories don't follow a script.
Not in the Script was just plain fun. I loved that it didn't just focus on the Hollywood environment, but also the non-Hollywood side and the families and friends of these characters. If you're looking for romance and some secrets and betrayal, they were definitely both present as well. How could they not be when dealing with some popular teen stars who are all gorgeous, but also have their own agendas.
I immediately loved Emma and Jake. They were so down to earth in so many ways and the show was about so much more to them than just being famous. Brett was a definite character who stirred up lots of tension. He grew on me slightly, but I pretty much didn't like him. Then the other female co-star was also a less-than-lovely character, but I ended up really liking her in the end. She turned out to be a friend to Emma and Emma desperately needed real friends, not ones that used her for her fame or despised her because of it.
But let's get back to Emma and Jake...
Jake is this totally gorgeous guy. He's sweet, intelligent, has the weight of supporting his mom on his shoulders, and became an model and then actor kind of by mistake. He doesn't have a puffed-up ego. He's a gentleman and he completely falls for Emma. Emma is also sweet and intelligent. She loves acting and it's what she wants to do and has always wanted to do. She has some issues she has to deal with between her and her manager/mom and in dealing with a past boyfriend who still plagues her a little. From the first time Jake and Emma meet there is instant chemistry. They are just great together and I loved how they become the very best of friends before anything else. I think that solid relationship was what saved them during some rough spots. The ending in this one was also perfect. I loved it and loved how Emma's family swooped in.

Not in the Script was another great book in this series. It was sweet, had some good tension, friendship, family, and plenty of romance. I'll definitely be following this author to see what she writes next!

Content: Clean
Source:
Received an eARC through NetGalley, which did not affect my review in any way.
Wild Hearts
(If Only . . . #4)
by Jessica Burkhart
YA Contemporary Romance
368

Pages
May 5th 2015 by Bloomsbury USA Childrens
Summary
Enjoy Wild Hearts and the other standalone titles in Bloomsbury's contemporary If Only romance line centered around an impossible problem: you always want what you can't have!
Brie Carter's father's land development business has taken her family all over the world,
but as soon as they arrive at their new home in Lost Spring, Wyoming, the town turns out to protest. They don't want a new hotel if the resident mustang population will be displaced or hurt as part of the deal. Then Brie meets Logan, a gorgeous local who has a special connection to the mustangs, and she is immediately drawn to him . . . and the horses. However, with Logan's father leading the protests and Brie's father refusing to budge, it's clear that their parents are heading towards an all-out war. Can Brie and Logan find a way to save the mustangs and be together? Or is their love doomed from the start?
This new title in the If Only line is the perfect summer read and proves that love flourishes in the wildest places!
I read the first chapter and thought I was going to love Wild Hearts. I do have a thing for rough and rugged heroes and I loved the sparks that flew between Brie and Logan. I also loved Brie's family and how close they were, for the most part. The small town was really fun and I loved when Brie learns about the wild mustangs.
However, this one fell rather short for me as well. I initially connected with Brie and Landon and really Landon remains a great guy, but I felt like Brie turned into that kind of cheesy teenage girl. They fall into I-love-yous really fast and so it felt like the story almost should end, but there was still quite a bit left. Then there was a lot of drama, sneaking around, and lying that didn't really go over with me. I really, really wanted to love this one, so I was definitely disappointed. There was also a lot of profanity, which is never my favorite thing. I wanted the romance to be stretched out quite a bit more until they really become a couple and I wanted there to be much less drama. It was still cute and fun, but maybe just not my type of story.
If you're looking for a light YA romance where horses play a large role, set in a small town, with some drama, friendship, and family then you could give Wild Hearts a try. I'm still looking forward to the next two books in the series.

Content: Quite a bit of profanity and a few mild swear words.
Source: Received an eARC through NetGalley, which did not affect my review in any way.
Have you read any of these? Do you like reading YA contemporary romance?