I'm thrilled to be part of this tour with Ryan Graudin for All That Burns and have Ryan stop by my blog today.
I loved All That Burns even more than the first book! You can check out my review here.
In this thrilling sequel to All That Glows, the worlds of magic and mortal are colliding as London celebrates its new king, marking an era of unity between the Faery realm and the human one. Emrys, the Faery guard to the British royal family, sacrificed her powers to be with King Richard, choosing love over immortality. But now, as Emrys struggles to navigate her place between the Faery queen's court and London's lavish galas, danger looms beyond the Thames.When a prisoner with dark, strange magic breaks out of Queen Titania's labyrinthine prison, endangering Emrys's king and sparking an uprising, Emrys must make the hardest decision of all.
Will she reclaim her magic to save Richard's life and lose him forever? Or stay powerless as the kingdom goes down in flames?
Ryan Graudin is doing a preorder special through her local indie Blue Bicycle Books. You can pre-order a signed copy of All That Burns and get a free ALL THAT BURNS tea (a ginger plum flavored black tea). Don't miss this special offer!
Click here to pre-order a signed copy of All That Burns
.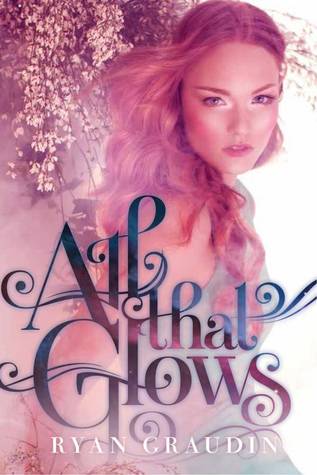 All That Glows
(All That Glows #1)
by Ryan Graudin
YA Urban Fantasy, Romance
Paperback, 480 Pages
February 11th 2014 by HarperTeen
Summary
Emrys—a fiery, red-headed Fae—always embraced her life in the Highlands, far from the city's draining technology, until she's sent to London to rejoin the Faery Guard. But this isn't any normal assignment—she's sent to guard Prince Richard: Britain's notorious, partying bad boy and soon-to-be King. The prince's careless ways and royal blood make him the irresistible for the dark spirits that feed on mortals. Sweet, disheveled, and alive with adventure—Richard is one charge who will put Emrys's magic and heart to the test.
When an ancient force begins preying on the monarchy, Emrys must hunt through the London's magical underworld, facing down Banshees, Black Dogs and Green Women to find the one who threatens Richard's life. In this chaos of dark magic, palace murders and paparazzi, Emrys finds herself facing an impossible choice. For despite all her powers, Emrys has discovered a force that burns brighter than magic: love.
You can see my review to All That Glows HERE.

1. How was your experience different writing a sequel from writing All That Glows?

The writing process for the sequel was so challenging! When I was writing the first draft of ALL THAT GLOWS I had no deadlines or contracts or audience. I was writing that book solely for me. ALL THAT BURNS was the first book I'd ever written where it had sold to the publisher before even a single word was on the page. This added so much mental pressure that I wasn't expecting the first time around. Also, sequels in general are incredibly hard. Taking characters who's arcs were neatly wrapped up at the end of the first book and throwing them into new challenges and growth isn't easy.
This makes me wonder how many authors write a first book without even thinking about a sequel and where the story might go.

2. How have the characters changed since the first book?

Emrys's change is probably the most obvious. In ALL THAT GLOWS she was a powerful, immortal Fae. She has since sacrificed her magic in order to be with Richard, which has repercussions of its own. Richard has now stepped into his role as King, which brings out a very responsible side of him.

I really liked the changes in both of them, though. I thought Emrys and her struggles throughout the book brought a lot the story and continued to ask if love was enough.

3. Do you have a favorite scene or line from All That Burns?

I actually really love the prologue, which sets the scene and serves to tie in several elements of the book:
"Once upon a time, there was a King who fell in love with a Faery. He gave her his heart and she gave him her immortality. Together they built a kingdom—of stone and magic and legend—and they lived happily there.
But their happiness did not last forever. Nothing does, after all.
In the shadows I watched and waited.
The Faery's heart slipped away to another.
The king's kingdom burned."
The prologue was great when I read it! It pulled me right in.

4. In ten words or less, why should a reader pick up the All That Glows Series?

British royalty. Magic. Intrigue. Arthurian lore. Love at a price.

Perfect. It's definitely been a great series so far.
5. What are you most looking forward to reading this year?

I am eagerly awaiting the fourth installment of the Raven Boys Quartet. I love all of Maggie Stiefvater's book, and she's done such an amazing job of weaving old mythology with boarding school boys, psychics and fast cars. I can't wait to see how it all ends.

Me too! Even though I'm not caught up in that series. I need to get reading. ;)

6. What are you working on next?

I have another book coming out this fall. I can't spill too many of the details yet, but I will say its the first of a duology, and belongs to a very different genre from the ALL THAT GLOWS series or my other book THE WALLED CITY. After that, who knows! But don't worry, there will be plenty more Ryan Graudin books hitting the shelves in the future.
Yay! I'm looking forward to seeing what this new book will be. Thanks so much for stopping by and answering my questions, Ryan!
by Ryan Graudin
My name is Ryan and I've been writing ever since I grabbed one of my dad's old tax ledgers and created this masterpiece:
see image
.
My writing has since improved, though my obsession with wolves has remained relatively the same
(I even own a wolf-hybrid pup.)
My childhood was a happy, sunny thing. I grew up on a steady diet of fairytales, salt-marshes, music and brothers who would re-enact Redwall battles with me in the back yard. I went to an artsy sort of high-school that allowed cello recitals in the hallways and impromptu poetry slams in the cafeteria. It was there I decided that writing was what I wanted to do more than anything.
I'm officially a grownup now (I suppose one must admit that once they turn 26). My diet still includes fairytales, salt-marshes and art, but there are a few new loves thrown in. A big one is travel. Pieces of my heart are scattered like breadcrumbs all over the globe--I've bartered them off for writing inspiration, so I suppose it's a fair trade.
When I'm not cramming my earthly belongings into a backpack and waiting in airport security lines, I'm doing one of the following: Writing YA novels, Photographing weddings with my husband, Making our little white cottage more homey, Playing with my wolf pup, Trying out Korean récipes, Haunting local coffee shops with my friends.
Click on the image to follow the tour.