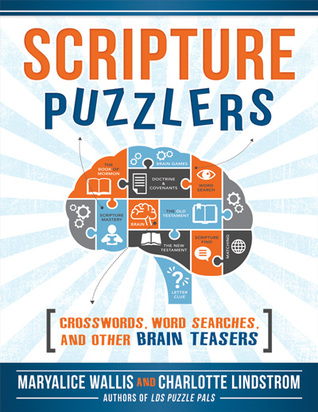 Scripture Puzzlers
Crosswords, Word Searches, and Other Brain Teasers
by MaryAlice Wallis and Charlotte Lindstrom
Summary
Master the scriptures and have fun doing it! Find hidden messages, work through puzzles, and unscramble clues as you learn the essential truths found in scripture mastery passages. Perfect for seminary, Sunday School, family night, personal scripture study, or missionary preparation, this book of puzzles is anything but trivial!
When I first saw Scripture Puzzlers my thought was what a great resource to have for older kids and teens to help them learn their scriptures. I expected the book to have lots of different types of puzzles to do that and I got exactly that! It has codes to crack, hidden messages, matching pages, sections with missing letters, word searches, crossword puzzles, letter clues... Just lots of different ways to become familiar with these scriptures while challenging your brain. The puzzles are sectioned off into Old Testament, New Testament, Book of Mormon, Doctrine and Covenants, hints and references, and then the answer key. Each puzzle takes up a full page (a few of them two) of this almost 8.5" x 11" book. My only suggestion would be to have the scripture reference on the bottom of each page. Although, I guess for those trying to memorize the references and who want to test their memory in that way, that would give it away.
If your family is looking for something a little challenging and fun to add to your family home evenings or scripture studying, then I'd definitely grab this as a resource. I know we'll be using it in the future quite a bit.
Source: I would like to thank the publisher, Cedar Fort, for my complimentary review copy, which did not affect my review in any way.
MaryAlice Wallis
is the co-author of the award winning
LDS Puzzle Pals
and
LDS Puzzle Pals- Prophets and Apostles
. She graduated from Western Washington University with a degree in Speech Pathology and Audiology. She is a longtime member of the Golden Quill Writers Group and past member and presenter at American Night Writers Association, Northwest Chapter. She freelance writes children's literature and Young Adult fiction and is currently writing a homeschooling resource book. MaryAlice and her husband David homeschooled their four children and are experiencing life as half-empty nesters. Their family loves traveling to the beach from their home in the Pacific Northwest.
Charolette Lindstrom
is the co-author of two other puzzle books;
LDS Puzzle Pals
and
LDS Puzzle Pals- Prophets and Apostles
(under the name C G Lindstrom). She has written many puzzles for The Friend magazine and has stories published in The Friend, The New Era and Cricket magazines. She is an original member of the Golden Quill Writers Group in Southwest Washington. She is also a member of the American Night Writers Association (ANWA). A graduate of Utah State University, she currently teaches 2nd grad in Longview, Washington.