"Waiting On" Wednesday is a weekly event, hosted by Breaking the Spine, that spotlights upcoming releases that we're eagerly anticipating.
I have two vastly different WOW picks this week. The first book is in the Christian fiction genre from Lisa Wingate. I loved
The Story Keeper
that I read last year and have been anticipating her next release ever since. Then the second book is from a new-to-me author, but the story sounds so good. Full of political intrigue, or maybe plotting is a better word choice, and two sides of the same situation in a dystopian world. And what an interesting cover. Let me know what you think...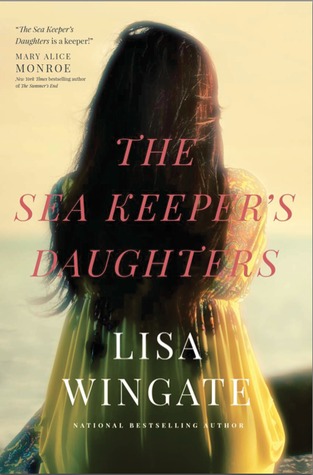 The Sea Keeper's Daughters
(Carolina #3)
by Lisa Wingate
Christian Women's Fiction, Romance
Hardcover, Paperback & ebook, 400 pages
September 1st 2015 by Tyndale
Summary
Wingate's third Carolina book follows the highly reviewed,
The Prayer Box
and
The Story Keeper
as well as related three novellas.
From modern-day Roanoke Island to the sweeping backdrop of North Carolina's Blue Ridge Mountains and Roosevelt's WPA folklore writers, past and present intertwine to create an unexpected destiny. . .
Restaurant owner Whitney Monroe is desperate to save her business from a hostile takeover. The inheritance of a decaying Gilded Age hotel on North Carolina's Outer Banks may provide just the ray of hope she needs. But things at The Excelsior are more complicated than they seem. Whitney's estranged stepfather is entrenched on the third floor, and the downstairs tenants are determined to save the historic building. Searching through years of stored family heirlooms may be Whitney's only hope of quick cash, but will the discovery of an old necklace and a depression-era love story change everything.
Pre-order from:
The Scorpion Rules
Erin Bow
YA Dystopian
Hardcover & ebook, 384 pages
September 22nd 2015 by Margaret K. McElderry Books
Summary
A world battered by climate shift and war turns to an ancient method of keeping peace: the exchange of hostages. The Children of Peace - sons and daughters of kings and presidents and generals - are raised together in small, isolated schools called Preceptures. There, they learn history and political theory, and are taught to gracefully accept what may well be their fate: to die if their countries declare war.
Greta Gustafsen Stuart, Duchess of Halifax and Crown Princess of the Pan-Polar Confederation, is the pride of the North American Prefecture. Learned and disciplined, Greta is proud of her role in keeping the global peace, even though, with her country controlling two-thirds of the world's most war-worthy resource — water — she has little chance of reaching adulthood alive.
Enter Elián Palnik, the Prefecture's newest hostage and biggest problem. Greta's world begins to tilt the moment she sees Elián dragged into the school in chains. The Prefecture's insidious surveillance, its small punishments and rewards, can make no dent in Elián, who is not interested in dignity and tradition, and doesn't even accept the right of the UN to keep hostages.
What will happen to Elián and Greta as their two nations inch closer to war?
Pre-order from:
Are either of these on your can't-wait-to-read list?