The SILVER IN THE BLOOD READ-ALONG hosted by
There is still plenty of time to join if you haven't done so yet. The linky is at the bottom of this post and
you have until July 20th to join
. You don't need to be a blogger either, you just need someplace online that's public to post updates for the linky
or just leave a comment below saying you'd like to join if you don't have a place to post and you can participate in comments on my and/or Dena's blogs
.
This is the schedule for the read-along so that you know where you should be (it's basically about 26 pages or 2-3 chapters per day):
July 17th: Mid-Point, Chapters 1-16 (Chapter 16 is titled Casa Dragoslovean and begins on page 172)
July 24th: Wrap-Up, Chapters 17-32
Remember to use
#SilverRA
on Twitter for updates. You can tag Dena (
@denabooks
) and I (
@tressherm
) as well.
Now I'd like to welcome Author Jessica Day George to my blog to talk about why she wrote Silver in the Blood...
The Inspiration for Silver in the Blood
I've always wanted to write a contemporary book. The first five manuscripts I wrote had contemporary settings, and people wore jeans and ate pizza and drove cars when they needed to get somewhere, and it was glorious. Now that I've written pre-tech books, I realize just how glorious. I long to have my characters use slang and make Monty Python references. Yet somehow I have found myself writing book after book set in worlds where everyone wears gowns and travels by horseback.
SILVER IN THE BLOOD was supposed to be my published first foray into the modern world. It was going to be entirely emails, texts, and diary entries. It was going to start with a teenage girl visiting her cousins in Romania for the first time, being hugged by the only one of her aunts with a bust, and realizing that the aunt's push-up bra was stuffed with Kleenex. In despair, the girl would email her best friend back home in New York to moan that she was destined to be flat chested like all her female relatives. I was excited. It was funny. It was modern. And yet there was a dark magical secret waiting for this teen girl and her smartphone.
I told my idea to a friend, who is also a writer. Just before we started talking about this idea we had been talking about THE LUXE by Anna Godberson, which we had both just inhaled in one day, we loved it so much. And this friend, Amy Finnegan, said, "You should set your story in that same time period. Imagine how much worse it would be to be stuck with total strangers, finding out about your dark family secrets, if you were a silly little debutante from the 1890's!"
GENIUS.
So much better! It was the final key that made the entire book fall into place.
But then, of course, I had to come to terms with the fact that there would be no jeans, no pizza, and no emails in this book. I had to rewrite the entire first chapter. Names had to be changed. (I think at one point a main character was named Kiki. Now she's Maria Louisa.) But I only mourned for a few minutes, because this idea was on fire, and it was time to get to work.
And it turned out to be rather a lot of work, actually. Another thing that I hadn't known when I started out, but I don't have regrets about, is that at the time I knew pretty much zilch about Romania. It's relatively easy to make up a fantasy world of your own. It's your world, and your rules, right? And SUN AND MOON, ICE AND SNOW was set in the real world of 18th century Norway, but I'd spent four years at a university pretty much specializing in 18th century Norway, so that setting came very naturally as well. But Romania? I knew that Vlad the Impaler, Prince Dracula, the inspiration for Count Dracula, came from there, and that's it. I'd been inspired to use Romania as a setting because I'd just seen a movie that took place in Bucharest, and it was so beautiful and yet foreign, that the idea of an American teen wandering the streets of Bucharest, lost and alone, pleased me great. So I began to read about Romania, and I just couldn't get a feel for it. I've travel over northern Europe, been to Brazil and Canada and Disneyland, but I've never been anywhere like Romania. In the end I decided that my book needed me to get up close and personal with the setting, so I packed my sturdy walking shoes, my favorite stuffed dragon, and my husband, and headed to Romania for a two week research tour.
It was amazing.
And it got me results. It got me this book, SILVER IN THE BLOOD, which I have been bluntly informed my friends, family members, and even my agent, is my best. And I hope you think so, too!
—Jessica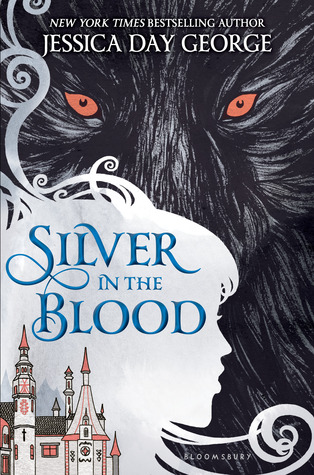 Silver in the Blood
(Silver in the Blood #1)
by Jessica Day George
YA Urban Fantasy, Paranormal
Hardcover, 358 pages
July 7th 2015 by Bloomsbury USA Childrens

Summary

A New York Times bestselling author brings dark secrets to life in a lush new YA perfect for fans of Libba Bray or Cassandra Clare.

Society girls from New York City circa 1890, Dacia and Lou never desired to know more about their lineage, instead preferring to gossip about the mysterious Romanian family that they barely knew. But upon turning seventeen, the girls must return to their homeland to meet their relatives, find proper husbands, and—most terrifyingly—learn the deep family secrets of The Claw, The Wing, and The Smoke. The Florescus, after all, are shape-shifters, and it is time for Dacia and Lou to fulfill the prophecy that demands their acceptance of this fate . . . or fight against this cruel inheritance with all their might.

With a gorgeous Romanian setting, stunning Parisian gowns, and dark brooding young men, readers will be swept up by this epic adventure of two girls in a battle for their lives.
About the Author
Jessica Day George
is the author of many books for young readers, including the wonderfully whimsical Tuesdays at the Castle and three books in the Dragonskin Slippers series. Before becoming a full-time writer, she worked as a librarian and bookseller. Jessica lives with her family in Salt Lake City, Utah.
Giveaway
Giveaway Rules: Open to international entrants as long as the Book Depository ships to you for free. You must be at least 13 years old to enter and have parental permission if under 18. Please ensure that you correctly enter your email (and check your junk mail folder) so that we have a way to contact you. Void where prohibited by law. Enter via the Rafflecopter below.
a Rafflecopter giveaway
This is going to be a blast!! Let Dena or I know if you have any questions.