This is my Mid-Point Check-In for the SILVER IN THE BLOOD READ-ALONG hosted by
There is still plenty of time to join if you haven't done so yet. The linky is at the bottom of this post and you have until July 20th (Monday). You don't need to be a blogger either, you just need someplace online that's public to post updates for the linky or just leave a comment below saying you'd like to join if you don't have a place to post and you can participate in comments on my and/or Dena's blogs.
Remember to use #SilverRA on Twitter for updates. You can tag Dena (@denabooks) and I (@tressherm) as well.
Did you all read Jessica's intro post yet from the kick-off? If you didn't, go back and read it
here
. Very interesting...
So I have to apologize. I caught a cold on Monday and have been pretty MIA in posting updates or responding to anyone else's. It's just been one of those weeks - besides being busy regardless that I've been sick.
So, I'm going to post some thoughts here that I should have tweeted or updated Goodreads with (I have been keeping a notebook as I've read). Just pretend that I did post updates and you guys get to see them all at once. Ey? Then I'll move on to the questions that Dena and I are both covering today and you guys should definitely respond to.
8% - What was the specific scandal with Dacia in London? I can guess, but I'd like to know.
13% - Lou is... (noted below)
14% - Dacia is... (also noted below)
p. 128 (Started reading from the physical book. Hurray! It came!!) - Made me so mad with Lou's mom and grandma treating Lou's dad like that!!!
p. 150 - Interesting relationship between Kate and the queen.
p. 179 - Interesting relationship between the gypsies and the Florescus.
Now on to the questions...
Mid-Point Thoughts on the Book
Initial thoughts from the first chapter.
I like it. I love the setting - that it's historical and perfect for the story and how it all intricately fits together. I love the mystery that pushes the story on.
Thoughts about the characters.
Lou feels like one of those nice, nerdy girls who haven't found her backbone yet.
Dacia feels like one of those girls who flirts with everyone. (Look how judgmental I can be when I read!) Aunt Kate... well, she's driving me a little crazy with her slowly turning into the girls' enemy and not telling them anything, nor protecting them.
Thoughts about the plot.
Hmm. It is still so mysterious. I'm not sure what happened or did. Sure, I can guess, but this is definitely one of those books where you don't get the answers until much closer to the end. I also like the letters that partner each chapter. They're a good representation of the historical setting and the girls' thoughts.
Least favorite part so far, if there is one.
I don't know that there is a least... I'm trying not to be frustrated with having no answers yet and not knowing exactly who can be trusted.

Most favorite part so far.
Lord Johnny. Love him! I love the first time he meets Lou. It's a great scene and it left open some different paths that just left a question as to which way it would go.
Other thoughts...
I'm trying to decide exactly what is going on and if there are werewolves (pretty sure) and/or vampires or none. Will be finding out soon.
Any questions?
1. Will there be any strong gypsy roles in the story?
2. What was the scandal involving Dacia that started them on this journey to Romania?
3. Is there a true love triangle? Possibilities are Lord Johnny with Dacia and Lou, or Dacia with Lord Johnny and Mihai. I'm thinking that there won't be, but there are possibilities.
Check out Dena's mid-point and her answer to these same questions here. I'll be over seeing if we thought the same.
Now it's your turn. Let us know what you think so far (if you've read ahead or even if you haven't, please keep it spoiler-free.
If you're reading with us, these are the questions we'll be answering next time when we wrap up the book:
Thoughts about the characters.
Thoughts about the plot.
Least favorite part so far, if there is one.
Most favorite part so far.
Any favorite lines or quotes?
Thoughts about the conclusion.
Any predictions for book two?
Other thoughts...
Any questions?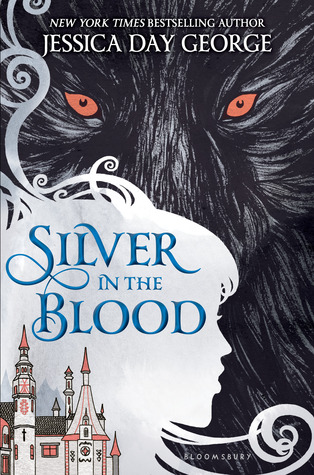 Silver in the Blood
(Silver in the Blood #1)
by Jessica Day George
YA Urban Fantasy, Paranormal
Hardcover, 358 pages
July 7th 2015 by Bloomsbury USA Childrens

Summary

A New York Times bestselling author brings dark secrets to life in a lush new YA perfect for fans of Libba Bray or Cassandra Clare.

Society girls from New York City circa 1890, Dacia and Lou never desired to know more about their lineage, instead preferring to gossip about the mysterious Romanian family that they barely knew. But upon turning seventeen, the girls must return to their homeland to meet their relatives, find proper husbands, and—most terrifyingly—learn the deep family secrets of The Claw, The Wing, and The Smoke. The Florescus, after all, are shape-shifters, and it is time for Dacia and Lou to fulfill the prophecy that demands their acceptance of this fate . . . or fight against this cruel inheritance with all their might.

With a gorgeous Romanian setting, stunning Parisian gowns, and dark brooding young men, readers will be swept up by this epic adventure of two girls in a battle for their lives.
About the Author
Jessica Day George
is the author of many books for young readers, including the wonderfully whimsical Tuesdays at the Castle and three books in the Dragonskin Slippers series. Before becoming a full-time writer, she worked as a librarian and bookseller. Jessica lives with her family in Salt Lake City, Utah.
Giveaway
Giveaway Rules: Open to international entrants as long as the Book Depository ships to you for free. You must be at least 13 years old to enter and have parental permission if under 18. Please ensure that you correctly enter your email (and check your junk mail folder) so that we have a way to contact you. Void where prohibited by law. Enter via the Rafflecopter below.
a Rafflecopter giveaway
This has been fun so far! Feel free to join us or let us know if you have any questions.