"Waiting On" Wednesday is a weekly event, hosted by Breaking the Spine, that spotlights upcoming releases that we're eagerly anticipating.
What do you think of my new button for WOW? I had that time-traveler owl just sitting around and only getting used once or twice a year and I decided that he fit this perfectly. Obviously he doesn't want to wait for books, he just wants to travel and get them now! ;) Moving on...
I have two picks this week. The first is the author's third book (I've read all of hers, but especially loved her debut,
Six Months Later
) and one I'm excited about reading, and the second is the sequel to
Winterkill
, which I thought was a very interesting and well-written book. Here they are: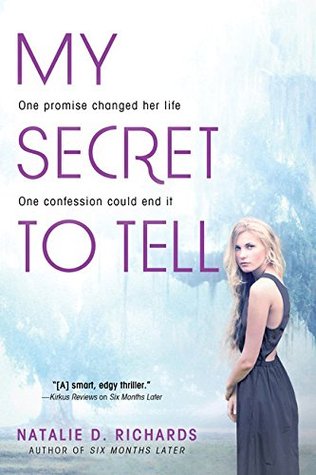 My Secret to Tell
by Natalie D. Richards
YA Suspense, Thriller
Paperback & ebook, 320 pages
October 6th 2015 by Sourcebooks Fire
Summary
There was blood on his hands. Where was the guilt in his eyes?
Emmie's had a crush on her best friend's brother forever. Deacon is the town bad boy who's always in trouble, but she sees his soft side when he volunteers with her at the local animal shelter. She doesn't think he's dangerous…until he shows up in her bedroom with blood on his hands.
Deacon's father has been violently assaulted and Deacon is suspect number one. Emmie's smart enough to know how this looks, but she also knows Deacon's biggest secret—he's paralyzed by the sight of blood. She's sure he didn't do this. Or did he? Because even Deacon's own sister thinks he's guilty…
Pre-order from (The paperback is currently $5.60 from Amazon!):
Darkthaw
(Winterkill #2)
by Kate A. Boorman
YA Dystopian
Hardcover& ebook, 336 pages
October 13th 2015 by Amulet Books
Summary
For as long as Emmeline can remember, she's longed to leave the isolated world of the settlement and explore the wilderness that calls to her in her dreams. And now that the Council has fallen, she will finally, finally get that chance. With First Peoples guide Matisa at her side, Emmeline rallies a brave group to join her on her quest into the unknown, including her beloved Kane and his two younger brothers.
But the journey soon proves far more dangerous than Emmeline anticipated—with warring clans, slavers, colonists, disease, and natural disasters seemingly at every turn. After putting so many lives in danger, she starts to doubt everything she once knew. Did she make the right choice to leave the settlement—and can her relationship with Kane survive the ordeal? Matisa insists that to set things right and to fight the evil that is bringing all this danger and turmoil to the forest, Emmeline must journey to Matisa's people—even if that means leaving Kane behind.
Are either of these on your can't-wait-to-read list?