Welcome to my tour stop for What You Left Behind by Jessica Verdi! I'll be reviewing this one by next week and am really enjoying reading it so far. The hardcover is actually cheaper (at $8) than the paperback over at Amazon right now, if you're interested. Check out the book and author info, as well as a guest post from the author about writing from a boy's perspective below...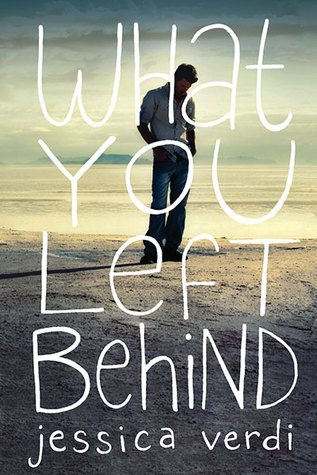 What You Left Behind
by Jessica Verdi
YA Contemporary Romance
Hardcover, Paperback & ebook

, 320

Pages
August 4th 2015 by Sourcebooks
Summary

It's all Ryden's fault. If he hadn't gotten Meg pregnant, she would have never stopped her chemo treatments and would still be alive. Instead he's failing fatherhood one dirty diaper at a time. And it's not like he's had time to grieve while struggling to care for their infant daughter, start his senior year, and earn the soccer scholarship he needs to go to college.
The one person who makes Ryden feel like his old self is Joni. She's fun and energetic—and doesn't know he has a baby. But the more time they spend together, the harder it becomes to keep his two worlds separate. Finding one of Meg's journals only stirs up old emotions. Ryden's convinced Meg left other notebooks for him to find, some message to help his new life make sense. But how is he going to have a future if he can't let go of the past?
Praise for the Book
"Verdi holds nothing back, shedding a realistic light on Ryden's situation, his decisions, and their very real consequences. His voice is spot-on and doesn't sugarcoat the harsh realities that he faces. It isn't often that a book nails the male teen voice as well as Verdi does in this work. An excellent addition to YA collections."
— School Library Journal, STARRED REVIEW
"Verdi balances her plot elements deftly in a read that could have gone terribly wrong in less sure hands."
— Kirkus Reviews
"Teens will be hooked by the premise but will stick with Ryden and his friends in this all-too-real portrait of a modern family."
— Booklist
Thanks so much for having me on your blog, Tressa, and for your great question!

What You Left Behind

is my first book from the POV of a boy. I absolutely fell in love with Ryden as I was writing, and I felt like I really knew him. In so many ways, it was easier to write from his POV than from the POV of a female narrator as I did in my first two books. I think, because he's a boy and I'm not, I may have subconsciously felt more freedom to just take his character wherever it needed to go, because, since we were already so different, there was no element of "me" clinging to him. No "Well, I would or wouldn't do that," etc. So it became more of an "anything's possible" process, which was really fun.
I'm glad to have written a book from the POV of a boy because there are plenty of boy readers out there who need to see themselves represented in literature, and as something more than just the love interest of the female main character. (Not that there's anything wrong with a good, juicy romance!) There just seems to be a shortage of male narrators in YA lately, and that may or may not be related to the fallacy that "boys don't read." Boys absolutely read, and they need to see themselves on the page just as much as the rest of us do. I love that there's a boy (and only a boy) on the cover of the book, and I'm hopeful boy readers will pick it up and find Ryden interesting and identifiable.
Jessica Verdi
lives in Brooklyn, NY, and received her MFA in Writing for Children from The New School. She loves seltzer, Tabasco sauce, TV, vegetarian soup, flip-flops, and her dog. Visit her at
www.jessicaverdi.com
and follow her on Twitter
@jessverdi
,
Facebook
, or
Goodreads
.
a Rafflecopter giveaway