Welcome to my tour stop for Never Always Sometimes by Adi Alsaid! I'm excited to have Adi stopping by today to answer a few questions. Check that out along with the giveaway below...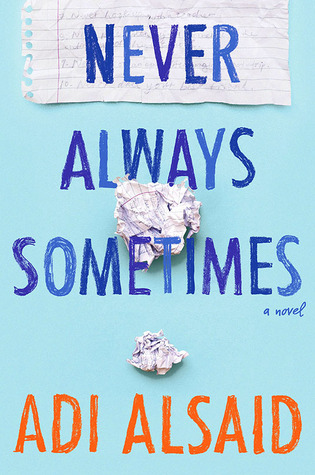 Never Always Sometimes
by Adi Alsaid
YA Contemporary Romance
Hardcover, Paperback, & ebook

, 320

Pages
August 4th 2015 by Harlequin Teen
Summary
Never date your best friend
Always be original
Sometimes rules are meant to be broken
Best friends Dave and Julia were determined to never be cliché high school kids—the ones who sit at the same lunch table every day, dissecting the drama from homeroom and plotting their campaigns for prom king and queen. They even wrote their own Never List of everything they vowed they'd never, ever do in high school.
Some of the rules have been easy to follow, like #5, never die your hair a color of the rainbow, or #7, never hook up with a teacher. But Dave has a secret: he's broken rule #8, never pine silently after someone for the entirety of high school. It's either that or break rule #10, never date your best friend. Dave has loved Julia for as long as he can remember.
Julia is beautiful, wild and impetuous. So when she suggests they do every Never on the list, Dave is happy to play along. He even dyes his hair an unfortunate shade of green. It starts as a joke, but then a funny thing happens: Dave and Julia discover that by skipping the clichés, they've actually been missing out on high school. And maybe even on love.
I'd like to welcome Author Adi Alsaid to my blog today. I've been really looking forward to his newest release!

I love the idea of best friends falling in love. I always have. There's just something about them already having this deep relationship. Why did you decide to write a story about this type of romantic situation?

Well, I'm a sucker for those stories too. I think a lot of people in high school at some point fell in love with a friend, if not their best friend. They turned into relationships or into silent crushes, but it's a cliche because it does happen in real life, and often.

I wanted to tell one of these stories, and see how successfully I could avoid the clichés that usually happen. Or if I even wanted to avoid the clichés. No spoilers on which I decided to do. But I wanted to explore what happens when two people who've always had the same relationship with each other and with the world around them start to reexamine that, and even proactively try to change it.
The idea of these "rules," the "Never List," that they come up with just cracks me up. I think we all have these preconceived notions or boxes where we like to put things and life just doesn't always work that way.
It is so true. Love is better lived outside those "boxes."
How did you come up with the list and can you share some of your favorite rules on it?

Yay! I'm glad you like the idea. The list was fairly easy to come up with, because I just chose as many clichés as I could think of, and with my editor we went through and picked the most cliché-y ones/the ones that would work best for the story I had in mind. I also needed outside input because I went to high school in Mexico, and though it's a fairly Americanized school (it's an international school), I wanted to be picking real-life clichés, and not just ones I'd picked up from teen movies.

Some of my favorites are:

#2 Never attend a party at the Kapoor brothers' house. (Or any party where the invite is just the word "BEER".)

#8 Never go on an epic "life-changing" road trip. (My little nod to LGL…)

#10 Never date your best friend.

Lol! I think it sounds fun that you got to pick a bunch of clichés and then play around with them. :)

What was the hardest and best part of writing this story?
The middle chunk of the book went through the most intensive rewrites. I had to cut a number of chapters and completely rework the shift into Julia's perspective, which happens right around the midpoint. I needed Julia to be as awesome in her own head as she comes across from Dave's perspective, and it definitely took a few attempts.
I think that would be an important part to get right. I'm looking forward to finding out how it turned out!

What books are you most anticipating reading this year?
I'm in the middle of reading one of them! More Happy Than Not by Adam Silvera. Others include Made You Up by Francesca Zappia, and the Welcome to Night Vale book.

Can you tell us what you're working on next and possibly share a teaser?
Unfortunately I can't share any info about the stuff I'm working on, but I might be able to announce online soon/at some point this summer, so people should follow me on Twitter for that!

Thanks so much for stopping by, Adi!
Adi Alsaid was born and raised in Mexico City, then studied at the University of Nevada, Las Vegas. While in class, he mostly read fiction and continuously failed to fill out crossword puzzles, so it's no surprise that after graduating, he did not go into business world but rather packed up his apartment into his car and escaped to the California coastline to become a writer. He's now back in his hometown, where he writes, coaches high school and elementary basketball, and has perfected the art of making every dish he eats or cooks as spicy as possible. In addition to Mexico, he's lived in Tel Aviv, Las Vegas, and Monterey, California. A tingly feeling in his feet tells him more places will eventually be added to the list. Let's Get Lost is his YA debut.