"Waiting On" Wednesday is a weekly event, hosted by Breaking the Spine, that spotlights upcoming releases that we're eagerly anticipating.
I've got two books I just can't wait to get my hands on this week. I have read very few books about genies, but
The Fire Wish
sounds fabulous! Then there is a series that I've really enjoyed that has its finale being released soon and I'm dying to find out how it all ends!
The Fire Wish
(The Jinni Wars #1)
by Amber Lough
YA Urban Fantasy/Paranormal
July 22nd 2014 by Random House Children's
Summary
A jinni. A princess. And the wish that changes everything. . . .
Najwa is a jinni, training to be a spy in the war against the humans. Zayele is a human on her way to marry a prince of Baghdad—which she'll do anything to avoid. So she captures Najwa and makes a wish. With a rush of smoke and fire, they fall apart and re-form—as each other. A jinni and a human, trading lives. Both girls must play their parts among enemies who would kill them if the deception were ever discovered—enemies including the young men Najwa and Zayele are just discovering they might love.
Pre-order from: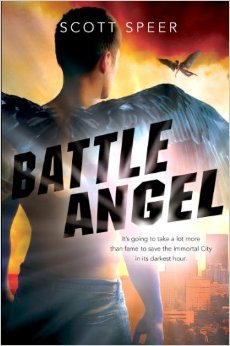 Battle Angel
(Immortal City #3)
by Scott Speer
YA Urban Fantasy/Paranormal
August 28th 2014 by Razorbill
Summary
It's going to take a lot more than fame to save the Immortal City in its darkest hour. . . .
With Maddy torn between two loves, Guardian Jackson and heroic pilot Tom, and Angels and humans on the brink of an epic war, the Immortal City is more vulnerable than ever. And when demons descend upon Angel City with the intent to destroy, the humans don't stand a fighting chance without the Angels on their side.
Will Jacks find the strength and forgiveness to enter the fray and fight the demons as a stronger-than-ever Battle Angel? Or has the damage been so great that the Guardians will set off for the next place, abandoning Angel City in its darkest hour?
It all comes down to love-wrecked half-Angel Maddy and the strength of her bond with Jackson in this game-changing, thrice-as-sultry series finale that blends beautiful themes of redemption and renewal with heart-pounding action scenes and jaw-dropping twists.
Pre-order from:
What do you think? Will you be reading either of these?