"Waiting On" Wednesday is a weekly event, hosted by Breaking the Spine, that spotlights upcoming releases that we're eagerly anticipating.
These are my picks for this week: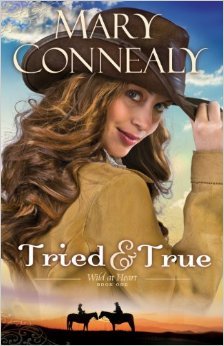 Tried & True
(Wild at Heart #1)
by Mary Connealy
Christian Historical Romance
September 2nd 2014 by Bethany House Publishers
Summary
Kylie Wilde fought in the Civil War dressed as a boy---and now she's homesteading as a man! When somebody tries to burn her property, land agent Aaron Masterson inspects her claim---and realizes she's a woman. Will he keep her secret? And when the attacks continue, will she marry him just so she won't have to be alone anymore?
Pre-order from:
Destined for Doon
(Doon #2)
by Carey Corp & Lorie Langdon
YA Urban Fantasy
September 2nd 2104 by Blink
Summary
The second book in the popular new Doon YA series that takes on a classic story, Brigadoon, and spins it in a new way to give readers a fresh, modern experience.
In this sequel to Doon, Kenna Reid realizes she made a horrible mistake-choosing to follow her dreams of Broadway instead of staying in the enchanted land of Doon. Worse, she's received proof she and Duncan are meant to be, along with torturous visions of the prince she left behind. So when Duncan shows up and informs Kenna that Doon needs her, she doesn't need to think twice. But even if Kenna can save the enchanted kingdom, her happily ever after may still be in peril.
The Doon novels are a part of Blink, HarperCollins Christian Publishing's new YA imprint that delivers empowering and heartening literature while maintaining a tradition of imaginative and impactful storytelling.
Pre-order from:
Why can't I wait to read these? Well, I just love Mary Connealy. Her books have so much spunk, humor, and sweet in them and
Tried & True
is sounding to be a great time! Then I really enjoyed
Doon
last year and have been eagerly anticipating this second book in the series,
Destined for Doon
. I'm excited to see why Doon is in such turmoil and if Kenna and Duncan will finally get their happily-ever-after.
What do you think? Are either of these on your can't-wait-to-read list?