Friday Favorites is a weekly meme hosted here, that spotlights a favorite author, book, series, publisher, cover, blog, etc. Basically whatever bookish thing that you love, recommend, and want to tell others about. Just pick one and link up to my post each Friday to share. You can use the graphic I used above, the other one
here
, or your own.
I have been ready for a new fantasy series to read and love since Fire and Thorns and The Grisha trilogies have finished. I saw so many positive reviews for this one and then was thrilled when I read it and loved it! This is definitely one I would recommend! Here's the book info and my review...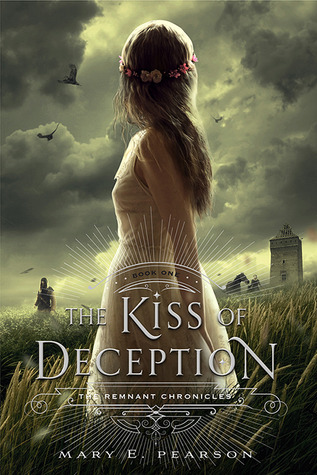 The Kiss of Deception
(The Remnant Chronicles #1)
by Mary E. Pearson
YA Fantasy
July 15th 2014 by Henry Holt and Co
Summary
In this timeless new trilogy about love and sacrifice, a princess must find her place in a reborn world.
In a society steeped in tradition, Princess Lia's life follows a preordained course. As First Daughter, she is expected to have the revered gift of sight—but she doesn't—and she knows her parents are perpetrating a sham when they arrange her marriage to secure an alliance with a neighboring kingdom—to a prince she has never met.
On the morning of her wedding, Lia flees to a distant village. She settles into a new life, hopeful when two mysterious and handsome strangers arrive—and unaware that one is the jilted prince and the other an assasin sent to kill her. Deception abounds, and Lia finds herself on the brink of unlocking perilous secrets—even as she finds herself falling in love.
I was enchanted with The Kiss of Deception from the first chapter. There were layers in the story and I wanted to know what was going on, why, and who was involved. There was a twist that I didn't see coming and can't believe I fell for it! How could I suppose one thing when it was quite the opposite? What made the surprise okay was that it was the direction I wanted things to go as a reader. The writing was fabulous! I loved the characters, the setting, and the constant underlying feeling of danger as Lia finds out who she is away from the court and faces who she will become.

Lia was amazing as were Kaden and Rafe! Then there were these amazing side characters in Pauline (Lia's companion), Berdi (who ran the tavern), and Gwyneth (one of the tavern servers). There was a lot of companionship, friendship, wit, and charm, but also deception. I did want Lia to be a little more cautious and suspicious of certain individuals, but I could also see how she wanted a new life and felt that she was safe to take it.
I really loved how things were set up in the story. Everything wasn't spelled out, nor was there information dumping. The pacing was perfect. The storybook world was slowly unraveled and things were explained, or came to light, as the story progressed. I loved how the magical foundation and history were set up and can't wait to see how the pieces all come together in the next book. There are so many possibilities.
If you enjoy fantasy with danger, adventure, subterfuge, friendship, romance, and a little magic then I would definitely recommend grabbing The Kiss of Deception. It kept me engaged, surprised me, and made me fall in love with these characters.
Content: There is some innuendo, some violence, and one suggestive scene, but nothing descriptive and so I would consider this clean.
Source: Thank you Henry Holt & Co for my eARC copy through NetGalley, which did not affect my review in any way.
Mary E. Pearson is the award-winning author of The Jenna Fox Chronicles, The Miles Between, A Room on Lorelei, and Scribbler of Dreams. She writes full-time from her home office in California where she lives with her husband and two golden retrievers.


Do you have a favorite to share this week?