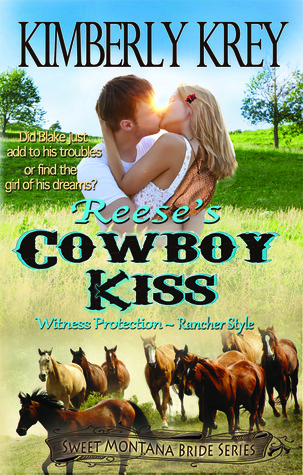 Reese's Cowboy Kiss
(Sweet Montana Bride #1)
by Kimberly Krey
Adult Romance
Paperback, 307 Pages
May 13th 2014 by Candle House Publishing
Texan pageant winner, Reese Taylor, has a former classmate who wants her dead. Now she must leave her friends and family to enter a protection program on Emerson Ranch. A group of good-looking cowboys awaits her, but Reese has her eye on Blake Emerson, the one man too busy with the ranch to give her a chance.
Blake Emerson has no time to go lookin' for love. He's got a ranch to run, positions to fill, and an ache in his heart from love gone wrong. So when he agrees to harbor a witness to help on the ranch, Blake assumes his first two problems are solved. But he never dreamed his new guest would be a woman. One he was destined to lose his heart to.
With sparks burning hot and danger around the bend, one question lingers in his mind: Has he only added to his list of troubles, or has Blake just found the woman of his dreams?
*While this book is considered clean romance, it contains passionate kissing and a few mild curse words.*
I really loved the first book I read from this series, Cassie's Cowboy Crave (which also has my favorite cover from this series). The second book, Jade's Cowboy Crush, I enjoyed, but I didn't feel it had as much of the sass and humor as the first one. Then we get to Reese's Cowboy Kiss, which is really the first book in the series just written and released last, and I loved that there was plenty of that sass and humor from these characters as the first book, as well as plenty of sexual tension. Oh boy, was there ever! Cassie's story will remain my favorite of the series, but Reese's comes in next.
The first time Blake meets Reese I was already cracking up. His expectations were blown away. Not in how you might be thinking. He thought Reese would be a boy that could help out on the ranch and she definitely was not a boy. No siree. Then there were these three wild and jovial ranch hands who live in the basement of the ranch house while Reese and Blake live on the main level. The dinners and entertainment with those guys and Reese were great! I loved how the camaraderie always rubbed Blake the wrong way. He didn't want Reese (at least that's what he tells himself), but he doesn't want anyone else to get her either.
Reese was just really sweet, and a Texan gal at that. Blake was hard working and rough and rugged, like he should be. They found themselves in plenty of opportunities to push their relationship forward, but both were a little worried about taking the next step with someone after Reese and no guarantee of how long she'd even be at the ranch. It added some great tension and also some intimate moments of friendship between these too, which I appreciated because they become friends before anything else.
This was a sweet romance. It does get plenty steamy and pushed that clean line for me, but was very entertaining. If you're looking for romance with some suspense and plenty of laughs and sizzle, then you'll definitely like Reese's Cowboy Kiss.

Content: Clean for the genre - being Adult Romance. There are some pretty steamy scenes, and two closed-door scenes with a married couple.
Source: From the author, which did not affect my review in any way.
Other Books in the Sweet Montana Bride Series:
About Kimberly Krey
I'm a writer of contemporary clean romance, a lover of home, family, & friends, & the ultimate hater of laundry.
A few of my favorite things: Diet Coke, Cafe Rio, and novels by Marcia Lynn McClure.

- $100 Amazon Gift Card
- Open Internationally
- Ends August 10th
a Rafflecopter giveaway