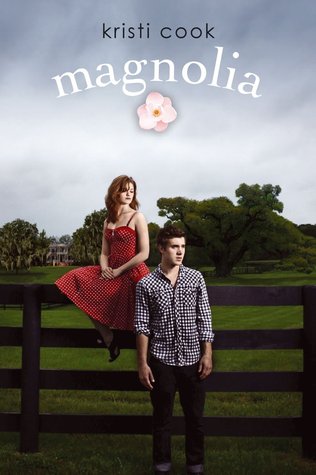 Magnolia
Summary
In Magnolia Branch, Mississippi, the Cafferty and Marsden families are southern royalty. Neighbors since the Civil War, the families have shared vacations, holidays, backyard barbecues, and the overwhelming desire to unite their two clans by marriage. So when a baby boy and girl were born to the families at the same time, the perfect opportunity seemed to have finally arrived.
Jemma Cafferty and Ryder Marsden have no intention of giving in to their parents' wishes. They're only seventeen, for goodness' sake, not to mention that one little problem: They hate each other! Jemma can't stand Ryder's nauseating golden-boy persona, and Ryder would like nothing better than to pretend stubborn Jemma doesn't exist.
But when a violent storm ravages Magnolia Branch, it unearths Jemma's and Ryder's true feelings for each other as the two discover that the line between love and hate may be thin enough to risk crossing over.
I loved the cover and premise for Magnolia when I first saw it some time ago. Contemporary YA can be a little hit and miss with me though, so I began my reading with no actual expectations, but of course hoping that I would like it. I ended up reading it all in one sitting, staying up late to finish, laughing numerous times, while also feeling apprehensive as the characters sat through hurricane weather and tornadoes, and sighing with the sweet moments.
These characters were great! I loved Jemma and her angsty personality, at least towards her mom and Ryder sometimes. I could tell that with Ryder she was trying to protect herself. I also loved how close she was with her family, especially the moments with her sister and dad. She also had some great friends. What I liked most about Jemma was her interest in filming and how she felt looking through a lense, how she eventually trusted and opened up to Ryder, and how she wanted to do right by Patrick. Ryder is a gentleman and a talented and good-lucking one at that. He's six-foot-four muscle and charm as the high school's starring quarterback. What I liked most about him, though, was how level-headed he was. He didn't participate or get involved in the other boys' crazy stunts and he was smart. You would have thought that he would have been confident all the time as well, but he was a little unsure with Jemma and for good reason.

Magnolia was a good blend of family and friendship, romance, and some suspense when Jemma's sister faces an illness and when Ryder and Jemma face a storm together. There were some pretty intense moments and as a parent they really hit me hard. My only gripe would be the language. It wasn't frequent, but it was there and included minor to major swear words. Otherwise, this was a story I thoroughly enjoyed and an author I will come back to.

Content: Some heavy making out, innuendo, and language.
Source: Received this ARC from the publisher through Edelweiss, which did not affect my review in any way.
Interested in reading an excerpt from
Magnolia
? Go to my tour stop post
here
to check it out along with a fabulous giveaway!