I'm very excited to have Mary stopping by today to tell me who she'd dream cast for her characters. I thoroughly enjoyed reading
Dream Boy
! You can see my review
here
.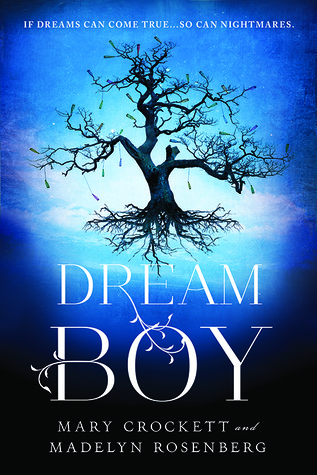 Dream Boy
by Mary Crockett & Madelyn Rosenberg
YA Urban Fantasy
Paperback

,

336

Pages
July 1st 2014 by Sourcebooks Fire
Summary
Annabelle Manning feels like she's doing time at her high school in Chilton, Virginia. She has her friends at her lunchtime table of nobodies. What she doesn't have are possibilities. Or a date for Homecoming. Things get more interesting at night, when she spends time with the boy of her dreams. But the blue-eyed boy with the fairytale smile is just that—a dream. Until the Friday afternoon he walks into her chemistry class.
One of friends suspects he's an alien. Another is pretty sure it's all one big case of deja vu. While Annabelle doesn't know what to think, she's willing to believe that the charming Martin Zirkle may just be her dream come true. But as Annabelle discovers the truth behind dreams—where they come from and what they mean—she is forced to face a dark reality she had not expected. More than just Martin has arrived in Chilton. As Annabelle learns, if dreams can come true, so can nightmares.
Excerpt
I've always been a dreamer. Daydreams. Night dreams. Dreams of grandeur and dreams of escape. If I were an onion and you peeled back the papery outside, you'd find layer after layer of eye-watering dreams. And in the center, where there's that little curlicue of onion heart? There'd be a puff of smoke from the dreams that burned away.

It was all just brain waves, I thought—disconnected, like the notebook that my friend Talon keeps. She draws a line down the middle of the page; on the right she writes everything she remembers about a dream, and on the left she puts notes about the stuff that's happening in real life, things that might trigger her subconscious. Reality on one side, dreams on the other—a clear line between the two.

But it turns out there are no clear lines, just a jumble of what is and what might be. And all of it is real.
Early Reviews
"Hits the chick-lit and romance buttons, adding suspense and an intriguing idea as well for nicely rounded entertainment." -- Kirkus Review
"Five stars... Perfect writing, perfect characters … perfect plot." -- Paperback Wonderland
By Mary Crockett
For our heroine Annabelle, I might cast someone with the ease and likability of
Elle Fanning
. Plus, that girl can act!
For Martin (the boy of Annabelle's dreams), I'd go with younger versions of
Max Irons
or
Alex Pettyfer
. Or maybe
Robbie Amell
.
Will (Annabelle's best friend) could be someone like
Liam James
or
Jacob Kogan
or even
Kevin Zegers
when he was 10 years younger.
Talon (Annabelle's other best friend) has a good dose of spunk. Maybe a younger
Aubrey Plaza
or
Anna Kendrick
or an older
Quvenzhané Wallis
.
Serena (Annabelle's other other best friend) could be played by
Abigail Breslin
or
Christian Serratos.
For Stephanie, I might cast
Jennifer Lawrence
because unlike Annabelle, I quite like Stephanie—and Jennifer Lawrence is not only one of my favorite actresses and personalities, but absurdly gorgeous.
Christian Serratos
also would be perfect. (She seems flexible enough to play characters as different as Serena and Stephanie.)
For Daniel, I'd cast
Dave Franco
because he's got that cute but sort totally untrustworthy vibe.
There are a ton of other characters that play an important role in Dream Boy, but the only other one I want to weigh in on is that the high school football coach needs to be played by
Will Ferrell
. Because of course all movies without Will Ferrell suck.
Mary Crockett
likes turtles, licorice, and the Yankees.
Madelyn Rosenberg
likes cats, avocados, and the Red Sox. Luckily they both like the weirdness of dreams (and each other) enough to write novels together. The friendship has survived three moves, six kids and countless manuscript revisions. Madelyn lives just outside of Washington, D.C. Mary remains in the mountains near their hometowns in southwestern Virginia. You can find them on Twitter @marylovesbooks and @madrosenberg or their blogs at
www.marycrockett.com
and
www.madelynrosenberg.com
.
Paperback of Dream Boy (US/CAN Only)
Ends July 21st
a Rafflecopter giveaway