We're all focusing on answering the question: "If I could have any superpower…"
I've thought about this before, but this is a hard one. I'd love to be able to bend time. Could you imagine how clean my house could be, the time I could spend with my kids, and still be able to read a million books?!! I don't know that I honestly would choose that though. I think being able to heal would be amazing and do a wonder of good.
How about you? What superpower would you choose? While you think about that, check out what these authors would choose and the excerpt and giveaway for Powerless by Tracy Deebs and Tera Lynn Childs below...
Tracy Deebs, POWERLESS co-author

If I could have any superpower in the world, I would actually go with Samantha's from that old TV show bewitched. I live in a house with four men (three of whom I gave birth to) and let me tell you—there are many days, especially when I'm coming off a crazy deadline, that I want nothing more than I want the ability to just blink or wave my hands or wiggle my arms and instantly clean up the disaster area that has become my house. And just think of all the other things—landfills or the aftermath of natural disasters—that could also be cleaned up so much better and faster!!!
Tera Lynn Childs, POWERLESS co-author

If I could have any superpower, I'd want to be able to make anything vegan. For the most part, since I became a vegan more than four years ago (well, strict vegetarian and mostly vegan—sometimes a girl just needs her cheese) I haven't really missed any of the foods I used to love. But sometimes… Sometimes I daydream about bacon and buffalo wings. If I could order anything on any menu and, with a blink of my powers, turn it into a totally veganized version, I'd been in meat-and-dairy-free heaven!
Hannah Jayne, author of THE ESCAPE
If I had a superpower it would be… Hm…At first I was thinking I'd want super strength so I could lift cars off people and save the day, but then I realized while waiting for cars to fall on people all my friends would want me to help them move. So, that's out. Maybe the ability to fly? I could zip cross-country to New York and not have to pay the $25 baggage fee. Yep—done!
Patty Blount, author of SOME BOYS
If I had a superpower, it would be Traffic Thor. With a swing of my mighty hammer, the roadways would be clear of all traffic. I would be able to drive the Long Island Expressway at the posted speed limit (something that happens only at specific times each day). I'd be able to open worm holes between Here and There and simply step through and arrive instantly. No more afternoons wasted stuck in a car, no more having to plan events based on anticipated traffic.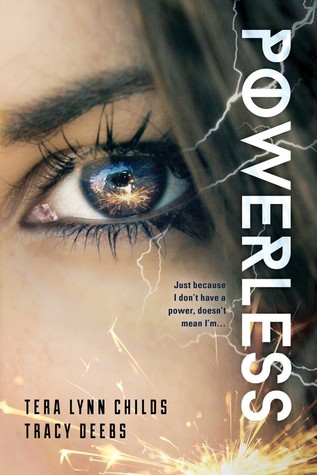 Powerless
(The Hero Agenda #1)
by Tera Lynn Childs & Tracy Deebs
YA Urban Fantasy
Hardcover, 320 pages
June 2nd 2015 by Sourcebooks Fire

Summary

Kenna is tired of being "normal". The only thing special about her is that she isn't special at all. Which is frustrating in a world of absolutes. Villains, like the one who killed her father, are bad. Heroes, like her mother and best friend, are good. And Kenna, unlike everyone else around her, is completely ordinary— which she hates.

She's secretly working on an experiment that will land her a place among the Heroes, but when a Villain saves her life during a break-in at her lab, Kenna discovers there's a whole lot of gray area when it comes to good and evil and who she can trust.. After all…not all strength comes from superpowers.
All my life there have only been three absolutes: ordinaries are useless, villains are evil, and heroes are good. Heroes are supposed to be the people the rest of the world looks up to, the very best examples of humanity.
I've spent my whole life distrusting villains—hating villains—and now I find out that some heroes are just as bad. Maybe worse. This kind of brutality is worse than anything I've ever heard villains accused of. This is worse than what they did to my father. Worse than murder.
Heroes are the good guys, the ones who stop things like this from happening. The heroes I know would never do this. But they are. They are. So what's going on?
Hypnosis? Mind control? I don't know. Somebody is responsible for this. There's no other explanation.
But who? What are they getting out of it?
Another scream pierces the air, and I shudder. I've never felt so useless in my life. There is nothing I can do to help him, to save him. Nothing I can do to make it stop. What I wouldn't give to have

any

superpower.

Just seven (7) more days to enter!


a Rafflecopter giveaway