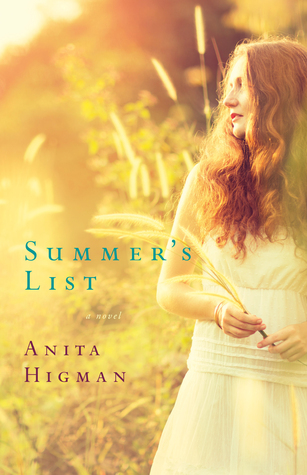 Summer's List
by Anita Higman
Summary
A dying wish alters the course of a young woman's life.
Life hadn't been easy for Summer Snow. In acts of selflessness-caring for her ailing parents and running her grandmother's bookstore-she had forfeited her youth and dreams for the needs of others. And the only tries she had at love… didn't turn out. She had the bookstore, she had her beloved granny, but she was missing something-or someone.
Opportunity strikes when Granny sends Summer on an unexpected adventure with one Martin Langtree, a kind but gangly young man from Summer's past. A childhood friendship is rekindled, a romance is sparked, and mysteries are solved in one magical Texas summer. Will Summer strike out on love again, or will things finally go her way?
Summer's List was a story about a grandmother's wish for her granddaughter to spread her wings and find happiness and love. When Summer tells her Granny, who's health is failing, that she'll do anything she asks she's given a bucket list of things to do. Summer has been unlucky in love, but still holds a tender spot for an old childhood friend. First on the list is looking that friend up and having him do the list with her and see where that takes them.
The messages I felt from the story were ones of forgiveness, not judging, enjoying life, and finding love. There were several times that the characters uttered silent prayers for themselves and others and parts where they tried to inspire others in asking to let God in. I would have liked the inspirational element to feel a little more natural, but I could also see what the author was trying to do with the story.
The pace of the story was fairly steady. There wasn't any intensity, but it was more of a meandering walk through Summer and Martin's thoughts and what they do with the list and as Martin tries to heal his family. I did feel that the
conversation felt a little stilted in places and unrealistic, as were some of the relationships and situations. It was missing that connection and authentic feeling to me, but others may not have those issues.

Overall Summer's List was a sweet story of forgiveness, family, friendship, and love.

Content: Clean
Source: I received a complimentary copy through Litfuse Publicity, which did not affect my review in any way.
Best-selling and award-winning author,
Anita Higman
, has over thirty books published (several coauthored) for adults and children. She's been a Barnes & Noble "Author of the Month" for Houston and has a BA degree, combining speech communication, psychology, and art. Anita loves good movies, exotic teas, and brunch with her friends.