Teaser Tuesday is a weekly bookish meme, hosted by MizB of A Daily Rhythm.
I'm doing a combo post today because I'm gearing up for the
Silver in the Blood Read-Along
that Dena over at
Batch of Books
and I are hosting that begins in just over a week. I can't believe it's almost here!!!
The book releases on July 7th, so anyone who'd like to join can hopefully grab a copy from the bookstore or their local library to read with us (or if you already have an ARC, feel free to join us as well). You don't have to be a blogger to participate (we'll take all readers), you can sign up using the linky or just get ready to participate beginning July 10th. You also have some time to join,
through July 20th
, in case you can't participate until then or don't get your book by the 10th. We'll basically be reading a chapter (~26 pages) a day. Jessica will be stopping by to chat and there will be a giveaway as well. So just fun all around!! :D
I've included the linky below my teaser for anyone who is interested in joining. And to hopefully peak your interest, here is the book info and a teaser for
Silver in the Blood
...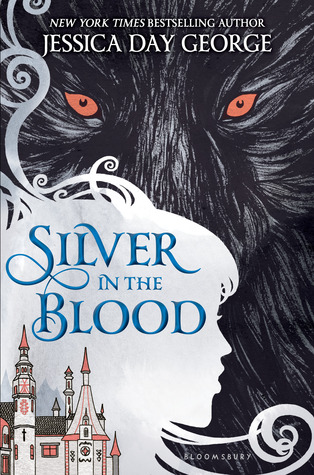 Silver in the Blood
(Silver in the Blood #1)
by Jessica Day George
YA Urban Fantasy, Paranormal
Hardcover, 358 pages
July 7th 2015 by Bloomsbury USA Childrens

Summary

A New York Times bestselling author brings dark secrets to life in a lush new YA perfect for fans of Libba Bray or Cassandra Clare.

Society girls from New York City circa 1890, Dacia and Lou never desired to know more about their lineage, instead preferring to gossip about the mysterious Romanian family that they barely knew. But upon turning seventeen, the girls must return to their homeland to meet their relatives, find proper husbands, and—most terrifyingly—learn the deep family secrets of The Claw, The Wing, and The Smoke. The Florescus, after all, are shape-shifters, and it is time for Dacia and Lou to fulfill the prophecy that demands their acceptance of this fate . . . or fight against this cruel inheritance with all their might.

With a gorgeous Romanian setting, stunning Parisian gowns, and dark brooding young men, readers will be swept up by this epic adventure of two girls in a battle for their lives.
Teaser
What was waiting for them in Bucharest that could make Aunt Kate nervous?

The train lurched to a stop, and now Dacia's book slithered down her skirts to the floor. When she picked it up, she picked up Aunt Kate's as well and gave it to her. Her aunt made no comment, but opened the book to the middle and made the appearance of reading. Dacia watched her aunt over the top of her own novel and saw that Kate didn't turn the page or move her eyes at all, staring blindly at the words until the train started up again. When several men strode down the corridor outside their compartment, Aunt Kate put the book aside and didn't even pretend not to listen

.

"Quite repulsive. And they've no idea how it got there." The man spoke Romanian, with aristocratic accents, and the scent of cigar smoke wafted into the compartment.

"Some animal dragged it onto the tracks and had to run off without its kill when the train came, most likely," another man said

.

"What sort of animal can kill something that large?" The first man sounded almost admiring. "That's a whole cow out there!"

"Wolves, perhaps," his companion supplied. "They hunt in packs, you know . . ."

Dacia wrinkled her nose, but quickly unwrinkled it when she saw Aunt Kate's face. Rather than being mildly disgusted, her aunt had gone quite white.

(Location 100, Kindle ARC)

What do you think? Does that make you want to know more or join our read-along?