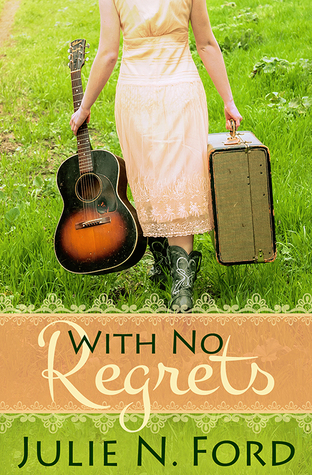 With No Regrets
by Julie N. Ford
Adult Contemporary Romance
Paperback & ebook

, 298

Pages
June 1st 2015 by White Star Press
Summary
Living With No Regrets Is Harder Than It Seems
Finley isn't exactly sure when her life began to feel unfamiliar. She suspects the transformation started long before she caught her husband and fellow garden club member doing the white-trash-two-step on her new Bernhardt sofa. Now free from the shackles of a loveless marriage, and with her children off to college, she's finally able to go searching for the missing pieces of her heart.
Finley's best friend, Cathyanne, is already working hard to ensure that Finley finds true love this time around. But when Finley is unwittingly tossed into the arms of two men—their sexy trainer and her neighbor, a popular country star—Cathyanne fears finding the right guy will be more complicated than she ever could have imagined.
For Finley, building a new life feels as impossible as flying a paper airplane to the moon. But maybe, just maybe, with the right help, she will find her whole heart—even if it's in the very last place she thinks to look.
I've read a couple of novellas from this author, but this would be my first full novel I've read of hers. I knew there was going to be heartache and loss, as well as friendship and love ahead for me in this story just by the synopsis and the opening chapter. There was so much more as well.
The characters were flawed, but for me, that meant that they were also real and perfect. Finley had so much to figure out about her life. She had always been a pleaser, a conformist to what she felt her mother and society expected of her, and someone who served others, but didn't always do it genuinely and definitely not someone who did things for herself. She had to develop a backbone and figure out who's love she would let in and it took some doing. There were three guys who were all interested in Finley for different reasons. I pretty much knew right away who was the right one for her and who she would end up with. I mean, how could she not?!! There were some serious hurdles though to her getting to a place where she was open to the love in front of her. She made some good frenemies along the way and some just down-to-earth friends. It was an interesting and diverse group that surrounded her.
Here's my favorite quote from the story:
"What she didn't know until this moment was that happiness wasn't found at the crest of the mountain, it was in each foothold of the climb. In each stumble, each fall, and in the determination to get back up and keep going. Happiness meant having the courage and perseverance to get over yourself and go after what you wanted, accept the outcome, and then move on without fretting over what might have been. And in knowing that for better or worse, life would always turn out the way it was meant to be."
If you enjoy reading adult romance or women's fiction then I would recommend With No Regrets. There was plenty of heart, some sizzle, and ultimately a woman who finds that life doesn't always turn out how you thought it would, but you can still find happiness.

Content: Some mild swearing, quite of bit of innuendo, some heavy making out.
Source: I received a complimentary copy through the tour host, which did not affect my review in any way.
A graduate from San Diego State University with a BA in Political Science,
Julie N. Ford
also earned a Masters in Social Work from the University of Alabama, which has only made her better able to recognize the unhealthy, codependent relationship she has with writing. Professionally, she has worked in teaching and as a marriage and family counselor. She is the author of six women's fiction novels, including Count Down to Love, a 2011 Whitney Award finalist. When she's not writing, she entertains delusions of being a master gardener, that is, when she's not killing the unsuspecting plants in her yard with her good intentions. She lives outside of Nashville, Tennessee, with her husband, two daughters, and the cutest Scottish fold cat you've ever seen. She loves to chat with readers.
$25 Amazon Gift Card or Paypal Cash
Ends 6/28/15
Open only to those who can legally enter, receive and use an Amazon.com Gift Code or Paypal Cash. Winning Entry will be verified prior to prize being awarded. No purchase necessary. You must be 18 or older to enter or have your parent enter for you. The winner will be chosen by rafflecopter and announced here as well as emailed and will have 48 hours to respond or a new winner will be chosen. This giveaway is in no way associated with Facebook, Twitter, Rafflecopter or any other entity unless otherwise specified. The number of eligible entries received determines the odds of winning. Giveaway was organized by Kathy from
I Am A Reader
and sponsored by the author. VOID WHERE PROHIBITED BY LAW.
a Rafflecopter giveaway