Friday Favorites is a meme that spotlights a favorite author, book, series, publisher, cover, blog, etc. Basically whatever bookish thing that I have loved, would recommend, and want to tell others about. You can see all of my Friday Favorites here. You're welcome to join in as well!
I was originally supposed to post a review for this in late April/early May and somehow never got a review up. 0.0 I definitely want to share my love for this author and book though. (I seriously can't express how amazing Melissa is from the few interactions I've had with her.) It was one of those books that I have thought about several times after I finished the last page. I loved it and feel it's definitely worth picking up! And if you have time and are interested, Melissa wrote about when the heroine and hero first meet (just a teaser) that is one of my favorite scenes because it is hilarious and there are a few sparks (how can there not be??!!)! You can check our her blog post
here
.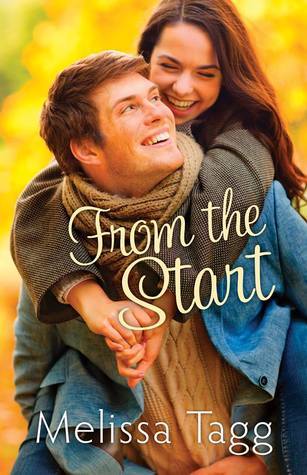 From the Start
(Walker Family #1)
by Melissa Tagg
Christian Contemporary Romance
Paperback, 352 pages
April 7th 2015 by Bethany House Publishers
Summary

"Simply adorable...you might just fall in love with Here to Stay."--USAToday.com

Kate Walker used to believe in true love and happily ever after. While her own love life may have left her brokenhearted, it hasn't kept her from churning out made-for-TV romance movie screenplays...until a major career slump and a longing to do something meaningful send her running back to her hometown of Maple Valley.

Permanently sidelined by an injury, former NFL quarterback Colton Greene is temporarily hiding out in a friend's hometown to avoid the media and the reminders of all he's lost. Maple Valley seems like the perfect place to learn how to adjust to normal life. The only trouble is he's never really done normal before.

While Kate plays things safe and Colton is all about big risks and grand gestures, they both get what it's like to desperately need direction in life. An unexpected project gives them both a chance to jumpstart their new lives, but old wounds and new dreams are hard to ignore. Starting over wasn't part of the plan, but could it be the best thing that's ever happened to them?


From the Start is the second book I've read from this author and it did not disappoint. In fact, it pretty much blew my expectations. I think I literally fell in love with the hero, Colton Green, and ex-star football quarterback. If the heroine, Kate Walker, and author and screen-play writer, didn't do the same over the course of this story, I would have been deeply disappointed. Thank goodness for happily-ever-afters, especially when getting there feels so gratifying after wading through heartbreak, self-discovery, tension, and difficulty.
One of my favorite things about this story, besides the romance and main characters (we'll talk about them soon...) was the Walker family. I felt completely at home with them, comfortable, and connected. I loved how loyal they were in so many ways to each other, but that even though they are one fabulous family that they also aren't perfect. They struggle sometimes and they all react and process things differently. Because of all those differences and imperfections they felt real, like it would be great to just go hang at their house and join in the ribbing and love. To say that I'm anticipating future stories revolving around the members of this family would be a huge understatement. I think I've made my point.
Kate. Well, what can I say? She's so very talented and driven. She's also (or has very much been in the past) naive. She's still figuring things out and she has this dream that can finally, finally be realized. It's what she feels will give her life purpose and meaning and she pretty much is banking on it helping her know who she is. She's also laid-back, loyal, a l
ot
bit of a worrier, and cares deeply for her family. She's also been deeply hurt romantically and that's a huge hurdle. Colton. *sigh* What gives that sigh meaning is that he might have started off pretty full of himself in many ways, but just like Kate he misunderstands himself and has been hiding behind hurt for a long time. He changes over the time he's in the small town of Maple Valley living with the Walker clan. He really finds himself and what he'll do and what's important to him. That's what made me fall for him. Well, and maybe the way he teases, adores, and overall treats Kate and her family, as well as a certain high school boy.
Then there were a few secondary stories... The beginning of the backstory to one of Kate's sisters (can't wait for book two, Like Never Before, coming in April 2016) and then the owner of the coffee shop. Gosh, I loved Megan! That tough shell and how Katie worms (maybe more like forces) her way in. There was also the story of Marcus and his family, particularly his son who struggled with a life-long illness. That really teared me up.
These other characters just made me love this story even more! Plus the town and how people came together during two different catastrophes just yanked on my heart.
The story held my attention the whole way through. There were slower, more contemplative and inspiring parts mixed with more tension-filled desperate parts. The end... It was so tough to read what Kate and Colton had to go through. Seriously heartrending, but it was also one of the reasons why the ending was so joyous and sweet.
There are lots of parts I liked. Here are a few:
"You know, Marcus, I think . . . I think it's not wrong to ache or feel hopeless. Your beautiful, amazing son is in a hospital room fighting for his life. What parent wouldn't feel emptied of hope at a time like this?" She tasted the salt of her own tears. "But there are people who are hoping for you, holding you and Hailey up. Let us do that. Let us hope for Breydan's tomorrow and next week and next year. You just focus on him right now. On being his dad who loves him right here in this moment."

"It's okay to admist what you want. When you do, you might finally get brave enough to go after it."



"Don't assume saying yes to one dream automatically means saying not to another

."



And one more that I shared a while back on Facebook:
If you love romance, women's fiction, inspirational fiction, and a story that pulls at your heart and makes you fall in love with its characters, then I'd highly recommend From the Start. It's definitely a story I plan on reading again.

Content: Clean
Source: I would like to express my gratitude to Bethany House for my complimentary copy, which did not affect my review in any way.
About the Author
Melissa Tagg
, author of Made to Last and Here to Stay, is a former reporter and total Iowa girl. In addition to her homeless ministry day job, she is also the marketing/events coordinator for My Book Therapy, a craft and coaching community for writers. When she's not writing, she can be found hanging out with the coolest family ever, watching old movies, and daydreaming about her next book. She's passionate about humor, grace, and happy endings. Melissa blogs regularly and loves connecting with readers at
www.melissatagg.com
.
Have you read this or do you plan too?