Friday Favorites is a meme that spotlights a favorite author, book, series, publisher, cover, blog, etc. Basically whatever bookish thing that I have loved, would recommend, and want to tell others about. You can see all of my Friday Favorites here. You're welcome to join in as well!
It's been some time since I've done one of these. Originally I was supposed to be posting for a tour today, but that has been moved to tomorrow, so I've decided that it's time for me to get my review up for Kasie West's newest that I read a couple of weeks ago. You can see my reviews of
Pivot Point
,
Split Second
, and
On the Fence
by her as well. Her newest is my Friday Favorite for today...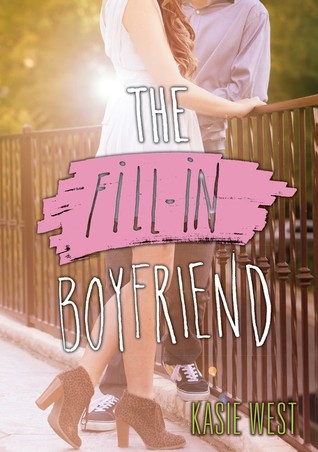 The Fill-In Boyfriend
by Kasie West
YA Contemporary Romance
Paperback, 352 pages
May 5th 2015 by HarperTeen
Summary
When Gia Montgomery's boyfriend, Bradley, dumps her in the parking lot of her high school prom, she has to think fast. After all, she'd been telling her friends about him for months now. This was supposed to be the night she proved he existed. So when she sees a cute guy waiting to pick up his sister, she enlists his help. The task is simple: be her fill-in boyfriend— two hours, zero commitment, a few white lies. After that, she can win back the real Bradley.
The problem is that days after prom, it's not the real Bradley she's thinking about, but the stand-in. The one whose name she doesn't even know. But tracking him down doesn't mean they're done faking a relationship. Gia owes him a favor and his sister intends to see that he collects: his ex-girlfriend's graduation party — three hours, zero commitment, a few white lies.
Just when Gia begins to wonder if she could turn her fake boyfriend into a real one, Bradley comes waltzing back into her life, exposing her lie, and threatening to destroy her friendships and her new-found relationship.
I have become a serious fan of Kasie West and each book she releases proves why. I expected to love The Fill-In Boyfriend and I did and it's so nice to consistently be able to expect that from an author. What I liked about this story as well was that even though it wasn't as humorous as her last contemporary, it had quite a bit of depth as the main character went through a lot of introspection and self assessment to change who she was from the beginning of the book to who she is in the end.
I have to say that this was one of the best openers to a story. I loved the whole concept of this guy seeing what was going on and then filling in as Gia's date. The lie carried on pretty far when Gia should have come clean, but it was still a fun and interesting scenario and created quite a bit of tension between Gia and her friends as well as Gia and Hayden. And of course romantic tension is always great. *wink* The romance was really fabulous, but I loved the friendships just as much, the build up, and that this story was about so much more.
I really loved these characters too, at least a few of them... Gia was great. She had a lot of growing to do, but I loved how she began figuring things out and changing who she was. Hayden I loved!!! He had his own insecurities, but he was a great counterbalance to Gia and was so sweet and laid back and cute. I also loved Hayden's sister, Bec. She was such a great instigator in this story and really mixed things up. I also loved their mom. Gia's family... Well, they had some issues as did Gia's friends. One friend in particular really ticked me off and that Gia's friends couldn't see what was happening or, if they did, didn't back Gia up as they should have. It felt a little like betrayal.
If you haven't read The Fill-In Boyfriend and you enjoy reading YA contemporary romance, then you really should. It's full of friendships, family and their differences, some fabulous romance, and one girl's story of figuring out who she wants to become and what's important to her. I highly recommend it!

Content: Clean
Source: Received an eARC from Edelweiss and also purchased, which did not affect my review in any way.

I write YA. I eat Junior Mints. Sometimes I go crazy and do both at the same time. My novels, published through Harper Teen are: PIVOT POINT and its sequel SPLIT SECOND. And my contemporary novels: THE DISTANCE BETWEEN US, ON THE FENCE, and THE FILL-IN BOYFRIEND. My agent is the talented and funny Michelle Wolfson.