"Waiting On" Wednesday is a weekly event, hosted by Breaking the Spine, that spotlights upcoming releases that we're eagerly anticipating.
Both of these contemporary YAs sounds fabulous! One is from a favorite author, Jennifer E. Smith. Here are my WOW picks this week:
Hello, Goodbye, and Everything in Between
by Jennifer E. Smith
YA Contemporary Romance
Hardcover & ebook, 256 pages
September 1st 2015 by Poppy
Summary
On the night before they leave for college, Clare and Aidan only have one thing left to do: figure out whether they should stay together or break up. Over the course of twelve hours, they'll retrace the steps of their relationship, trying to find something in their past that might help them decide what their future should be. The night will lead them to friends and family, familiar landmarks and unexpected places, hard truths and surprising revelations. But as the clock winds down and morning approaches, so does their inevitable goodbye. The question is, will it be goodbye for now or goodbye forever?
This new must-read novel from Jennifer E. Smith, author of
The Statistical Probability of Love at First Sight
, explores the difficult choices that must be made when life and love lead in different directions.
Pre-order from: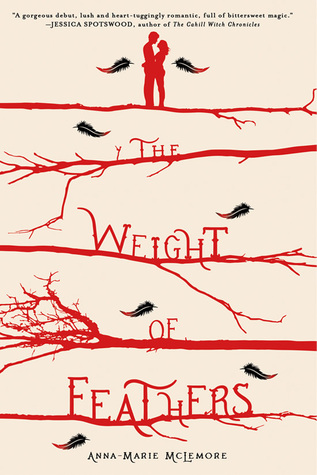 The Weight of Feathers
by Anna-Marie McLemore
YA Comtemporary Romance
Hardcover & ebook, 230 pages
September 15th 2015 by Thomas Dunne Books
Summary
For twenty years, the Palomas and the Corbeaus have been rivals and enemies, locked in an escalating feud for over a generation. Both families make their living as traveling performers in competing shows—the Palomas swimming in mermaid exhibitions, the Corbeaus, former tightrope walkers, performing in the tallest trees they can find.
Lace Paloma may be new to her family's show, but she knows as well as anyone that the Corbeaus are pure magia negra, black magic from the devil himself. Simply touching one could mean death, and she's been taught from birth to keep away. But when disaster strikes the small town where both families are performing, it's a Corbeau boy, Cluck, who saves Lace's life. And his touch immerses her in the world of the Corbeaus, where falling for him could turn his own family against him, and one misstep can be just as dangerous on the ground as it is in the trees.
Beautifully written, and richly imaginative, The Weight of Feathers is an utterly captivating young adult novel by a talented new voice.
Pre-order from:
Are either of these on your can't-wait-to-read list?