To post this Grand Finale (we'll send you the HTML code) and add your Social Media to the Rafflecopter,
email us at PrismBookTours(at)gmail.com with "Reese's Cowboy Kiss GF" in the subject line.
The Sweet Montana Bride Series
by
Kimberly Krey
is complete at last!
Reese's Cowboy Kiss
is
available now on kindle
or
paperback
. Did you get a chance to check out the tour and enter the
$100 Amazon gift card
? If not, go check them out now!
Some of you have already read Cassie and Shane's love story. Some have read Jade and Gavin's tale too. Now for the first and final book of the series. That's right – first chronologically, and final in order of release. In Reese's Cowboy Kiss you'll find out just how Reese and Blake's romance begins. From that first, tender kiss to the conflict that threatens to tear them apart, their story is filled with passion, romance, and action too.
If you could sum your main character into five words, what would they be?
Reese: Genuine, Tender-hearted, Flirtatious, Spunky, Charming
Blake: Loyal, Hard-working, Honest, Masculine, Passionate






Can we expect to hear more from these characters in the near future?
Yes, actually! I'll be doing a few novellas connected to the Sweet Montana Bride Series. The first one, Rough Edges, is about Allie (the Emerson Brothers' cousin). After her divorce, she reconnects with her ex-husband's old high school friend, Braden Fox. Braden is a carpenter, and though he has always liked Allie, he has hard feelings about Allie picking Terrance over him. It's called Rough Edges, and it will be about Braden's ability to smooth out the past.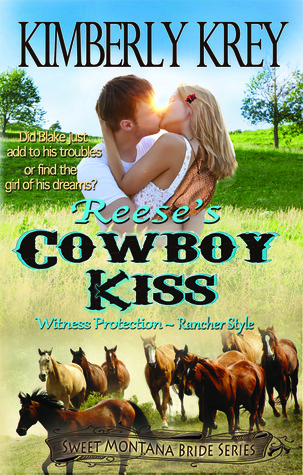 Reese's Cowboy Kiss
(Sweet Montana Bride #1)
by Kimberly Krey
Adult Romance
Paperback, 307 Pages
May 13th 2014 by Candle House Publishing
Texan pageant winner, Reese Taylor, has a former classmate who wants her dead. Now she must leave her friends and family to enter a protection program on Emerson Ranch. A group of good-looking cowboys awaits her, but Reese has her eye on Blake Emerson, the one man too busy with the ranch to give her a chance.
Blake Emerson has no time to go lookin' for love. He's got a ranch to run, positions to fill, and an ache in his heart from love gone wrong. So when he agrees to harbor a witness to help on the ranch, Blake assumes his first two problems are solved. But he never dreamed his new guest would be a woman. One he was destined to lose his heart to.
With sparks burning hot and danger around the bend, one question lingers in his mind: Has he only added to his list of troubles, or has Blake just found the woman of his dreams?
*While this book is considered clean romance, it contains passionate kissing and a few mild curse words.*

Other Books in the Sweet Montana Bride Series:
About Kimberly Krey
I'm a writer of contemporary clean romance, a lover of home, family, & friends, & the ultimate hater of laundry.
A few of my favorite things: Diet Coke, Cafe Rio, and novels by Marcia Lynn McClure.
- $100 Amazon Gift Card
- Open Internationally
- Ends August 10th