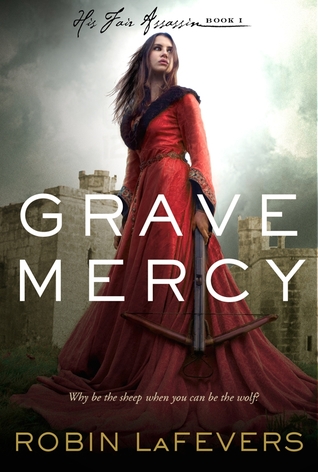 Grave Mercy
(My Fair Assassin #1)
by Robin LaFevers
YA Urban Fantasy, Historical
Paperback

,

549

Pages
April 3rd 2012 by Houghton Mifflin Harcourt
Summary
Why be the sheep, when you can be the wolf?

Seventeen-year-old Ismae escapes from the brutality of an arranged marriage into the sanctuary of the convent of St. Mortain, where the sisters still serve the gods of old. Here she learns that the god of Death Himself has blessed her with dangerous gifts—and a violent destiny. If she chooses to stay at the convent, she will be trained as an assassin and serve as a handmaiden to Death. To claim her new life, she must destroy the lives of others.

Ismae's most important assignment takes her straight into the high court of Brittany—where she finds herself woefully under prepared—not only for the deadly games of intrigue and treason, but for the impossible choices she must make. For how can she deliver Death's vengeance upon a target who, against her will, has stolen her heart?
The hardcover of Grave Mercy from Amazon is only $6.80 (at the time of this post)!!
I have been meaning to read Grave Mercy for some time. I actually started it last year when I had a copy from the library, but didn't finish when I had to return it to the library. Then there was an ebook deal that I took advantage of so that I could read it when I could on my Kindle. I'm glad I grabbed it!
Grave Mercy was intriguing, dark, romantic, with some fabulous and intense action, and set so beautifully. The plot kept me engaged the entire way. I wanted to figure out the characters and what they were going to do. I wanted to know who the villain, or villains were, who the Duchess and Ismae could trust. The author kept things mysterious enough that I could figure out or guess about some things, but not be completely sure if I was right. I love it when a story can keep things unpredictable!
There was plenty of friendship, romance, and grave moments between these characters; characters that I ended up loving. Ismae had such a rough life and barely escaped with it. Mortain's Convent literally saved her and she felt a strong loyalty to them. She also felt indebted to them. These feelings toward the Convent, along with her connection to Death, and her feelings for the friends she made, brought on an emotional struggle in deciding how she should act and what she should do as the story progressed. I loved that Ismae wasn't afraid to think about her choices and actions, to think about what was true and what Death would want and not just her own heart, the political players, or what the convent would want. I also loved Duval. He is smart, strong, loyal, and true. I loved how he handled Ismae and many around him and that he was so opening loyal and supportive of his sister and would do anything for her. He was a perfect counterbalance to Ismae. I loved that their attraction and friendship slowly grows and that they learn to trust each other over time.
Grave Mercy was definitely a riveting story, especially for readers like me who enjoy historical settings with political intrigue, interesting and likable characters that you can connect with and cheer on, and romance that feels authentic while not becoming overwhelming. My only gripe would be that I would have liked it slightly cleaner in content. It was still well worth the read and is definitely a story I would recommend to YA and Adult readers.

Content: There are some crude moments and comments, attempted rape, descriptions of abuse, violence, and a couple of closed-door scenes.
Source: Purchased
I'll be reviewing the next book in this series, Dark Triumph, this week or next as I prepare to read the third book in the series. Have you read Grave Mercy? What did you think if you did?