I'm excited to share a review of Lisa Wingate's newest release today! I reviewed her last book in this series, The Story Keeper, last year and loved it. She'll be stopping by for my Tackle Your TBR Read-a-thon with an interview and giveaway, so I'm looking forward to that.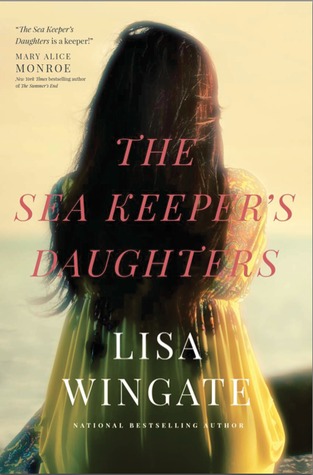 The Sea Keeper's Daughters
(Carolina #3)
by Lisa Wingate
Christian Contemporary Fiction, Romance
Paperback & ebook

, 400

Pages
September 1st 2015 by Tyndale
Summary

Wingate's third Carolina book follows the highly reviewed, The Prayer Box and The Story Keeper as well as related three novellas.

From modern-day Roanoke Island to the sweeping backdrop of North Carolina's Blue Ridge Mountains and Roosevelt's WPA folklore writers, past and present intertwine to create an unexpected destiny. . .

Restaurant owner Whitney Monroe is desperate to save her business from a hostile takeover. The inheritance of a decaying Gilded Age hotel on North Carolina's Outer Banks may provide just the ray of hope she needs. But things at The Excelsior are more complicated than they seem. Whitney's estranged stepfather is entrenched on the third floor, and the downstairs tenants are determined to save the historic building. Searching through years of stored family heirlooms may be Whitney's only hope of quick cash, but will the discovery of an old necklace and a depression-era love story change everything.


The Sea Keeper's Daughters was another fantastic release from Lisa Wingate, who has definitely earned her place (at least on my list) among the top in women's fiction. The story was poignant, reflective, heartfelt, beautiful, humorous, and had a little bit of romance. If you enjoy women's fiction, general or inspirational, this is definitely a book you should pick up!
The plot starts off emotionally, with the main character, Whitney, facing ruin and trying to hold everything together. So many people rely on her and her business, as her career has become personal. She just can't let them down. Then her situation becomes even more stressful as she leaves town to handle a situation with her stepfather. This is where the story really takes off. She get entranced with some history - an old family story that turns out to be rather important. She also starts to make friends with the town and her neighbors, and possibly even her stepfather who she has always been at odds with.
I was invested in this story from beginning to end. I knew there was a reason for her to find some old letters and that they would play an important role. I loved that there were a few connections to the other two novels in the series. Then the characters... they were so well developed. There was emotion, shown in these characters and pulled out of me as I read. The inspiration was light and woven through the story so well. Perfect for general and inspirational readers alike. The romance was slow-building, light, but also full of meaning. I loved Whitney's romantic interest and the little insights into his personality and life. I also loved some of the life lessons passed along. This was a beautiful quote:
This is one series I'm sad to see end, but at the same time, I'm excited to see what Wingate will tackle next. I just know it will be beautiful and heartfelt, just like The Sea Keeper's Daughters.
Content: Clean
Source: I would like to thank Tyndale for complimentary copies through Edelweiss and for a paperback ARC, which did not affect my review in any way.
Selected among Booklist's Top 10 for two consecutive years, Lisa Wingate skillfully weaves lyrical writing and unforgettable settings with elements of traditional Southern storytelling, history, and mystery to create novels that Publisher's Weekly calls "Masterful" and Library Journal refers to as "A good option for fans of Nicholas Sparks and Mary Alice Monroe."
Lisa is a journalist, an inspirational speaker, and the author of twenty-five novels. She is a seven-time ACFW Carol Award nominee, a multiple Christy Award nominee, a two-time Carol Award winner, and a 2015 RT Booklovers Magazine Reviewer's Choice Award Winner for mystery/suspense. Recently, the group Americans for More Civility, a kindness watchdog organization, selected Lisa along with Bill Ford, Camille Cosby, and six others as recipients of the National Civies Award, which celebrates public figures who work to promote greater kindness and civility in American life. Booklist summed up her work by saying, "Lisa Wingate is, quite simply, a master storyteller."