Welcome to my tour stop for Ash & Bramble by Sarah Prineas! I love fairy tales and their retellings in basically all forms. I wanted to read this one from the first time I saw the cover and then even more so when I read the synopsis. Check out all the book and author info, my full review, and the giveaway below...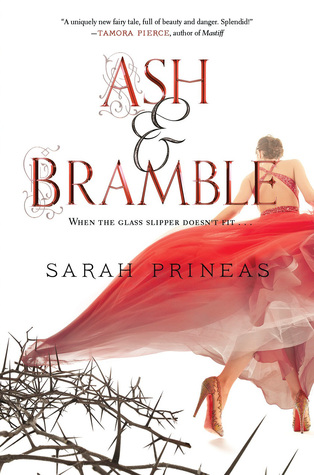 Ash & Bramble
by Sarah Prineas
YA Fantasy
Hardcover & ebook

, 464

Pages
September 15th 2015 by HarperTeen
Summary

When the glass slipper just doesn't fit…

The tale of Cinderella has been retold countless times. But what you know is not the true story.

Pin has no recollection of who she is or how she got to the Godmother's fortress. She only knows that she is a Seamstress, working day in and out to make ball gowns fit for fairy tales. But she longs to forsake her backbreaking servitude and dares to escape with the brave young Shoemaker.

Pin isn't free for long before she's captured again and forced to live the new life the Godmother chooses for her—a fairy tale story, complete with a charming prince—instead of finding her own happily ever after.

Sarah Prineas's bold fairy tale retelling is a dark and captivating world where swords are more fitting than slippers, young shoemakers are just as striking as princes, and a heroine is more than ready to rescue herself before the clock strikes midnight.
Ash & Bramble was a huge twist on multiple fairy tales all mashed together in one tale. It hinted at some main fairy tales, Sleeping Beauty and Cinderella specifically, the most in the main characters, but there was also a huntsman, a group of sisters, a shoemaker, a prince, a girl similar to Rapunzel, and many other characters who could be parts of different tales. There was also a darker edge (think of a real, live, and cruel Maleficent and her soldiers) that shadowed the whole story as Pin and Shoe try to escape the Godmother. If you enjoy fantasy, fairy tales, and twisted and darker stories, then I'd recommend this one!
The plot. It was vague at first as the characters and situation was introduced. I was trying to place who the characters would be and who would be important. After the first few chapters, the pace picks up pretty quick as things happen and characters make choices. The overall idea made sense to me. I liked the two counter thimbles and their magic. The sense of "Story" taking over also worked for me. The ending got intense and I was happy with how it all came together.
The characters.
I liked that Pen was still Pin even when she didn't realize it. It kept her character consistent. Shoe was probably one of my most favorite characters. He was loyal, steady, smart, strong, and willing to do anything for Pin. Prince Cor had an interesting role. He still wants what story wants, but also doesn't. Godmother was vindictive and evil. Think of a cross between the Snow Queen and Maleficent. There were other characters as well who all played their roles well. I never felt overwhelmed or had issues remembering who was who even though there were quite a few characters involved.
Again, if you enjoy twisted fairy tales and unique stories, then I'd recommend Ash & Bramble. I'm curious to see what this author writes next.

Content: Clean. There were some same-sex relationships hinted to and some violence.
Source: I would like to thank HarperTeen, through Edelweiss, for my complementary eARC, which did not affect my review in any way.
Hi there! I'm
Sarah Prineas
, author of the Magic Thief series published in the US by HarperCollins and in 17 other languages around the world, and the Winterling trilogy. I live in rural Iowa with my mad scientist husband, two kids, and two cats. My next book is called Ash & Bramble, and it's a YA.
Here's my
website
and here's my
book website
(with games, wallpaper, and extras!).
Thanks for reading!
Week One
9/7/2015-
Library of a Book Witch
- Interview
9/8/2015-
A Dream Within A Dream
- Review
9/9/2015-
Dark Faerie Tales
- Guest Post
9/10/2015-
Once Upon a Twilight
- Interview
9/11/2015-
The Best Books Ever
- Review
Week Two
9/14/2015-
Defiantly Deviant
- Review
9/15/2015-
Adventures of a Book Junkie
- Guest Post
9/16/2015-
Wishful Endings
- Review
9/17/2015-
Stories & Sweeties
- Review
9/18/2015-
Bookish Lifestyle
- Interview