Welcome to my tour stop for A Thousand Nights by E. K. Johnston! Having read and enjoyed this story, I found the author's guest post about her characters to be really interesting and true. She doesn't give dream casts for her main characters, just a father and mother, but she does give some fabulous descriptions and a feel for this story. I hope you enjoy it and check out the other info and the giveaway below as well...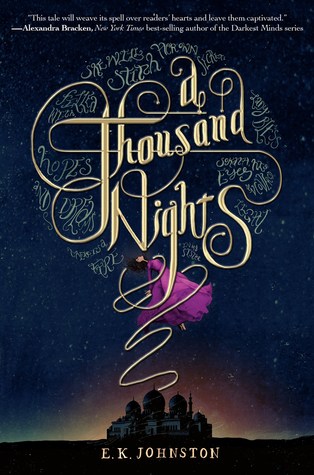 A Thousand Nights
by E. K. Johnston
YA Urban Fantasy
Hardcover, paperback, & ebook, 336 pages
October 6th 2015 by Disney Hyperion
Summary
Lo-Melkhiin killed three hundred girls before he came to her village, looking for a wife. When she sees the dust cloud on the horizon, she knows he has arrived. She knows he will want the loveliest girl: her sister. She vows she will not let her be next.

And so she is taken in her sister's place, and she believes death will soon follow. Lo-Melkhiin's court is a dangerous palace filled with pretty things: intricate statues with wretched eyes, exquisite threads to weave the most beautiful garments. She sees everything as if for the last time.But the first sun rises and sets, and she is not dead. Night after night, Lo-Melkhiin comes to her and listens to the stories she tells, and day after day she is awoken by the sunrise. Exploring the palace, she begins to unlock years of fear that have tormented and silenced a kingdom. Lo-Melkhiin was not always a cruel ruler. Something went wrong.

Far away, in their village, her sister is mourning. Through her pain, she calls upon the desert winds, conjuring a subtle unseen magic, and something besides death stirs the air.

Back at the palace, the words she speaks to Lo-Melkhiin every night are given a strange life of their own. Little things, at first: a dress from home, a vision of her sister. With each tale she spins, her power grows. Soon she dreams of bigger, more terrible magic: power enough to save a king, if she can put an end to the rule of a monster.


Guest Post: Character Descriptions
An important thing to note before I start is that I am not very good at describing what people look like. I can be looking right at them, and be unable to come up with descriptors that are useful, and even though I have made a study of "face words" (for lack of a better term), I still struggle to apply them. This is made slightly awkward by my school training, which taught me how to describe people by their bones.
When it came to the characters in A Thousand Nights, my vocabulary for description was limited by time. Many of the words we use to describe things (particularly colour and shape) simply hadn't been invented yet. Technically, some of the colours THEMSELVES hadn't been invented yet, but I cheated because to do otherwise was to court disaster. Fortunately for me, human beings have always had bones, and so that's what I went with.


My narrator and her sister resemble each other very strongly, though I imagine that my narrator is a little shorter. This is not because she is actually shorter, mind you, but because she rolls her shoulders forward. They both have long dark hair, brown eyes, and brown skin. Their biggest difference, aside from their height, is that my narrator's voice is pitched lower, and she speaks more quietly than her sister does. This is enough to make most people ignore her, though neither her sister, nor their mothers (nor their father, it must be said) is fooled. They both have excellent teeth, which is quite an accomplishment on their parts, let me assure you. It will be one of the main factors that sets my narrator apart when she gets to the qasr, in fact, because dental hygiene was really not that high on anyone's list during the
Middle Bronze Age
. By the end of the book, there is no mistaking the two sisters for one another any more. My narrator stands with her shoulders back and her chin up, as befits the sort of girl who becomes a queen because she [redacted for spoilers], and invented [redacted for spoilers] to do it.
The king's defining characteristic, when my narrator first sees him, is that she can tell he has never ground his own grain. Grain has been a staple of the human diet in the Middle East for a while. In fact, the framework of society was entirely redesigned when humans decided that grain was the way to go. Growing it is difficult enough, but processing it is, quite literally, painful. (Imagine kneeling, and then leaning forward with a shaped piece of basalt. Then drag that piece of basalt against another stone, to make flour. Then do that for hours a day, every day, because you have to eat. Your ankles reshape themselves, your shoulders cave in, your knees bow, and your hands curl.) The king can stand up straight, and swing himself onto a horse (without stirrups!). Where my narrator's brothers walk beside their camels and carry burdens from town to town, the king gets his exercise hunting and riding. He'd probably lose a wrestling match, but he's much nicer to look at. The demon makes him taller and sharper, replacing all the rounded human edges with polished obsidian, shaved razor thin.
The King's Mother actually has a "head cast", because I knew what I wanted her to sound like, and how I wanted her to move. She has the dignity and quiet sadness of a woman who has married far away from home (I drew on Michelle Fairley's S1 depiction of Cat Stark for this, though obviously I didn't use her appearance), but she sounds (and probably looks) like Shohreh Aghdashloo. She was sick, and nearly died, and has made a slow recovery, so I wanted someone who can look strong and tired at the same time.
Shohreh Aghdashloo at the 2008 Toronto International Film Festival

. Image found here. gdcgraphics [CC BY-SA 2.0 (http://creativecommons.org/licenses/by-sa/2.0)], via Wikimedia Commons
Sokath, His Eyes Uncovered is old. If he has hair, it's white. His face is line, but his eyes are bright. His shoulders slope too, but it's age and habit with him. Stonetouched is hollow. The only parts of him that are alive are the parts that burn. My narrator's father is Alexander Siddig because I like his voice and I like the way he is quiet until he stops being quiet. Then henna mistress is every woman who has ever helped you when you were off-centre. The Pale Man is unfinished, because he is the first (and only) human being that my narrator ever made.
Alexander Siddig at the 2009 Toronto International Film Festival. image found here. gdcgraphics [CC BY-SA 2.0 (http://creativecommons.org/licenses/by-sa/2.0)], via Wikimedia Commons
I get occasional comments about my narrator's self-perceived ugliness, and questions about whether or not the king is attractive. The answer to both of these is "not really". My narrator feels she's missing something that her sister has managed to identify (spoilers: it's self-confidence), and the king is attractive enough, in that his spine does what it's supposed to, and he hasn't spent more than three-quarters of his life outside in a desert. The average height humans reached in the Middle Bronze Age was nothing like how tall people are now. I've excavated doorways you might first think are crawlspaces. I'm 5'11", and my narrator's father (who is, in my head, the tallest character in the book) probably comes up to my shoulder. My point is that attractiveness is relative (especially since, as I've said, I imagined Alexander Siddig, and he's 5'9"). My narrator's sister actually spells this out pretty clearly in chapter 1, but it takes my narrator almost entire book to figure it out for herself.
What it came to for me, given the nature of the story, was that I wanted the characters to be a bit on the side of timeless. I described them basically (mostly to ensure that no one ever thought any of them were white), and focused on their manner, more than their appearance. I realize that this is not the most conventional approach, and it's certainly not the most direct, but I had a lot of fun with it, and I hope you do too, when you meet them.