Where Treetops Glisten
Three Stories of Heartwarming Courage and Christmas Romance During World War II
by Tricia Goyer, Cara Putman, & Sarah Sundin
Christian Historical Romance
Paperback

,

368

Pages
September 16th 2014 by WaterBrook Press
Summary
The crunch of newly fallen snow, the weight of wartime

Siblings forging new paths and finding love in three stories, filled with the wonder of Christmas
Turn back the clock to a different time, listen to Bing Crosby sing of sleigh bells in the snow, as the realities of America's involvement in the Second World War change the lives of the Turner family in Lafayette, Indiana.
In
Cara Putman's White Christmas
, Abigail Turner is holding down the Home Front as a college student and a part-time employee at a one-of-a-kind candy shop. Loss of a beau to the war has Abigail skittish about romantic entanglements—until a hard-working young man with a serious problem needs her help.
Abigail's brother Pete is a fighter pilot hero returned from the European Theater in
Sarah Sundin's I'll Be Home for Christmas
, trying to recapture the hope and peace his time at war has eroded. But when he encounters a precocious little girl in need of Pete's friendship, can he convince her widowed mother that he's no longer the bully she once knew?
In
Tricia Goyer's Have Yourself a Merry Little Christmas
, Meredith Turner, "Merry" to those who know her best, is using her skills as a combat nurse on the frontline in the Netherlands. Halfway around the world from home, Merry never expects to face her deepest betrayal head on, but that's precisely what God has in mind to redeem her broken heart.
The Turner family believes in God's providence during such a tumultuous time. Can they absorb the miracle of Christ's birth and His plan for a future?
I love Christmas stories. They are full of hope, as these three historical novellas were. The stories are all set around Christmastime as the sounds, sights, and smells of Christmas are present, such as mistletoe, Christmas treats, gifts, snow, and when family come home to be together. I loved how small gifts, especially those that weren't physical gifts, played a large part of each story. I also loved these characters and how they each found and gave of themselves. It was a time of rationing, walking where you could to limit gas consumption, only being able to purchase cardboard toys because metal and wood were in high demand for the war, and using everything you had. There was such a feeling of gratefulness and humility, but also of unity in heartache for those that had been lost to the war and in supporting the soldiers and hoping for an end to the strife. All of these feelings embody so much of what Christmas is, or at least should be, and were woven through each story.
Cara Putman's White Christmas didn't connect with me as well as the other two stories. The pacing was fairly slow and I think maybe the resolution was almost too easy. I did love getting to know more about the Turner family. The parents and grandma were all great characters and added much to the story. I also enjoyed seeing first love through the eyes of Abigail and Jackson. It was rather humorous that Abigail had committed to one thing only to find that she had no control over what her heart decided.
Sarah Sundin's I'll Be Home for Christmas grabbed me from the beginning. I loved how Pete and Grace met and how cute and fun Grace's little daughter, Linnie, was. I also loved the feel of tension that turned into something much more meaningful over time. There was a heaviness to the story from the burdens these two main characters' carried, but also a playfulness and feeling of hope for what might come if they would both only learn to trust each other, and also God. I loved their interactions and the interactions between the whole Turner family with Grace and Linnie. Her precious Christmas gift was a definite highlight as was the sample spoons. I really loved this story!
Tricia Goyer's Have Yourself a Merry Little Christmas started off so sad. I literally began tearing up reading about these injured men and these doctors and nurses who fought to help heal both their physical and emotional wounds. Merry was so brave to volunteer to help, even risking her life to do so. I enjoyed getting to know Merry better and also enjoyed getting to know David or "Daaf" as he's called. There were quite a bit of inspirational moments as both characters tried to figure out what to do. This was another sweet and enjoyable story. I especially enjoyed the end when the Turner family was gathering to celebrate Christmas again.

Where Treetops Glisten was filled with three
lovely, sweet, and heartfelt stories. Stories that reminded me of the best feelings of Christmas, of family, friendship, learning to carry on, forgiveness, the spirit of giving, gratitude, and love. Each story touched my heart in some way. They were short and hopeful stories, and left me with a feeling of happiness.

Content: Clean
Source: I would like to thank the publisher, WaterBrook Press, and Litfuse for my complimentary copy, which did not affect my review in any way.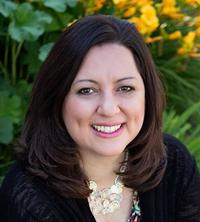 Tricia Goyer
is the bestselling author of more than 45 books, including fictional tales delighting and entertaining readers and non-fiction titles offering encouragement and hope. She is a two-time Carol Award winner, as well as a Christy and ECPA Award Nominee. A popular blogger, Goyer contributes to a number of homeschooling and Christian parenting sites. She and her husband, John, live in Little Rock, AR, and are the parents of six.