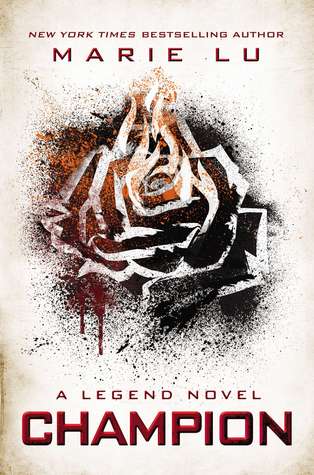 Champion
(Legend #3)
by Marie Lu
Summary
He is a Legend.

She is a Prodigy.

Who will be Champion?
June and Day have sacrificed so much for the people of the Republic—and each other—and now their country is on the brink of a new existence. June is back in the good graces of the Republic, working within the government's elite circles as Princeps-Elect, while Day has been assigned a high-level military position.
But neither could have predicted the circumstances that will reunite them: just when a peace treaty is imminent, a plague outbreak causes panic in the Colonies, and war threatens the Republic's border cities. This new strain of plague is deadlier than ever, and June is the only one who knows the key to her country's defense. But saving the lives of thousands will mean asking the one she loves to give up everything.
With heart-pounding action and suspense, Marie Lu's bestselling trilogy draws to a stunning conclusion.
For me, the Legend Series has been one of the best dystopian series I've read. I have loved its characters and connected with them, felt their sorrows and joys, their hopes and desperation, and was ready to continue to cheer them on as I began reading Champion. At the end, I was still cheering them on while trying to hold back bittersweet tears. Champion brought the Legend Series to a beautiful and perfect end.
I've loved seeing so many different views throughout this series: from intelligent and brave Day who lived on the street who may not live much longer, intelligent and fierce June who grew up wealthy but also as a soldier, and Anden who was attempting to lead a nation under extreme difficulties and under the shadow of his father and who was smart, charming, and ruthless as called for. Then you also have three general settings, which included the two warring sections of the US and that of Antarctica (introduced in Champion). I really liked how Lu gave these different perspectives because these backgrounds affected the characters' and reader's perceptions. It also allowed some questions or forced some thinking without it being pushed out there or feeling deliberate. It was a great mix and well balanced so that I didn't feel I was getting a partial or untrue picture of the story. I felt fully immersed in this world and the characters' lives.
Champion also brought so many pieces together. Would June and Day find each other in the end? Would Anden be able to pull his country together? Would the people support them and come together? There were so many things still in play and pieces that clicked in from the other books in the series. There were also some heavy burdens that these characters were carrying. It was tough to watch as they struggled and as they fought so desperately for what they believed in, even if it took them a while to figure out what that exactly was.
I loved Day's little brother. I loved the rebel group. I loved other side characters that continued to bring more to the story, some of which have been around for some time. Even the villains added to this story. I really quite hate Jaimeson. Really.
Champion was messy. It was war and it was characters with their hearts unprotected and shoved open. It was love, desperation, friendship, death, and hope. Lots of desperation and hope. The story built up consistently and the end was really intense and very bittersweet. That's what made it so perfect. It wasn't a sweet, with everything-coming-together-easily ending. It shouldn't have been and I couldn't be happier with it, even though it broke my heart in places. That feeling at the end though. That was worth it.
If you enjoy dystopians, amazing characters, intense plotting, plenty of action, impossible romance, and a series perfectly ended then I would definitely recommend reading this series. If you've read the other two books in this series, Champion won't disappoint, at least for me it met all of my expectations.

Content: A few swear words, non-descriptive sexual content, and violence.
Source: Library
Have you read this or plan too?