Welcome to my Weekly Update where I post my blog's schedule for the week. I'm linking up to
The Sunday Post
, hosted by Kimba @
The Caffeinated Book Reviewer
, this week.
Earlier this morning I posted my thoughts on
what's trending in YA
. If you missed it, check it out
here
.
There's somewhat of a Christmas theme this week, in case you don't notice. ;) Here's what you can expect this week:
I'll be participating in the tour for Because of Love by Shauna V. Brown. I've been looking forward to getting some sweet Christmas stories to read with my kids this year.

I'll be posting for
Waiting on Wednesday
. Did you see
last week's WOW
for
The Secret of Pembrooke Park
? I'll also be a tour stop for
Where Treetops Glisten
by
Tricia Goyer
,
Cara Putman
, and
Sarah Sundin
.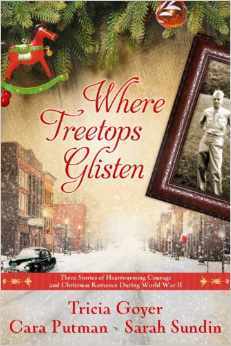 I'll be a tour stop for Candy Canes by Linda Hoffman Kimball. Yep. Definitely a Christmas theme this week. :)
Friday Favorites
should be up again. Did you see last week's for
Can't Let You Go
by
Jenny B. Jones
. I will also be a tour stop for
H2O
by
Virginia Bergin
.
I will be a tour stop for
Painting Kisses
by
Melanie Jacobson
. She's one of my favorite authors, so I'm looking forward to reviewing this one!
I'm also linking up to Stacking the Shelves, hosted by Tynga's Reviews. Here's my physical stack from this week:
Then I also grabbed these free and sale ebooks from Amazon:
And these review books from Netgalley, Edelweiss, and Kathy over at I Am A Reader:
There are quite a few giveaways going on this week. There is the usual
Monthly Giveaway for October
for a copy of
Illusions of Fate
by
Kiersten White
(US only), which I really loved. There are a bunch of others. Click on the images below to take you to each giveaway:
Dewey's 24 Hour Read-a-thon just ended. You can see how I did by clicking on the button below. I'm still participating in the Wonderfully Wicked Read-a-Thon, which runs through the 27th. Click on the button to see my goals. I'll be posting an update for it tomorrow.
Did you miss any of these posts from last week?
I still have lots of books that I'm trying to get through and hopefully the read-a-thon is helping me do that. There are several books on my
currently-reading shelf
on Goodreads and books from my
sequels pile
from the library that I'm working through as well as a few others.
What do you have going on this week?